Activities:
Kauai Activities (on site and nearby): Kayaking, Sailing, Boating, Waterskiing, Parasailing, Jet Skiing, Swimming, Snorkeling Diving, Surfing, Windsurfing, Biking, Hiking, Fishing, Golf, Tennis, Shopping, Sightseeing, Rafting, Zip lining, Fitness Room.
Waipouli H103 Guest Comments
H103 exceeded our expectation! We woke up early each morning to watch the sunrise, great views of the ocean from all windows and lanais. The location is perfect: ON THE BEACH, close to great restaurants, shopping and ideal for day trips around the island. The only problem is that the unit and the grounds are so perfect you will be tempted not to leave the property.
~ C & M
---
WOW, what a fantastic place. I would compare this to staying in a 5 star hotel. The unit is beautifully decorated & has great appliances. It is in the perfect location of the complex. You are only steps from the beach where there is great snorkeling & swimming. Close enough to the pool, but not close enough to hear the noise. Also convenient to the parking lot. Conveniently located for shopping & restaurants. The entire complex is beautiful & we would definitely recommend it to our friends. We hope to go back.
~ M & T
---
After spending countless hours researching properties (both online and with travel agents) in Kauai, the Waipouli Beach Resort & Spa exceeded our expectations! The location is perfect...a quick 10-minute drive from the airport and conveniently located between the South Shore (water excursions and beautiful sunsets) and the North Shore (horseback riding, zip lining and surfing). Once inside the property...H103 is the ideal location! It is comfortable (spacious with updated furniture), peaceful (the four sliding doors open to a quite garden) and the walkway leads from the family room to the ocean! Over the past couple of months, we have found Isabelle (property owner) a true delight to work with! Aloha!!!
~ L.
---
We had the pleasure of spending 2 weeks in H-103 and it was truly wonderful. The unit is pristine, private, and steps away from a beautiful beach where we spent much of our time reading & relaxing. The unit was always comfortable, clean, and the ceiling fans & air conditioning worked perfectly! We have been to Kauai 3 times & love Kapaa's location. It is easy to travel anywhere on the island on a whim from there & Waipouli Beach Resort is the newest & most beautiful resort in the area. We will definitely return to H-103 on our next trip to Hawaii.
~ B & D
---
We had a WONDERFUL time! My parents loved your condo. I didn't think I was going to be able to get them to leave! And our kids thought the pool was the best thing in the world. Your condo is beautiful. I knew it was going to be fabulous, but it was even greater than I expected. It is in a perfect location within the resort, only steps from the ocean and the pool. It was also wonderful to be able to walk just a short distance to the small and quaint shopping center across the street. We also appreciated your suggestions on places to see and visited as many as we could fit in during our short stay. The staff at the resort were great. Each person was very friendly and helpful. We've already started talking about starting a savings fund for a second visit! Thank you so much! We truly enjoyed renting your unit. It helped make our family vacation one that we will never forget and we will talk about it for years to come! We highly recommend it to anyone visiting Kauai!
Sincerely, C
---
What a wonderful time we had in your beautiful place in Kauai. Thank you for allowing us the opportunity to enjoy your home and the wonderful amenities offered. We enjoyed very much cooking and eating in every night fresh mahi mahi, ahi tuna, poke, shrimp ceviche, etc... along with fresh mango, guava, starfruit, passion fruit, etc... (we followed the farmers market around the island almost every day.) Our kids really enjoyed coming back to the pool in the late afternoon and early evening while my wife and I cooked dinner and relaxed with a glass of wine. We typically followed dinner with playing a family game of cards "phase 10" and collapsed in your wonderfully comfortable beds (even my 9 year old son exclaimed to me how comfortable your beds are.) No television or electronics of any kind were ever turned on.
---
We explored five different beaches and snorkeled on four -- Ke'e, Poipu, Salt Ponds, and Lydgate spending the last two days boogie boarding at Kalapaki beach. The whole vacation was full of highlights, including kayaking Hanalei bay and snorkeling, and especially hiking Waimea Canyon (swimming in the waterfall pond) and hiking Na Pali Coast (exploring the beach and caves.) We agreed that the coconut shrimp in Waimea was some of the "best in the world" (it probably helped that we just finished a four hour hike and we were eating lunch at 2 P.M..)
---
Thanks again for one our most memorable vacations ever, we truly enjoyed every moment and created memories that we will cherish for a lifetime.
~ B.
Pictures of Waipouli Beach Resort H103
Dining Area with Ocean Views
View from Walk-out Patio Lanai
Living Room Ocean Views
Kitchen
Master Bedroom
Master Bathroom
Second Master Bedroom
Second Bathroom
Koi Fish Pond on Property
Pictures of Waipouli Beach Resort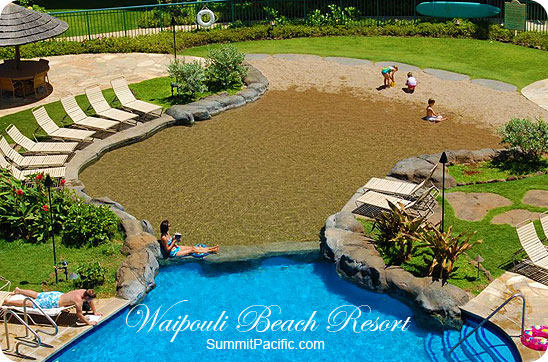 Kid Friendly Baby Beach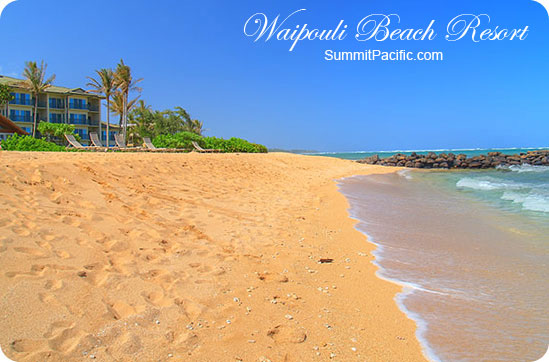 Beach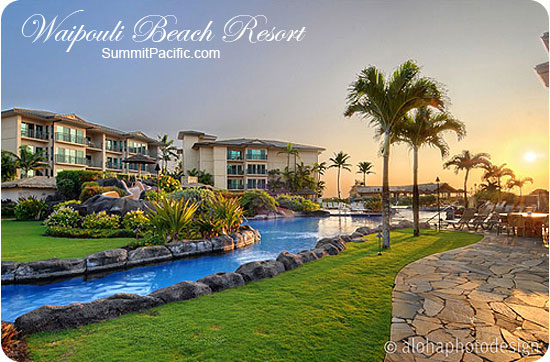 Fantasy Pool / Lazy River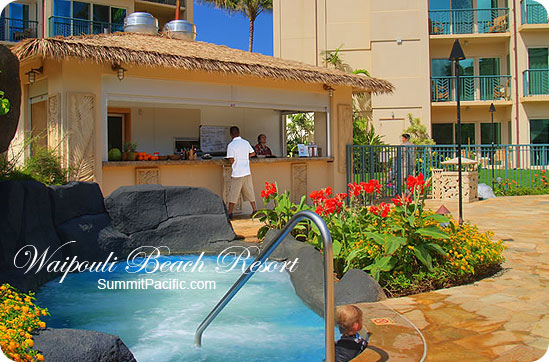 Hottub
Swimming Pool
Waterslide