Guest Comments:
TB 9/22
Once again, we had a magical stay at your condo. . . . Many hours were spent on your lanai, soaking up the view.
---
K K 4/23
The place was very lovely with gorgeous views.
---
S R 4/23
My daughter and I had an absolutely amazing time. The condo was perfect for us, and I loved sitting on the lanai looking at the beautiful Bali Hai's each morning. We miss it already
---
J and M 2/23
Yes, your condo was perfect for our needs. Loved the view from the balcony each morning, and the whole resort was beautiful. We don't like resorts that are crowded and noisy and you have to get to the pool early to get a lounge chair. Hanalei Bay Resort is laid back, not over crowded, and quiet, just what we were hoping for. And we got lucky with the weather, only one afternoon of rain during our 8 day stay.
Thank you, we had a great time exploring the north of Kauai from your condo, loved the island and the condo.
---
L K 4/23
We had a wonderful, marvelous, unforgettable time in your lovely home. Beyond its great size and unmatched view and wonderful new furniture and appliances, we really appreciated how it was pre-stocked with beach chairs and everything else we could want or need. Also, it was absolutely spotless when we arrived.
We plan on coming back soon, hopefully maybe even this summer! Thank you for your hospitality.
---
C B 3/23
We had a fantastic time at the condo! It most certainly exceeded our expectations!
---
Nov 2019
We had a wonderful time and looking at a possible return trip to Kauai in March/April.
Over the next month we will work through our details and hopefully Hanalei Bay Resort 9221 & 9222 will be available.
Happy Holidays.
~ Stan & Marina
---
Jan 2019
We really enjoyed our stay. Your condo, where my husband and I stayed, was the nicest of the 4 we rented the week of my daughter's wedding. Thanks so much for providing such nice accommodations for us.
~ SG
---
May 2018
Hi Patti,
We checked out at 6am this morning. Michelle is aware we leave early. She was very professional and courteous. You and Michelle, what a team. Mr. Porter is lucky!
For your information, we did not use a dishwasher during our stay. We used washer/dryer four times total. All in the same condition as we Checked in on 5/22. We left unopened cookies and canned juices in the refrigerator.
Confirmed with Michelle no need to strip the bed and launder towels. However, we laundered towels.
We enjoyed our stay at Mr./Mrs. Porter's beautiful unit. I liked the neutral hue, very tasteful decor and furnitures, meticulously maintained, fully-equipped kitchen, and thought-after amenities, and practicalities, and nonetheless to mention, but the breathtaking view from the lanai.
It was a privilege able to stay.
Thank you, Patti, for your guidance and help. It was one great, seamless experience because of you and Michelle.
Till next time! Please email us when the refundable deposit credited back to our account.
Mahalo,
~ Yumi
---
Older Reviews...
Hello Doug & Mary
We had a beautiful and relaxing time during our visit - Thank you for sharing your condo. Some Activities we did:
Hiked the Kalalau Trail on Napali Coast. Walked to Beach and up to Hanakapi'ai Falls. Great views along challenging trail.
Kamokila Hawaiian Village - Across from 'Opaeka'a Falls. Rented kayaks and hiked trail to Secret Falls.
Visited 'Anini and Secret Beaches - Both beautiful.
We ate out once @ the Hanalei Gourmet for lunch. Good food & service.
Bought food at Costco (near airport) and Foodland in Princeville.
Thanks Again!
~ Tom & Roseanne
~ Joe & Kathy (Wisconsin)
---
We had a WONDERFUL time on our vacation and both of your units are beautiful!! And as you know, the views are breathtaking. Our stay there was flawless, even with switching units. Both units also had everything we needed for our stay. We cannot thank you enough for your (and Patty's) help throughout the entire process. Your accommodations definitely exceeded our expectations. We cannot wait to return to Kauai one day, and when we do, we will definitely be contacting you again.
Thank you so much,
~ Eric and Lauren
---
Hello Doug & Patty
Thanks for the note.....our stay at your place was better than I could have imagined. The furnishings and appliances were "top shelf". This was our first visit to the Princeville complex.
The actual views from the unit are much more dramatic and stunning than the pictures on the website can convey.....absolutely beautiful......you are very lucky to have that unit location.
The staff at the main and concierge desk were very helpful, friendly and professional. The resort grounds were immaculate and the completion of the new restaurant and main desk will make it even more attractive.
Thanks again for allowing us to use your beautiful unit and I hope we get a chance to return soon.
Best regards,
~ Greg
---
This was my second visit to Hanalei Bay Resort and once again, my breath was taken away! This resort is ideally located on the north shore, (and not far from the dramatic and breathtaking
NaPali coast
). Each time we made a right turn at the purple flowering tree and onto Honoiki Rd., I would brace myself for a new view of a gorgeous landscape that subtly changes as the sun plays on it from different positions in the sky, garnished with decorative passing clouds. Absolutely what dreams are made of!!!!
The view from unit 9222 was absolutely stunning, overlooking beautiful Hanalei bay, and across from rippling green mountains, waterfalls and (often), rainbows. The unit was lovely, spacious (2 lanais!!!), simply and tastefully decorated, with all of the conveniences and amenities you could need. I could not have asked for anything more. My husband and I felt that we were quite lucky as the owner of the condo offered a "construction discount" for the room since a couple of the adjacent condos were being renovated during our stay. The discount made it possible for us to stay in such a wonderful space at an incredibly reasonable price!!!
Gorgeous beaches are nearby (including the beach on the resort) and the town of Hanalei is quaint and low key. I can not recommend HBR and unit 9222 enough for the ultimate experience in peace, serenity and beauty. I hope to go back sometime again....hopefully sooner than later!
(Just as a side-note: there is also some construction at the moment [at the check-in area and in rebuilding the restaurant] but that for us in no way detracted from the beauty and peace that is to be had at this wonderful resort.
---
Shelley and Myself had a fabulous time. The condo was everything we had hoped for. I think Kauai will be our vacation site for years to come at the resort.
Thank you for the awesome vacation. Your condo made our stay feel like home.
~ Andrew
---
We had a wonderful time. The condo and resort were great. The views are breathtaking. Our only regret was going to the south shore for a few nights at another condo. We much preferred Hanalei Bay.
Thanks
~ Alex and Michelle
---
Aloha Doug,
My family and I had a wonderful time and your condo was great. We had a terrific visit and will look you up when we return.
Mahalo,
~ Stephanie
---
Doug, we loved it so much we want to come back again next July and bring my son, to celebrate our 1st year anniversary. We got married in Kauai on July 10th and honeymooned in Kaui, and found your property more than glorious. Thank you for affording us the opportunity to have a luxurious honeymoon. The grounds are impeccably kept and the design of the property is like fantasy island. It would be nice to have Bali Hai open again with that gorgeous view. A nice open lounge area with a tiki bar type setting overlooking the bay, especially at Sunset, like an observation deck with lounge chairs. I'm an interior designer so I'm always thinking. LOL
[your assistant] is fantastic, as were the staff at
Hanalei Bay Resort
, Ryan especially was OUTSTANDING! What a personality, professional, not moody always smiling, and so accommodating, and sweet as pie. he should get something special. We tipped everyone abundantly.
You have a successful empire Doug and we will be referring our family and friends to you always. See you next year.
~ Love, Linde Carlson
---
I just want to say, the property exceeded my wildest imagination. Everything was perfect. Our wedding, honeymoon and the condo provided us many luxuries; rainbows in our yard, fantastic sunsets, and great neighbors. Our wedding was conducted on Tunnels Beach in front of Bali Hai (hot and publicly crowded) which I didn't know before hand, and 90 degree's. (I was in 5 layers of wedding gown). It was beautiful though.
Our wedding night dinner was held in a romantic area, the last table on the Makana Terrace of the St. Regis Hotel and restaurant, overlooking the ocean and Bali Hai, which you can actually see from our balcony at HB. It was romantic at sunset, and our photographer shot a million pictures. They treated me like a star! Johnny Depp was there filming a movie, Pirates 4.
The staff at Hanalei Bay Resort is impeccable. I especially would like to point out Ryan, he is the Gem of the Property.
Our stay was wonderful, and it made our honeymoon seamless and so enjoyable. I had no idea this property had such beautiful wedding sights on the grounds. There were 4 weddings going on right before mine. If I had known prior to setting up my sight for my ceremony, I would have just done it right on the grounds. The backdrop is amazing, especially just before the sun goes down.
When we left, Lance and I cleaned the condo spotless. Not that we were messy, because we aren't, but just out of respect.
... In close, Mahalo Doug and Mary, Hanalei Bay Resort, is a winner. I have already begun to share my positive experience with my siblings who travel a lot.
Mahalo,
~ Linde and Lance Carlson
---
Doug, Your assistant was GREAT and your condo with the view was....well breath taking, we will be back! Thank you so much for sharing your little piece of heaven. Kauai is by far the best of the islands. I will recommend your place to all my friends.
Thanks again
---
Aloha Mr. Porter,
My husband and I had the most wonderful and fabulous time at your condo at Hanalei Bay Resort in Kauai!! I absolutely LOVED it and the view was spectacular!!!!!!!!!!!!!! If we are lucky enough to return to Kauai, we will definitely request to stay there again, and I have told my friends how great your place was too. Perhaps they will be lucky enough to stay there.
I also wanted to thank [your assitant] for all of her help and advice. She was terrific to work with, and even went out of her way to help me book the condo on New Year's Eve! I truly appreciated all that she did for us. She was great!
Thank you for making our stay in Kauai a beautiful and relaxing memory (which we needed right after our daughter's wedding which was at an estate up the road from Hanalei Bay!). We certainly enjoyed it and I wish that I was still there!!
Mahalo!
~ Annette Conzen, Clearwater, FL
---
Doug,
We had a really great time. Your condo at Hanalei Bay was awesome. Me and my lady have already recommended your condo to friends back here on Oahu, and we will definitely contact [your assitant] next time we come.
Thanks again.
~ Victor M.
---
Doug,
I truly want to thank you ... for everything. the condo was wonderful. We enjoyed are stay very much.
I hope we will be able to rent that same unit again in the near future.
THANKS FOR EVERYTHING,
~ Kent
---
Hi Doug
Thank you for your email. We had a wonderful vacation in
Kauai
and very much enjoyed the condo - I am missing the views from the balcony already! Hopefully we will be able to visit again soon. Thanks again to you and [your assistant] for your help in making the arrangements. Kind regards
~ Amanda
---
We loved the condo (9222) and had a fabulous time exploring the north shore. Gorgeous view!!
Thanks so much,
~ Sharon
---
Thank you; we had a fabulous time at your unit; the view is unbelievable from the patio and we enjoyed it every evening; and the stars!!! It was fantastic and we will certainly be returning. Aloha,
~ Stephenie
---
Aloha!
Our stay was perfect, the condo exceeded our expectations (the views are simply amazing), it was very well equipped (loved the huge kitchen) and we had a great time. We will definitely consider returning in our future vacations.
Regards
~ Mali & Alvaro
---
Aloha!
Boy, did we have a Wonderful time!!! Your condo (9221) is just beautiful!! I think we had the best one, with the gorgeous view each morning to wake up to. :) Yes, we are already planning to go back--so hope to schedule that some time in the not too distant future.
I don't know if we told you or not, but our daughter and her husband stayed there for their honeymoon--that's how we found out about you. :) I do have one question, which I don't know if you will be able to answer--do you know the history behind all the
chickens
on the island? It seems we saw them just about everywhere we went. Just wondered if you knew.
Thanks again--Mahalo! :)
~ Bill & Nancy
---
Hello
We had a great time at HBR; photo attached! And we loved the condo (9222) and the view. Thank you for the follow-up. ...The cross-flow breeze at this time of year was sufficient that we didn't need to run the AC!
~ Robert and Debbie
---
"Hi Allison, We are at Mr. Porter's unit now, having a wonderful time. The property is perfect. We would like to come back in late Feb or March; I'd like to enquire whether there are any 10-day blocks of availability of 9222 in that period." "... it would be good to know if the bedroom unit [9221] is also available as we are thinking of bringing my parents for their 50th anniversary trip.
Please let me know!
Thanks very much.
~ Juliana
---
"Doug, I just wanted to drop you a note about the great stay we had in Kauai!! We stayed 4 days on Maui and 6 days in Kauai... Everything turned out perfectly and we really enjoyed our stay at your home! It was more beautiful than I had ever dreamed!! Thanks again for helping me plan the perfect honeymoon!! We may even be back at some point for an anniversary celebration. Hope all is well and take care... Mahalo!!"
~ Brad & Shirley
Rochester, MN
---
"Until arriving here I had assumed Ft. Worth Texas was the prettiest place on earth. I guess it is really the second prettiest.
We face a conflict each day. We want to snorkel and hike but it is too peaceful and relaxing on the porch to muster the energy to do the things we had planned. Toss in some wine and we feel like 'prisoners on the porch.'
I hope the people who have rented the condo on our departure don't object to some extra company - we're not leaving. I'm a lawyer. I know how long it takes to evict someone. I can drag things out at least 6 months! Maybe by then I'll be tired of beautiful mountains rolling surf, song birds, wine and gentle breezes."
~ Joe & Nancy
Ft. Worth, TX
---
"Doug & Mary,
This is our 2nd stay in 9222. Enjoyed it once again. We escaped sub-zero temps and snow back home. Thanks again for this wonderful refuge from the 'real world.'"
~ Art & Elena
Syracuse, NY
---
"Dear Doug and Mary,
My husband and I have enjoyed lunch at the
Bali Hai
on previous trips to Kauai ... and always dreamed of staying here. Now for our 10th anniversary we decided to fulfill our dream... and were fortunate enough to find your website. In fact we loved it so much we bought a time share! Thank you for sharing your piece of paradise."
~ Joyce & Grant
Sammamish, WA
---
"Dear Doug and Mary,
We really enjoyed our stay in Kauai. Your condo is beautiful and comfortable with outstanding views. It was very convenient to my conference at the
Princeville Hotel
, just as you said. We were able to hike all over the island, returning to the comfort of his beautiful and spacious condo. Thank you for sharing it with us."
~ Lucy and Bob
Fairfax, VA
---
"Mr. Doug Porter,
We had an awesome time in Kauai, staying in #9221--thank you so much! The room was very neat and clean and I think the location of the Hanalei Bay Resort is the best place on the island. Thank you for offering your place for such a decent price.
Thank you,
~ Matt and Jenny"
---
"Dear Mr. & Mrs. Porter
15 years ago, one of my dreams came true when I came from Poland to live in the USA. At that time, I saw some beautiful pictures of Kauai. It was my dream that one day I would visit the place. One year ago, I found your very professional web site, I bought my air tickets, and I booked time in your condominium. I was a little skeptical about the beautiful Kauai's pictures, which look too good to be true. I was wrong. My family and I arrived at Hanalei Bay Resort on a day like, when 15 years ago I arrived in the USA. When I saw your condominium with it's breathtaking view and tropical surroundings, and I smelt the aroma of thousands of flowers, I thought that I was in heaven. My dream came true again. This place is the most gorgeous place on the Earth. I had the vacation of my life. Thank you so much for sharing your outstanding place with us. We will visit 9222 & 9221 again and again."
~ Anna B. / Seattle, WA
---
"Dear Doug.
I wanted to let you know that Mike and I had a wonderful
honeymoon in Kauai
at your condo in Hanalei Bay. You have a great spot and the most beautiful view! Thank you for allowing us to rent your place and many good wishes for your continued happiness there!"
~ Mrs. Sharon W. / Ambler, PA
---
"This was possibly the best vacation we have ever taken. The accommodations were fantastic. We will definitely return."
~ Dan S. / Fargo, North Dakota
---
"Mr. & Mrs. Porter:
We cannot remember exactly how many times we've been here to Kauai. I know it started in 1985. No matter what time of year it is, it is always enjoyable... We've enjoyed your condominium immensely. The view is just wonderful and what a short trip to the beach versus the other condos. Your accommodations are clean & well taken care of.
~ The S. Family / Rancho Mirage, CA"
---
"Doug & Mary,
You have a very nice condo - The furnishings are great, the view is awesome..."
~ Byron & Lois M. / Burley, Idaho.
---
"Dear Doug & Mary,
We've had a fabulous time. The accommodations can't be beat. The view is wonderful... We hope to be back next year. Mahalo
~ Julie & Frank D. / Orange, CA"
---
"This is the end of a perfect week that flew by... It couldn't have been more idyllic a setting. The view was incredible. Because we arrived very late, we had no idea how spectacular it would be until that next morning. Breathtaking each time you see it. The mountains and waterfalls as a backdrop to such a beautiful bay - tremendous. This resort of tropical gardens is the ultimate place to relax and renew the soul. We tried as many places to eat as we could fit in without a bad meal... It was a long trip from Boston but well worth it. Thank you,
~ The Z.'s / Peabody, Mass"
---
"A dream come true - What an absolutely wonderful place! To dream each morning from a lanai with the view of views - no better way to start the day... Thanks again for letting us use your lovely home. We will treasure this trip and ALL its memories the rest of our lives!
~ Faye & Chuck N. / Shelby, MI"
---
"This is a magical place. The condo is beautifully decorated, and so comfortable. The kitchen is well supplied - since we did a fair amount of cooking... Thank you for letting us use this perfect setting for our trip...
~ Ruth & Russ F. / Parsippany, NJ"
---
"We were married at the beach below [the] condo. Simply amazing!!!!! Wish we could have stayed longer. My emails and personal contact with Doug Porter were genuinely sincere and helpful. A pleasure to arrange our honeymoon accommodations with! Our condo was our home away from home and I felt the value was excellent! As for renting again??? No...only because we bought a time share at
Hanalei Bay Resort
...we loved our condo that much!!!!" ~ Anonymous / Canada
Pictures of Hanalei Bay Resort 9222
Rainbow and Sailboats on Hanalei Bay from HBR 9222
View from Lanai of 9222
Living Room with Ocean View & 55 inch HDTV
Beautifully Furnished & Travertine Floors
Living Room 9222
55-inch HDTV & Original Artwork Photography by Owner
Fabulous Kitchen & Washer and Dryer
Jatoba Wood Cabinets, Granite & Stainless Appliances
Dining Table with Seating for 6
Bedroom 9222
Ocean View and Flat Screen HDTV
Desk and Bluetooth iPod Docking Station
Bathroom Vanity with Vessel Sink 9222
Bathroom 9222
Pictures of Hanalei Bay Resort 9221
Covered 2nd Floor Lanai & Furniture 9221
Lockout Bedroom Suite 9221
Spacious, Private, and Beautiful
Sofa and Coffee Table Plus Walkout Lanai
Flat Panel TV Entertainment Center 9221
Bathroom Vanity with Travertine Countertop and Vessel Sink
Bathroom Vanity and Tub/Shower Combination
Travertine Tub/Shower Combination
Pictures of Hanalei Bay Resort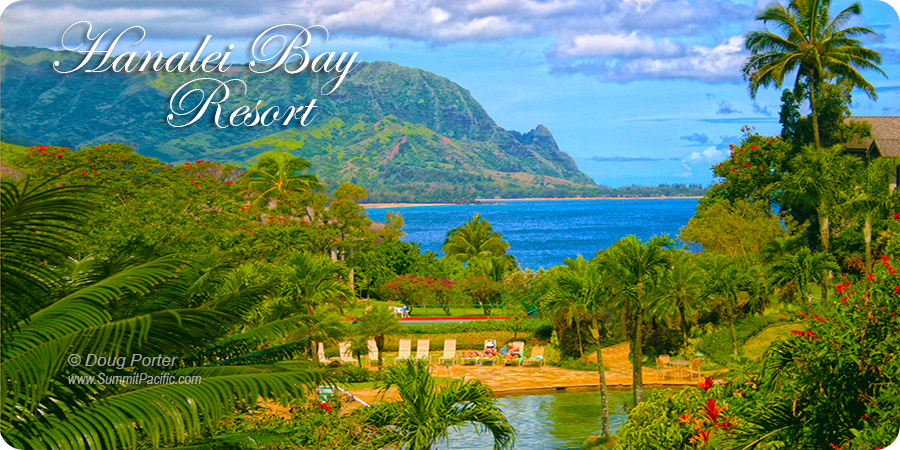 Looking Across Resort Pool Towards Bali Hai
Sunset at Hanalei Bay Resort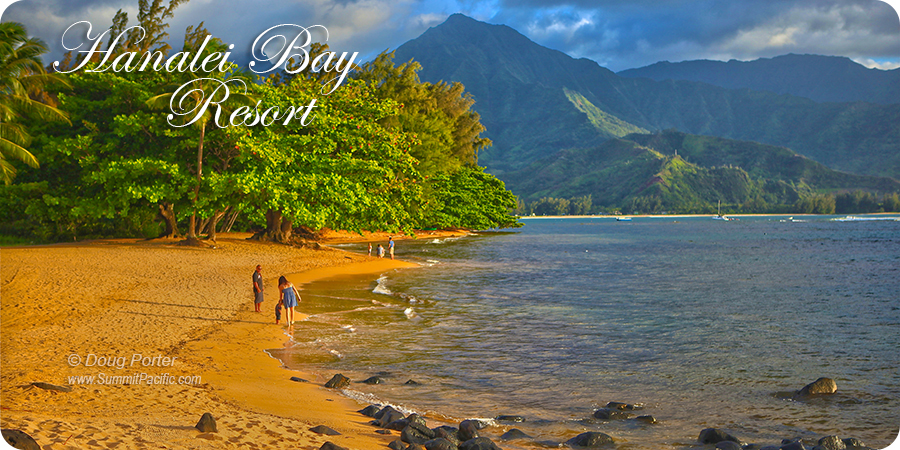 The Beach Below Hanalei Bay Resort is called Puu Poa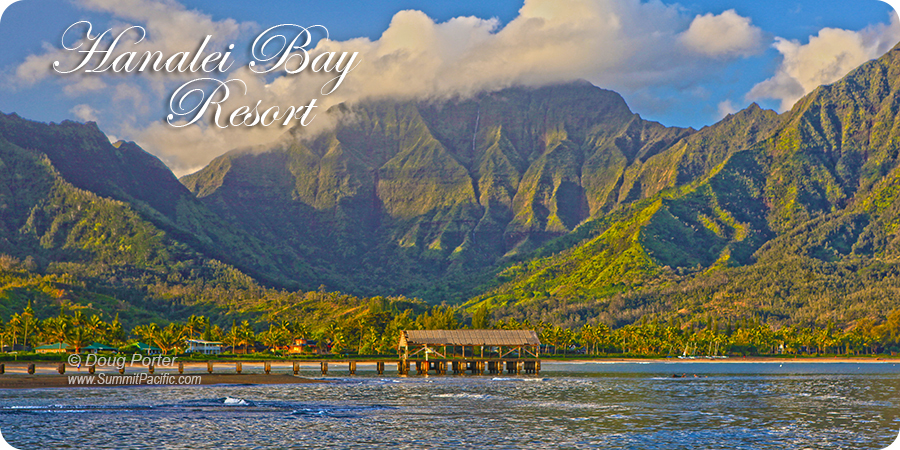 The Hanalei Pier is Nearby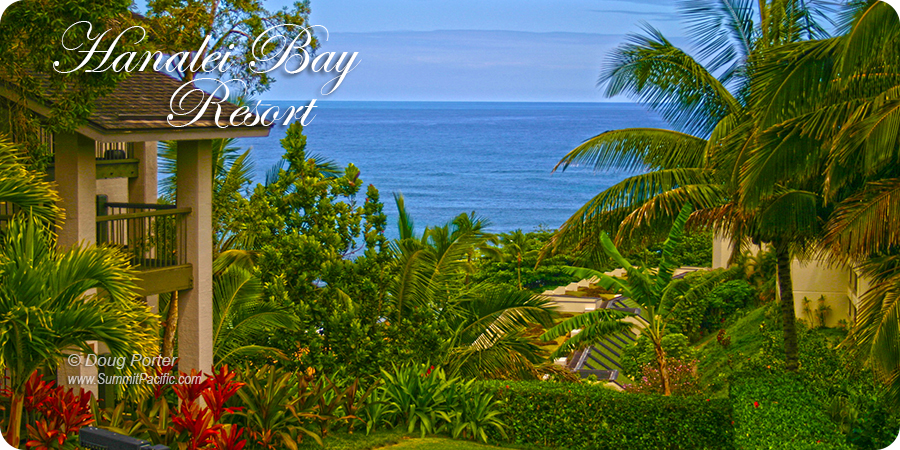 A View from Hanalei Bay Resort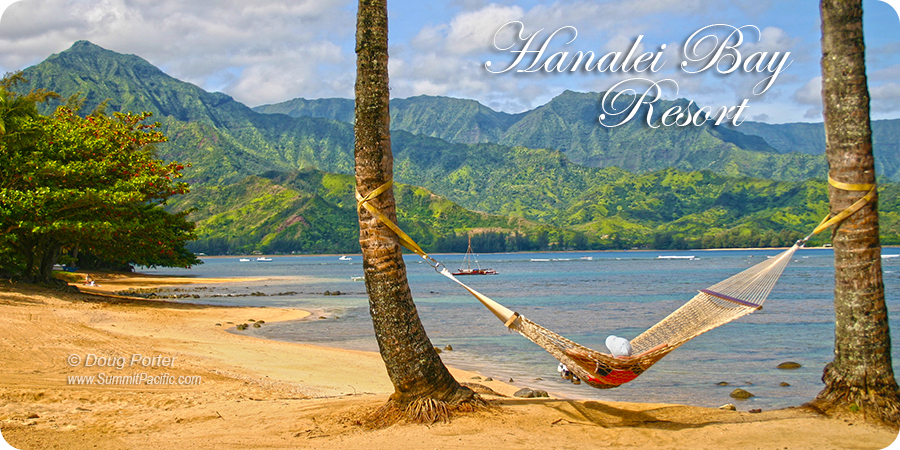 The Beach Below Hanalei Bay Resort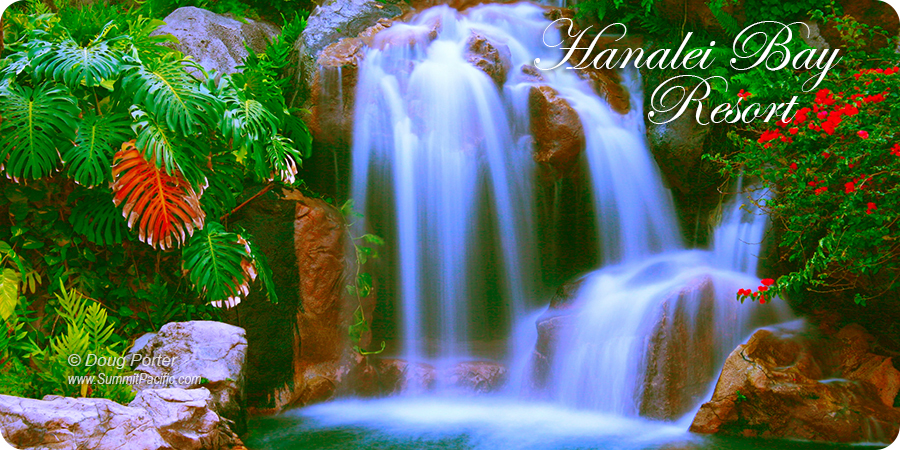 Hanalei Bay Resort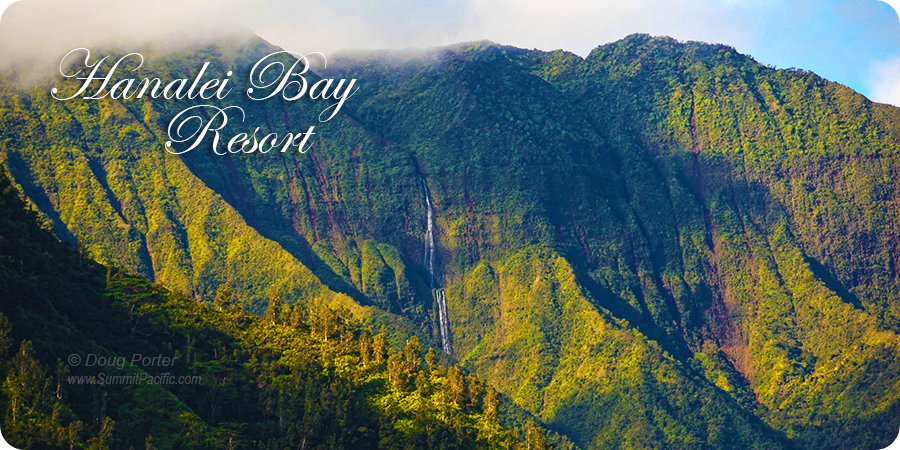 Waterfall as Seen from Hanalei Bay Resort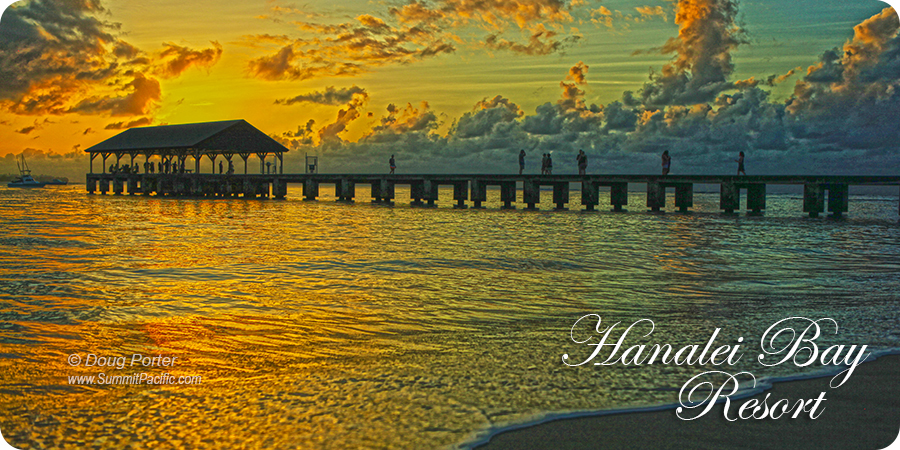 Nearby Hanalei Pier