Guest Comments:
We had a great time at Hanalei Bay Resort. Your unit 4302 was very comfortable and well equipped with kitchen and beach equipment, we had everything we needed. The view from the lanai is amazing, I think yours is one of the best at the resort. It was hard to leave such a beautiful place, 3 nights is too short. If we can return to Kauai in the future, we would definitely stay in your unit and next time we would stay at least 5 nights. Thank you for the welcome basket, it was an unexpected surprise and greatly appreciated.
May, 2019
---
Aloha Janice,
Not sure where to begin... the trip was by far better then we all expected. We went to Maui for our honeymoon but Kauai is by far our favorite island. It was an amazing experience and so happy we did it with the kids.
As for your unit, it was more than perfect. It had everything we needed and more. I'm sure you hear this a lot but the view from your unit is by far the best! We spent our mornings there having coffee and evenings when the kids went to sleep. Another note - the pool was perfect! We found Hanalei bay to be very beautiful but the water was very brown a lot of the time so we spent most afternoons at Anini beach. One of the staff at HBR recommend a little cove for us, since it was quiet and there's a perfect spot for our youngest daughter that is very protected.
I guess the only thing we would have liked, for our family with a toddler, would have been a stepping stool for the bathroom. We improvised and used a box from Costco from our groceries. And sand toys. We picked some up for our little one and were planning to leave it at your condo, but by the time we remembered, we had already checked out. So we left it with a local family instead.
Janice I gotta be honest, it's been hard getting back into things... work etc, back to routine. We're still in cloud nine from our trip!
We definitely plan to go back to Kauai and your unit - from the resort to people in the towns, they treated us like family, and we agree we can't wait another 10 years, maybe 5, plus by then we really want to visit Ke'e beach and other parts of the north that weren't accessible at the time.
Here are some pictures from the trip. We plan to print off a photo album. We gained so many memories.
Thanks for letting us stay at your condo.
Mahalo,
Adam
---
10th Anniversary Celebration!
Left on Oct 7, 2018 for a stay in May 2018
We returned to Princeville, Kauai to celebrate our 10th year wedding anniversary. Hanalei Bay Resort #4302 is a spacious unit offering an amazing view! The unit is private & we enjoyed breakfast on the lanai each morning. The unit is well equipped with just about everything you need to feel comfortable. Janice was very nice & helped us with a smooth booking process. We definitely recommend this beautiful retreat for a stay in Princeville!
---
HBR is a large condominium resort made up of several 3-story buildings, some of which have fantastic views of the mountains and Hanalei Bay. It has gorgeous, well kept-up tropical grounds and a very laid back Hawaiian feel to it. Cars are not allowed within the resort itself- just the little carts driven by hotel staff, so depending on which unit you stay in, you may have quite a walk to your car.
We booked a 1 bedroom unit with a loft in the Palms building- number 4302, to be exact. Every unit is different and I can only comment on the one we stayed in, but if you have the opportunity, this is a great unit to stay in. It's on the top floor, with 2 private decks overlooking gorgeous bay and mountain views. It's spacious and high-end, and looks like it was renovated recently, with stainless steel appliances and a tropical design theme. The unit is so well-stocked, it seemed I just had to look for something and there it was. It also came with some nice welcome goodies.
If I could change one thing, it would be to have the resort pool heated- it's beautiful, but not very welcoming in the winter. Also, if you're trying to find the resort for the first time, keep in mind when you're driving along Kuhio Highway that there's no sign for Ka Haku Road, and you should just make the turn when you see a dark brown sign for the St. Regis.
~ Stayed March 2016
---
Just Imagine breakfast EVERY morning, rain or shine with the view of a dream ! We stayed in 4302 for 10 days. That's the central unit of the top three We were greeted by the same birds everyday and loved hearing the different sounds that amused us. The pictures don't lie ! It's Amazing ! What a great unit to come home to every day. The time we spent on the lanai was so relaxing and breathtaking at the same time ! This unit has absolutely everything you need ! The best kitchen and cookware, well Cared for by the management team. Can't tell you how convenient and quiet the washing machine was ! Janice the owner is hands down the best owner we've ever rented from ! Michelle who manages the unit was amazing to work with also ! We had a cracked coffee pot and on a weekend she delivered Another one to us before we even realized it was there ! Mahalo Nui Loa to you both ! Couldn't be happier with our stay ! Hanalei Bay is so incredibly well maintained, the grounds are gorgeous ! The staff all through the resort was 5 Star ! My wife and I loved it ! They are continuing work on the restaurant and bar and have hired a firm to set up staff for them both. It will be amazing when they get done. We can't wait to go back ! This side of the Island is so dense and lush ! So much to explore and experience ! Kauai is a must experience destination !
~ Bill B, September 2015
Pictures of Hanalei Bay Resort Pictures of Hanalei Bay Resort 4302
4302 Covered Lanai with Furniture
3rd Floor View from 4302
4302 Living Room with Open Air Loft
4302 Living Room with View
4302 Dining Table - Seating for 10
4302 Kitchen with Washer and Dryer
4302 Bedroom
Aerial View Showing Location of HBR 4301,2 & 3
4302 Open Air Loft with 2 Queen Beds
4302 Bathroom
4302 Shower
Pictures of Hanalei Bay Resort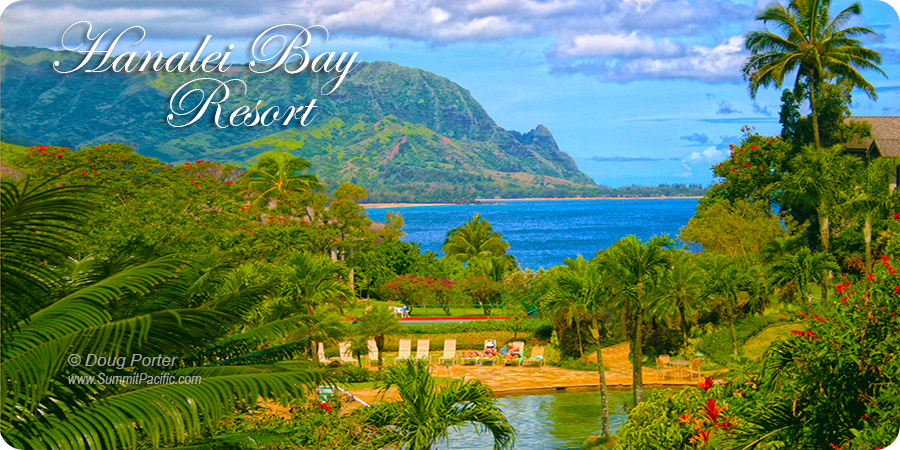 Looking Across Resort Pool Towards Bali Hai
Sunset at Hanalei Bay Resort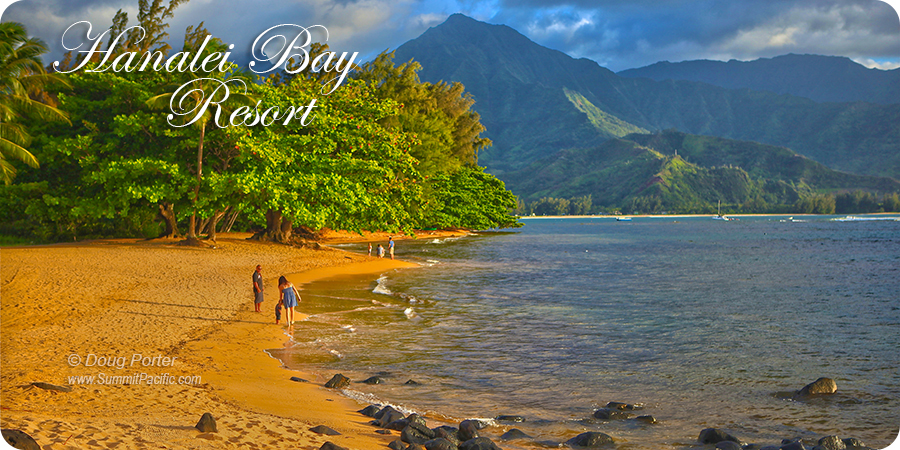 The Beach Below Hanalei Bay Resort is called Puu Poa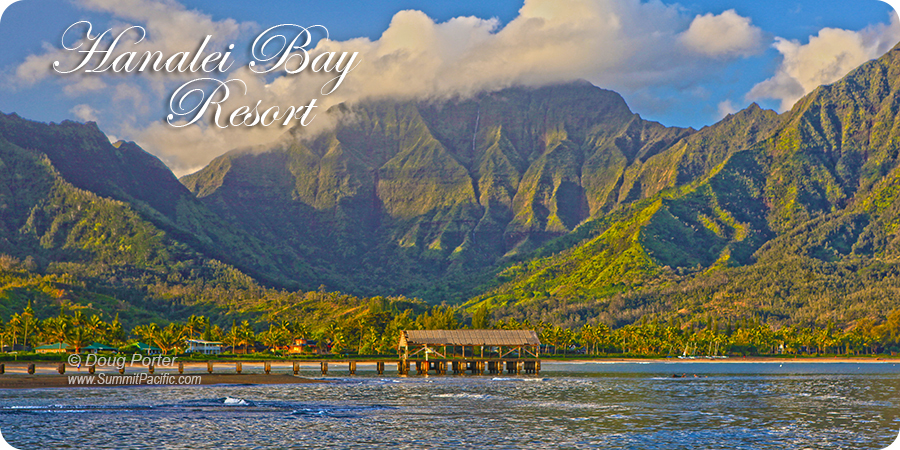 The Hanalei Pier is Nearby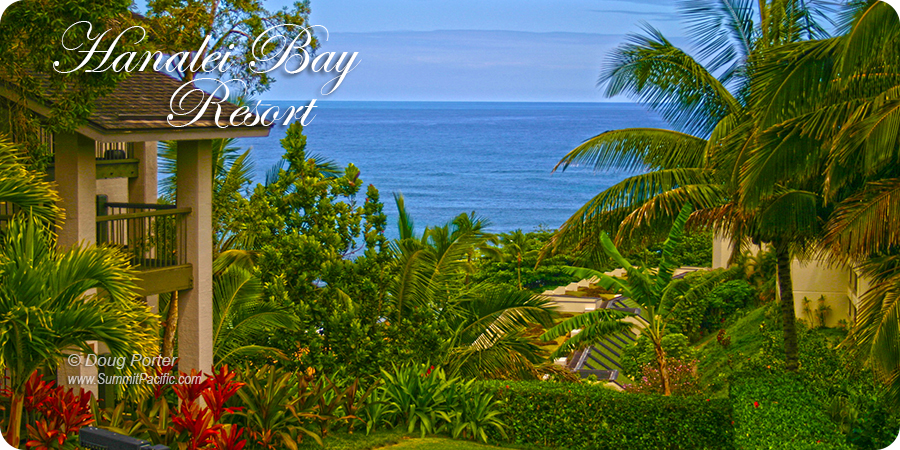 A View from Hanalei Bay Resort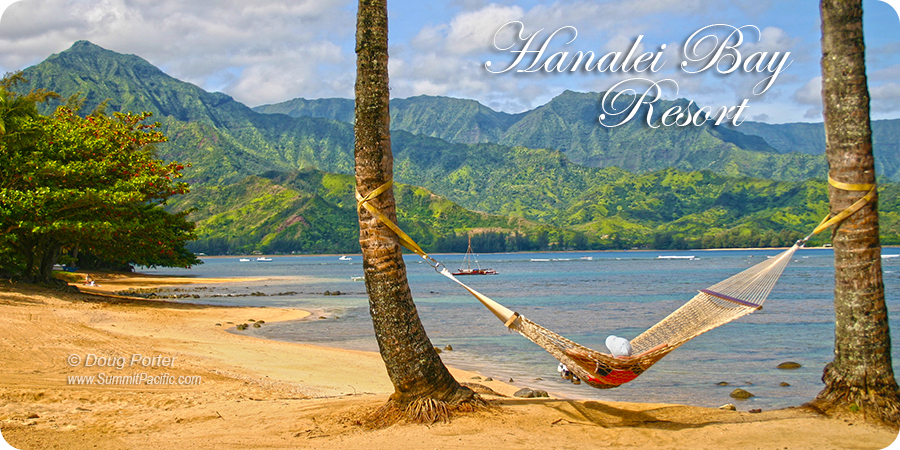 The Beach Below Hanalei Bay Resort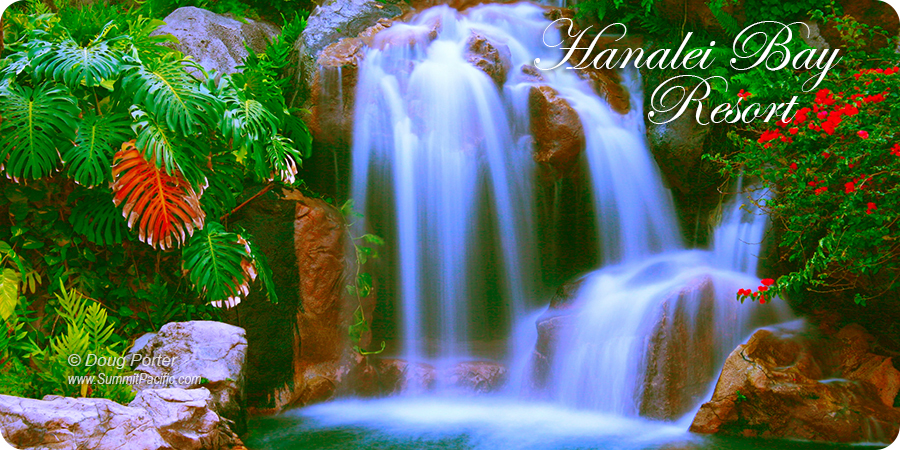 Hanalei Bay Resort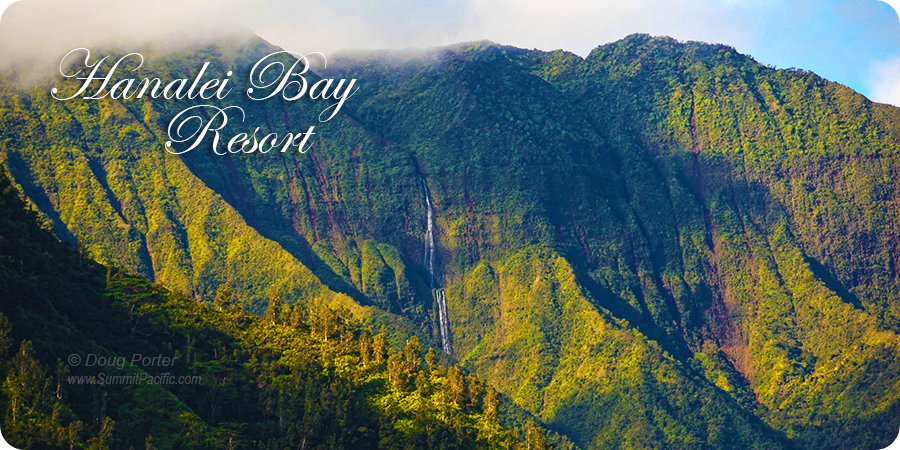 Waterfall as Seen from Hanalei Bay Resort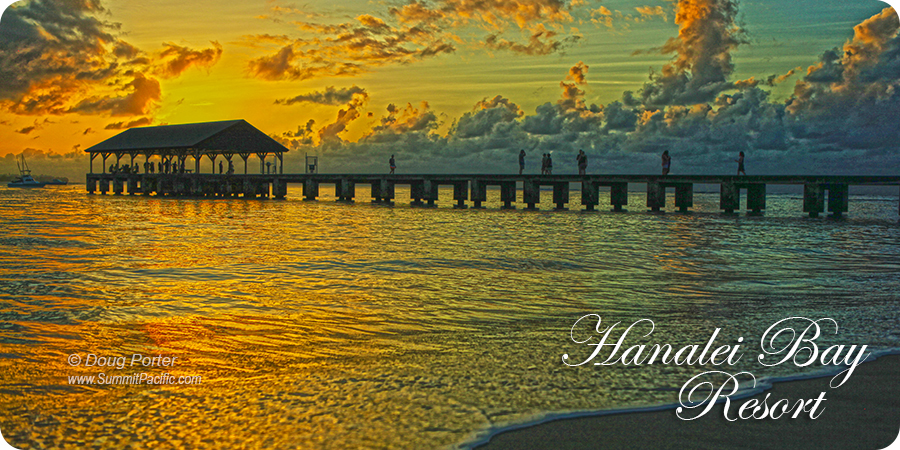 Nearby Hanalei Pier