Hanalei Bay Resort Amenities
Beautiful paved tropical path to beach
Large lagoon pool, sandy bottom spa both with cascading waterfalls
Intimate pool near barbecues and pavilion
Outdoor Gas barbecues
Tennis Pro and Shop with daily clinics
8 paved tennis courts
Water sports activity desk (pool side)
Activities desk / Concierge
Front Desk
Free Parking
Massage and Yoga (fee)
Complimentary shuttle service to beach and Princeville St Regis Hotel.
Guest Comments:
Exceeded expectations. #1305
Left on Jun 29, 2019 for a stay in Jun 2019
Just wanted to let you know that we really enjoyed the condo. It was everything we hoped for and more. It had everything we needed for a week stay. The view was incredible from the unit. We loved coffee on the lanai in the morning. The rainbows were beautiful. We loved the location. To be right near the lobby, lounge, pool and parking... it was ideal. I think the 3rd floor has the best view and good to be a distance away from the chickens and roosters! ;) we didn't meet any geckos in the condo, but plenty in the area. Hanalei Bay resort was wonderful...location, beach, pool, pool bar, happy hour, beach rental stuff, the staff, the activity offerings... everything was great. K?hi? Highway opened the week we were there. We reserved the shuttle to take us to the end... spent the day on the trail to the beach, then back to the beach... was incredible. We had great weather, loved Kauai, might never return... lots of places to see on our bucket list. But if we do ever return, we'd love to stay in your unit again. Mahalo!
Better than we imagined!
---
The view! #1305
Left on Nov 27, 2018 for a stay in Nov 2018
1 people found this review helpful My husband and I rented Ginny's condo for 4 nights and we were not disappointed! Ginny is responsive and helpful and the studio was more spacious than expected and it had everything we needed. The kitchenette was adequate with coffee pot, microwave, refrigerator and electric burners to cook (no dishwasher) plus plenty of linens. Beach chairs (2) and coolers were also very appreciated. The view is amazing from the balcony and we enjoyed seeing it every am with our coffee while listening to the roosters. The complex is quiet and the pool is great. There is a bar/restaurant with limited hours (not owned by the resort) and just "ok" food so we ate in the condo more than anticipated. We would suggest planning for that by grocery shopping on your way here. We would highly recommend this unit and hope to be back!
---
#1305. 2018
Ginny, your condo is AMAZING!!! Kurt and I had the MOST incredible time and your condo was absolutely the PERFECT place for us!! We walked into our room and our jaws literally hit the floor. The view is even more incredible than the pictures, and that never happens! As the week went on I realized how much thought you have put into the condo. Every time I wondered if you would have something, I would find it. And all the details like lots of pegs to hang wet clothes/towels, dividers in the bathroom drawers so your stuff doesn't shuffle all over in the drawer, hooks outside to hang really wet clothes, and the list goes on and on. It is so obvious that you own the condo, vs what type of room you get when booking through a timeshare or hotel. Because it is yours, you have managed to provide us with everything we could possibly need. I even found a light bulb to replace the burnt out one on the nightstand (you may want to replace it as it was the last one of that size in the drawer). All of the info you provided us with was perfect, check in and check out was super easy. We loved hearing the live music from the lanai each evening. You were right, having the parking lot so close was great AND we never heard any noise from the parking lot! The room itself was so quite, I often have to wear ear plugs as I am a very light sleeper, but I never needed them in your condo! We are super early risers and early to bed type couple so everything about the resort and your condo was just perfect for us. We pray that we will have to opportunity to return to Kauai and hope it will be in your condo. Thank you for everything, but most of all for opening up your incredible condo to us!
Mahalo! Da'Nelle
---
Perfect Stay. #1305
Left on May 13, 2019 for a stay in May 2019
I was very thorough in my search for an affordable studio condo on the north side of Kauai. I was happy with the results. Hanalei Bay Resort is picturesque, and even shares a beach which is a five minute walk down to the water. The pool and Jacuzzi are clean!!! and well-maintained. We had wonderful views, loved our mornings on the lanai. The condo is on the third floor so you have a great view of the resort with the mountains and sky as a backdrop. Third floor was great for us because we got some exercise in! Best parts of this condo are: the view, the resort amenities, location and a stocked condo! We had beach gear, a cooler!, my boyfriend loved the French press and I loved being able to cook breakfast and dinner using the kitchenette. It was a great condo to come home every night and we would definitely stay again. Ginny was very responsive and great to work with.
---
Outstanding! #1305
Left on Jul 7, 2019 for a stay in May 2019
My husband and I thoroughly enjoyed our stay in Ginny's studio condo. It was perfect for the two of us. The view is really incredible. It is as exactly shown in the pictures and more. What a wonderful overview of the resort, Bali Hai, and the colorful landscape! The condo was clean and decor, beautifully done. It had a very comfortable king bed with high end bedding. Plenty of towels were provided. It was also close to pools and lobby, and the Happy Talk Lounge. The unit felt private yet still felt like you could partake in the beauty and fun of the resort. We did not lack for anything in the kitchenette. We so enjoyed the lanai and that view! It was spacious and we could listen to the music for a few short hours in the evening. It wasn't too loud and ended promptly at 9:00. We appreciated that parking was very close yet while inside the condo you would never know it. Even the parking lot was beautifully green and had a lovely tree outside of the condo. Ginny was very personable and nice to work with. I felt as if I could have contacted her at anytime with no bother to her. We are looking forward to coming back to this unit again. Not soon enough!!
---
#1305 Experience Paradise
Left on Aug 9, 2018 for a stay in Aug 2018 1 people found this review helpful Dear Ginny, My daughter, Julie, and I had a blissful time in Kauai and especially at your #1305 condo. The unit had everything we could possibly need and more. The view was sublime (and yes, even the rooster calls in the morning) were a delight each and every day. We would certainly like to repeat the experience in the future. We did get to try a number of your recommendations for activities and wonderful eateries nearby; nothing disappointed to be sure. Thank you again for sharing your home. Mahalo, Jeanne C.
---
Dec 2017
Beautiful
The view was incredibly beautiful-even better than we expected. The apartment is just as shown in the pictures, the equipment as described. The Hanalei Bay is fantastically beautiful, the place Hanalei offers some nice restaurants and bars. We would love to come back here again and would definitely book this apartment again. We just felt comfortable.
~ muelheim
---
May 2016
Perfect
We stayed back in May 2016. After reminiscing the other night-I realized I had neglected to write a review. As travelers, my wife and I are do-it-yourself types. We routinely book through Home-Away, VRBO, etc... We looked long and hard at places to stay before deciding. Ginny's condo is PERFECT. Location is great. Beautiful view. Clean. Convenient. Well-appointed. When we return...I will absolutely book her place again. thank-you
~ Rob F
---
Oct 2016
Best resort view on Kauai!
Wow! That's all could say when we woke up to the most amazing view from #1305! We traveled all over the island on our stay on Kauai and are convinced that we had one of the very best views, no matter how much we would have paid to find better. Simply stunning. We loved the resort as well. Very beautiful setting and a great beach that continued with the stunning view of the bay and had wonderful trees to escape under if you didn't want to sit in the sun. The concierge was so helpful and we were treated like we were regular members of the resort. The location is farther away from many of the "attractions" but was well worth it for the comfort and beauty that was there. The room had everything you needed. Ginny was great to work with. No complaints!
~ Nikki W
---
Oct 2016
Exceeded every expectation. A rare gem.
My daughter and I just spent the weekend in Ginny and Dick's lovely condo. By far the nicest rental property I have stayed in. The artistic architecture and interior design was truly unique. The spacious outdoor patio and garden was stunning. All this and lovely hosts to boot. Thanks Ginny and Dick- we will be back.
~ gonegirl2016 - Wilmington, Delaware
---
Nothing but the Best Thanks Ginny for the wonderful stay in your fabulous condo #1305!! It was the BEST!! The view was breathtaking and the resort was incredible. We tried to squeeze in as much sightseeing as possible but it was great to know we were coming home to Hanalei Bay Resort. The location of the condo was great seeing the ocean in the distance, the incredible pool area with its lush foliage, yet being close to parking & exit was so convenient. The beach itself (shared with St. Regis) was ok but we went off exploring other beaches. I originally booked the St. Regis for the previous year at nearly twice the cost and am SOOOOO glad we canceled & booked here... St. Regis has no balconies, the people were sitting on top of one another on the beach, no lush jungle feel at all - just all felt snooty!! WE LOVED IT & it was our best vacation to date, and we travel A LOT!!! You can hear the live music they had at Happy Talk Lounge but honestly, we enjoyed it & it never kept us awake (done at 9pm)... one night it was so good we went for a bit to enjoy it even more!! Happy hour (3-4pm) drinks ran around $8-10 but that's not too bad considering you ARE in Hawaii... Tips: Use the little card on the door key or your rental car for discounts at the Food Land or go into Hanalei & go to Big Save... Alcohol was not too expensive but some things were much more than NJ prices…
~ slj65 - New Jersey
---
Jun 2016
Exquisite View
We had an absolutely fabulous time enjoying your lovely #1305 with its priceless view (and the daily array of rainbows over Hanalei Bay!). We both agreed it was our favorite Kauai stay yet (having stayed at the St. Regis and the Westin on the north and the Sheraton and Kiahuna Plantation on the south). The high ceiling, large balcony and large glass doors make the unit feel very spacious. The king size bed was so comfortable and it was placed to maximize the incredible view. It's fantastic having the Happy Talk bar open now, we ate there twice, and the restaurant is coming along and will be lovely. We look forward to our next visit!
~ Lynn W
---
May 2016
what we hoped for
We normally travel with our kids, but this was an anniversary trip for the 2 of us. This condo makes you feel privacy in the middle of a busy resort. The view is unreal! The bed and accommodations are so comfortable. My favorite part was drinking coffee on the lanai and staring at that view! We enjoyed Happy Talk lounge on site...food and atmosphere were great. There is an easy path to the beach on Hanalei Bay and the St. Regis for sunset and cocktails. You'll love it. It was a good value and a great choice for us. Well done, owners.
~ ElizabethJane78 - Hillsboro, OR #1305 Corinne D
Rockville, Maryland
Exceeded Expectations
Left on Jan 6, 2016 for a stay in Dec 2015
My teenage daughter and I stayed in 1305 for 9 days over Christmas and recommend this condo with great enthusiasm. We arrived at night and waking up to my daughter's, 'OMG look outside Mom!' as I took in the view from the condo is something which will be etched in my memory for a good while: simply stunning, and a perfect complement to the beauty, grace and calm of the Island itself. We literally didn't want to leave either the Island or the place, which is conveniently located, quiet, very-nicely decorated, and perfectly equipped with amenities (towels, cooking implements, ample fridge, and so on.) We're talking of returning next Christmas with my brother and his family and hope to reserve 1305 again!
---
#1305
Chuck088
Incredible Condo
2016
Let me start by saying this a very well maintained condo. The carpeting, furnishings, countertops and appliances are all new. The bedding towels etc. are all high quality. There wasn't anything that we didn't like about the unit. The view is better than any of the photos on line. This unit is obviously part of Hanalei Bay Resort. The grounds, pool and tennis courts are immaculate. The restaurant and bar were not yet completed, but that was not an issue for us. There were food trucks that came on two different nights and Monday is mai tai night around the pool. We bought groceries at Food Land. The prices are a bit high, but we got a discount card and tried to buy only things on special. We considered Costco, but with just two of us it wasn't really necessary. The beach below the resort is very nice. I had read some complaints about the trek up from the beach. It was a bit of a trek but we never needed a ride. I even carried my surfboard down and back. While we were there the best surf at this end of the island was at the reef in front of the resort beach. A rental car is a must. There are so many things to see around the island. We put 400 miles on the car in one week and never even made it to the west side. We will definitely be back. We are already looking at two weeks next year.
---
March, 2015
CaliKath #1305
"Perfect getaway with magnificent view of Hanalei Bay
We really enjoyed our stay at #1305 - it was the perfect location for everything we wanted to do in the North Shore, and we loved the proximity to Princeville and Hanalei Bay. The on-site staff were all welcoming and professional, and your condo was the perfect spot for us to relax during our babymoon. Thank you for providing such a beautiful haven - we hope to come back some day
---
Great stay for a couple or a couple with one child.
For a stay in May 2013
The view from the bed every morning was breathtaking as you see the beautiful palm tree with the ocean in the distance. The location was great! Great area to stay in with beautiful beaches close by and only a 5-10 minute walk to the beach. The resort staff was nice and helpful whenever we had questions. We truly enjoyed our stay. Right now there is construction at the resort, if you plan to be out and about all day it works great, but if you plan to stay at the resort, then the sounds of the construction may not be relaxing. Overall is was an excellent stay and fair price that we plan to be back!
~ Kauai Bound, California
---
A tropical paradise, truly a shangri-la experience.
For a stay in April 2013
When we arrived the check-in process was easy and quick. Very friendly staff. Parking was convenient throughout our stay. The condo was immaculately clean with beautiful furnishings and colorful decor. Because it's on the 3rd floor there is a postcard perfect view from the lanai as well as the room. The outside wall is all windows. We left the drapes open the entire time we were there. The bed is so comfortable. We enjoyed listening to the night sounds, palm trees swaying and at times drops of occasional rain. There was a good air conditioning system, although with the ocean breezes it was not always needed. The resort beach is great for snorkeling and swimming. The staff was available to transport us to and from the beach by golf carts. It's not a long walk but if you take chairs, cooler, snorkel gear, etc. it's a real plus to hitch a ride. The condo overlooks the gorgeous pool and is beautiful day and night when lit with tiki type torches. The pool is refreshing and the hot tub is heavenly. The condo is equipped with everything we needed. We cooked and enjoyed several meals in. There is a microwave, hot plates, portable toaster type oven, refrigerator, blender, etc, etc.
I can say, this is one of he nicest vacation accommodations I have experienced. I will return. It's apparent that the Richards take pride in maintaining their condo for their vacationing guests. Mahalo!
~Joan S
Rocklin, California
---
Exceeded our expectations
For a stay in March 2013
Before opting on a condo or villa in
Princeville
you need to know that the vast majority of what is being offered are really homes in residential areas - they are not part of resort. Your accommodation in Princeville should have fantastic views of the mountains or the ocean and if your lucky both. That brings me to
Hanalei Bay Resort
which has everything you want in a resort if you are staying in a condo. Ours was a one bedroom - really more a big bachelor dominated by a king bed, that came with a very good price - $135 a night plus taxes and cleaning fee (which is standard in Hawaii). Unit 1305 at HBR was one of the best deals we have come across in some time. I have read other people's complaints about the condition of the units at HBR, but there seems to a common thread - time shares. My advice is book through an owner such as Ginny Richards who owns 1305 and you are far more likely to find a unit that is treated with a little TLC than a time-share which is really a condo without an owner.
The unit was right beside the reception area and overlooked the large pool complex, but it also had a terrific view of the Kauai mountains which changed constantly with the angle of the sun, cloud cover and time of day. Check in was a breeze with no unexpected charges or screw ups. The unit was clean, well equipped and although it had no standard stove it had a microwave, and a portable convection unit so cooking wasn't a problem. No dishwasher was no big deal and a laundry room was a minute away. Firing up the laptop it turned out there were multiple Hanalei Bay Resort wireless hotspots that you could connect to for free. It has a terrific pool which is not only large, but designed to blend in with the surroundings. It has waterfalls, a small almost hidden beach area where two people can pretend they are at the real thing and a hot tub which was well used during our stay.
We spent a week at #1305 and would go back in a heartbeat
~ Maritime Explorer
Halifax, NS
---
Paradise Found---
For a stay in November 2012
We had a fabulous stay in condo #1305. It has such fantastic views. The palm, the bay, the majestic mountains with their occasional waterfalls. The condo is located on the top floor and consequently is much more spacious with the high ceilings than the lower floors. By being on the top floor it picks up the incredible views. (be sure to rent a top floor unit).
We thoroughly enjoyed our breakfast and dinners on the lanai while being awestruck by the views and the birds singing. We would then grab the beach chairs and the ice chest and take off each day for a new adventure coming back for a mid afternoon to take a dip in the beautiful natural salt water pool.
The condo is squeaky clean and nicely furnished. You can lay in the comfortable king size bed and enjoy the views without even moving. The place is very equipped for a studio. It is conveniently located within the resort and is very close to parking.
The beaches on the north shore are incredible. We dream of our return to paradise and will definitely stay in #1305 Hanalei Bay Resort on our next visit, which can't come soon enough.
~ PCook
San Luis Obispo, CA
---
Feb 28, 2011
"Wonderful Vacation in Hanalei Bay Resort #1305"
We sure loved our stay in your lovely condo #1305. I can't tell you how relaxing it was just sitting out on your lanai having breakfast drinking our Kona Coffee looking out over the beautiful views of the Bay. What a view! The unit was well equipped with everything we needed. We could hear the calming waves at night and never slept better. We played tennis almost everyday and thought the views from the tennis court must be some of the most beautiful in the world. I took many pictures of the grounds and the beautiful surroundings to share with friends. We definitely will be back again next year.
~ Dickson and Eadie
---
February 18, 2011
Incredible View #1305
We had a fantastic vacation this past November staying at Hanalei Bay Resort in unit #1305. The condo was fabulous and meticulously maintained. The views are incredible-with palm trees swaying, overlooking the bay, and waterfalls coming down the mountains in the background.
This unit is on the top floor with high ceilings and seems so much more spacious than where our friends stayed. It was also really convenient to be near the parking and not having to hike up the hill.
We can't wait to return to Kauai and stay at the Richards' unit again.
~ J.R. from Scottsdale, AZ
---
September 2010
Ginny,
Your condo was BEAUTIFUL and definitely exceeded my expectations! Perfect size for a couple. My husband and I were very happy there. (Obviously, because we stayed the extra day!) The view is exquisite and it was so wonderful to wake up to that view every morning. It was also very quiet and peaceful. I have been showing friends and family my photos and will definitely recommend your place to anyone who is looking for a place to stay in Kauai.
THANK YOU for your hospitality and sharing your condo with travelers like us.
~ Joyce and Chuck
Auburn, CA
---
February 14, 2011
Absolute Paradise! This was our first trip to Kauai and we are already planning our trip back for next year. We had every thing that we needed and wanted. Dick and Ginny's condo 1305 was definitely our first choice. It was everything that we could have asked for. The king size bed was heavenly and so comfy, we slept like babies. The resort was amazing, we have never had such a relaxing holiday. Can't wait to return.
~ Alberta, Canada
Pictures of Hanalei Bay Resort 1305
Balcony Lanai 1305
Private Balcony
View from Lanai
Living Area
Close up decor
Fully equipped kitchenette
Coffee time
Changing Room
Location of refrigerator
Separate bathroom with shower, tub and toilet
Large swimming pool overlooking the bay
Building
Upper tennis courts
Lower tennis courts & pathway to beach
Entrance into Princeville
Entrance porte-cochère to Hanalei Bay Resort
Pictures of Hanalei Bay Resort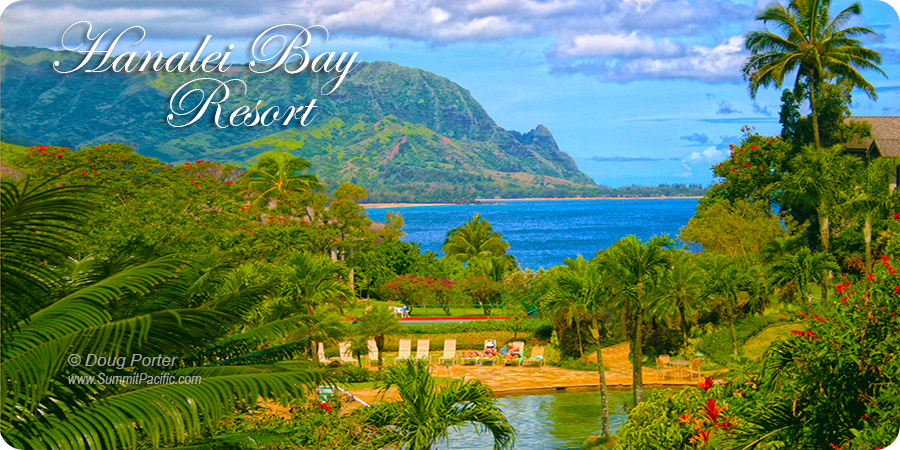 Looking Across Resort Pool Towards Bali Hai
Sunset at Hanalei Bay Resort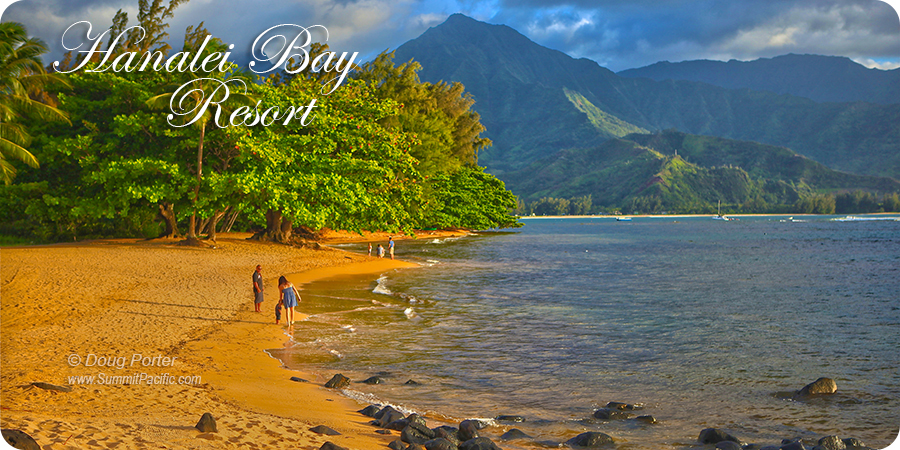 The Beach Below Hanalei Bay Resort is called Puu Poa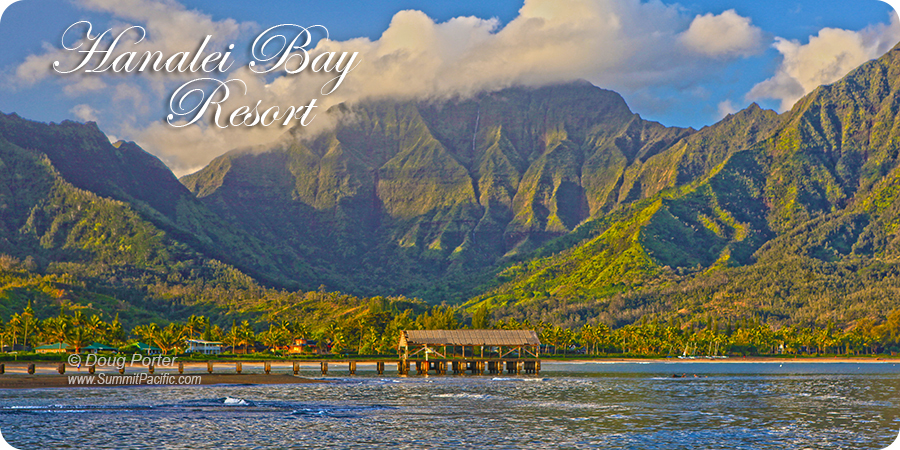 The Hanalei Pier is Nearby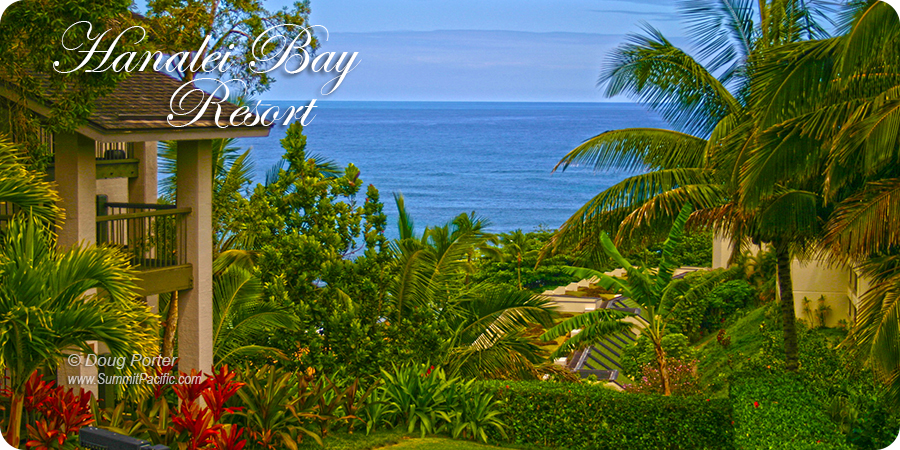 A View from Hanalei Bay Resort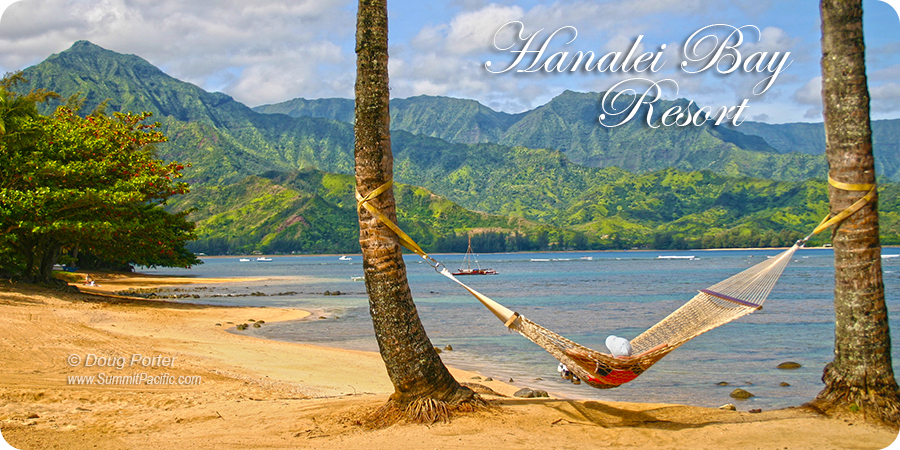 The Beach Below Hanalei Bay Resort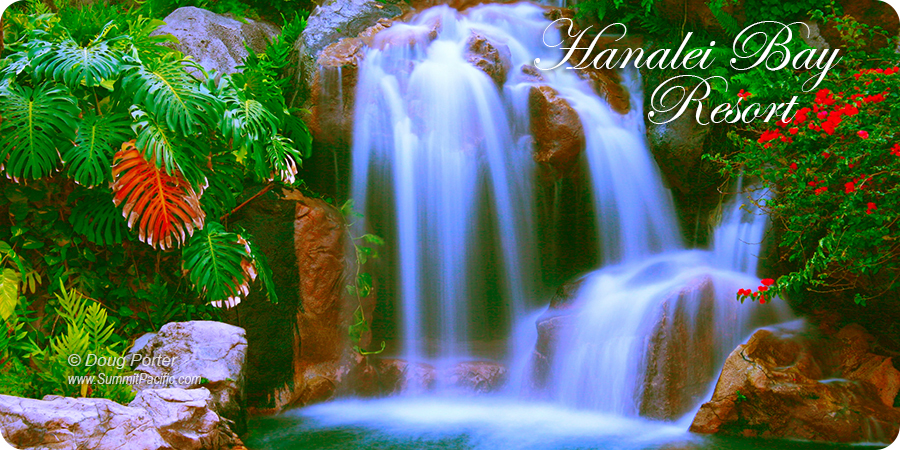 Hanalei Bay Resort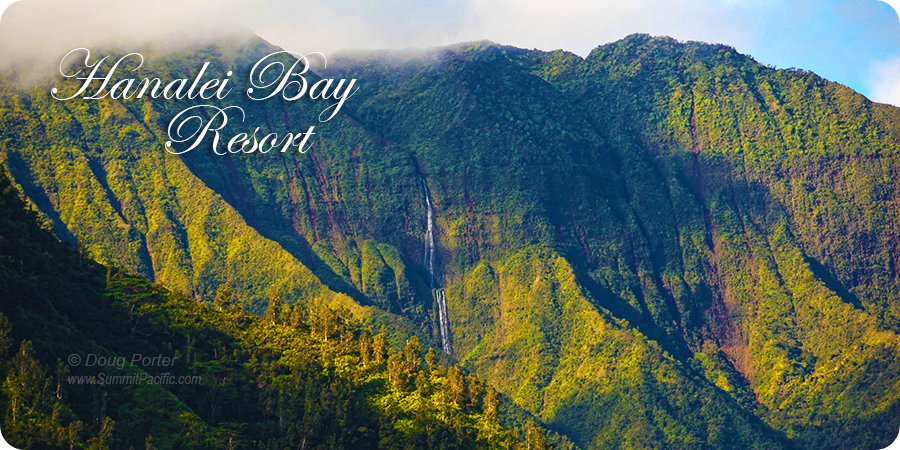 Waterfall as Seen from Hanalei Bay Resort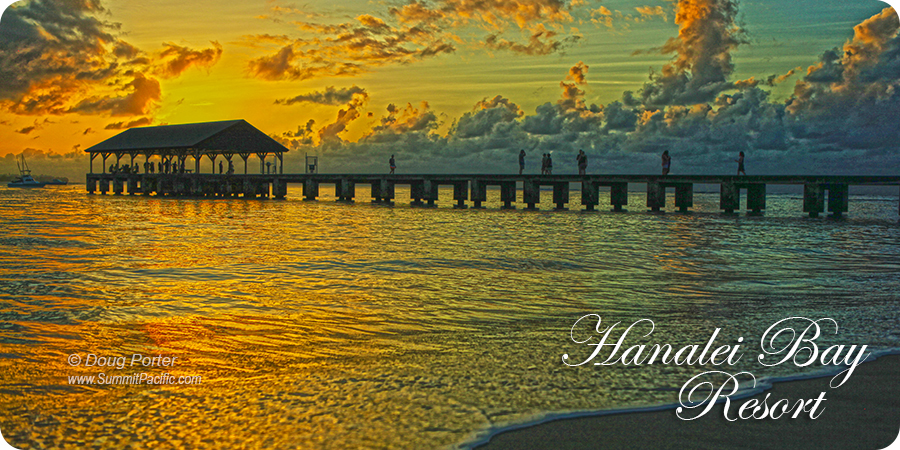 Nearby Hanalei Pier