Guest Comments:
K K 4/23
The place was very lovely with gorgeous views.
---
S R 4/23
My daughter and I had an absolutely amazing time. The condo was perfect for us, and I loved sitting on the lanai looking at the beautiful Bali Hai's each morning. We miss it already
---
J and M 2/23
Yes, your condo was perfect for our needs. Loved the view from the balcony each morning, and the whole resort was beautiful. We don't like resorts that are crowded and noisy and you have to get to the pool early to get a lounge chair. Hanalei Bay Resort is laid back, not over crowded, and quiet, just what we were hoping for. And we got lucky with the weather, only one afternoon of rain during our 8 day stay. Thank you, we had a great time exploring the north of Kauai from your condo, loved the island and the condo.
---
March 2022
Views, views, views! Every morning and late afternoon I sat on the lanai and soaked in the views of the mountains beyond Hanalei. They changed constantly with the light and the clouds. Absolutely wonderful! I also watched the sunset many evenings from the beach - so beautiful! The room was clean and comfortable and I enjoyed the stylish touches. It was a short drive to the Foodland market and quite a few restaurants in the Princeville center (also Saenz for breakfast) and a fifteen minute drive into Hanalei. There is no microwave in the unit so plan accordingly. It is also a bit of a walk from the parking lot but the hotel will send a golf cart to shuttle use back and forth. I used the pools and the hot tub and really enjoyed a late afternoon cocktail in the Happy Talk Bar.
~ Andrea, Jan Jose, CA
---
January 2022
Doug's place has fantastic views of Hanalei Bay, perfect for sitting out on the porch with a cup of coffee in the morning. The resort itself is nice but we did not utilize many of the accommodations since we were out adventuring off site. The wet bar works well for an easy breakfast with coffee (note there is no coffee provided or toaster). Foodland is nearby for any grocery needs. Do not forget some comfortable earplugs for the middle of the night because the roosters may start in the middle of the night.
~Rebecca, Washington, DC December 2021
Beautiful view & very close beach access!
~ Kiana, San Diego, CA
---
December 2021
My wife and I had a fantastic stay at Dougs place! Unit is clean and well furnished and the view from the lanai is amazing and made the stay. The resort was also lovely with incredible views, tennis courts that were never crowded and multiple pools. Other reviewers mentioned the walk to the unit being a negative, however we found this walk very pleasant and gives the resort a much more intimate feel with cars being concentrated in a parking lot and not in front of the individual buildings . We rarely used it but the Shuttle was quite reliable when needed. Lastly, the one downside is that preparing food in the unit was challenging with limited amenities. We took advantage of the gas grills and communal cabana to make a couple meals. It's well described in the listing, but just be prepared for a true wet bar as opposed to kitchen.
~ Michael, Washington, DC October 2021
This is a lovely room with a beautiful view. We enjoyed having our morning coffee on the deck.
~ Teri, Rockford, MI
---
February 11, 2019
Dear Mr. Porter,
We heard only rave reviews from my daughter and her husband who stayed in your condo and talked about returning there in the future.
Sincerely,
~ Maureen and Todd L
---
Dear Doug and Patty,
Thank you!! The condo was fantastic - a superb view from the lanai, perfect for chilling with a glass of wine! The resort was equally superb, a beautiful setting with a great pool and friendly staff. Will be even better when the bar and restaurant are finished but that in no way affected our stay. Just one very minor thing....as a tea loving Brit it would have been good to have a kettle in the condo as well as the coffee maker. We would not hesitate to book with you again, just need to save for the next trip!!
Thanks again to both of you.
~ Sarah and Iain
---
We had a WONDERFUL time on our vacation and both of your units are beautiful!! And as you know, the views are breathtaking. Our stay there was flawless, even with switching units. Both units also had everything we needed for our stay. We cannot thank you enough for your (and Patty's) help throughout the entire process. Your accommodations definitely exceeded our expectations. We cannot wait to return to Kauai one day, and when we do, we will definitely be contacting you again.
Thank you so much,
~ Eric and Lauren
---
Thanks for letting us stay at your condo. We had a fantastic time and have already passed a referral on to our friends who are thinking about a trip to Kauai.
~ Scott M
---
The room was absolutely perfect. I appreciated the fan in the bath to take away the steam. Good idea. The beach was nicer than I expected and the views were lovely. Good bed. Excellent, friendly staff all around. Thanks, I will recommend your property to friends.
~ Susan M
---
Hi Doug, I want to thank you and Patty for your help, care, and attention to detail in booking our first visit to Kauai in August. The entire trip - the condo, the resort and the island - exceeded our wildest expectations. As it turned out, 7 nights was not nearly long enough. I just checked and the condo is booked during spring break so I guess we'll be visiting next summer!
Your condo was comfortable, beautifully decorated, and, although hard to believe, even better than the pictures. The resort staff were friendly and the resort gorgeous. My favorite thing about the trip was waking each morning to see the ceaseless flow of the waterfalls dropping down the lush green mountains. I also loved sunset each day, when all the guests gathered at the lookout just above your condo, to see the sun set over the ocean and Bali Hai. Most nights, we ate dinner from a local restaurant or from the store on the lanai. A wonderful way to relax at the end of each day.
Thanks again and I am so glad I discovered your website and your condo. We'll be back soon (and I am not one to travel to the same place twice!)
~ Jill
---
Thank you....we loved it! The view was spectacular! We'll highly recommend to my family and friends!
~ Gisele
---
Thank you and yes our accommodations exceeded our expectations. Very neat and clean. We have stayed at this property several times and this was the best.
Thanks, Ron
---
I strongly recommend #9221 as a great place to stay in Hanalei Bay Resort.
I wouldn't hesitate to stay there again and to recommend the room to friends.
The room was clean, well furnished with a comfortable bed, enough closet and dresser space, a relatively large amount of floor space and of course an *amazing view* and great location.
The photos online don't do the view justice, looking at the lush green cliffs, waterfalls, and the lanai view of the bay were stunning. The room has a large sliding door that opens to the lanai, and better yet let in the amazing cool breeze during the night. We found the air conditioner easy to use (and it has a handy timer feature to have it turn off after a set amount of time), but we didn't use it after the second day, we just opened the sliding door to keep the breeze in.
We also loved the location on the North Shore, since there are tons of hikes, beaches, restaurants, and towns near the north shore and HBR. It took about 1 hour to get to the middle of the south shore, and another 45 minutes to get to the canyon hikes.
When we read about HBR we heard there was a very steep path to the beach, we expected some slippery dirt path. Actually it's somewhat steep though very walkable paved wide path, past some tennis courts. You can easily walk down if you have no trouble walking. You can also walk up, but there is a handy phone at the bottom and you can dial the front desk and they send a golf cart down. We only used the beach at HBR once, to watch a beautiful sunset (and we hitched a ride down on a golf cart, and called for one up which came quickly). There are so many beaches on the north shore that we ended up not being at the resort during sunset any other days.
One more thing we heard was that the restaurant/bar was not open (for many reasons). Since there are so many places on the north and east shore to eat, this didn't bother us in the least. I think it may be different if you want to stay in the resort your whole stay, but we wanted to see Kauai and took advantage of the opportunity to check out many local restaurants and markets. The room has a fridge, but no stove. There were a few dishes when we were there, enough for 2 people, and dishwashing soap.
The grounds of the resort were clean, well kept, and all the staff were nice and easy to get along with. We also found the resort fees to be low given the beauty of the grounds.
One thing we wish the room had was wireless internet (or, even the lobby of the resort). It looks like there are cell towers on the St. Regis nearby, as the Verizon signal was at max, but we also had a tmobile phone that was roaming or had weak signal in the room.
We asked ahead of time, and knew to bring a Verizon phone that could tether to our computer. Getting email via phone was no problem on both the tmobile and Verizon phone elsewhere on the island.
Overall, booking #9221 was a great decision and set us up for an unforgettable and relaxing vacation.
~ T.E., Oakland, CA
Note: Free WiFi Internet is now available throughout Hanalei Bay Resort.
---
Aloha Doug,
My wife and I want to thank you for letting us rent your one bedroom condo. It was excellent and it was all that your site promised. As you know, we've been staying at Hanalei Bay Resort for years so we know a great place when we see it. Yours was clean with a great view. We'll definitely contact you soon and in plenty of time to rent your one bedroom with kitchen.
~ Thanks, Ron and Rhonda
---
Everything was fantastic with the experience we had in Kauai and the condo was perfect. How about that view off of the deck? Awesome! We will definitely try to get the same condo when we come back next. Thank you for everything and your condo helped make our trip unforgettable :)
Best Regards,
~ Andy and Adina
---
My husband and I had a wonderful honeymoon vacation of a lifetime in beautiful Kauai!! Hanalei Bay Resort is absolutely gorgeous, and our condo at #9221 Bamboo was beautiful, quaint and clean. We just loved the view from the lanai! We definitely want to visit Hawaii again in the future and will certainly remember the excellent service we received from you! Mahalo for a job well done!
Sincerely,
~ Terri and Alan McMillen Sr.
---
My girlfriend and I just returned from Kauai and using Mr. Porter's condo at the Hanalei Bay Resort. We had an absolutely fantastic time. The Porter's condo was very nice and we enjoyed staying there. The view from their balcony was simply amazing.
Anyway I just wanted to pass along our sincere appreciation for you setting everything up for us. We will definitely be returning to the island again soon and would love to stay in the Porter's condo again. I will be in touch
Best Regards,
~ Chris and Jen
---
Aloha Doug,
My family and I had a wonderful time and your condo was great. We had a terrific visit and will look you up when we return.
~ Mahalo, Stephanie
---
Doug,
Your assistant was GREAT and your condo with the view was....well breath taking, we will be back! Thank you so much for sharing your little piece of heaven. Kauai is by far the best of the islands. I will recommend your place to all my friends.
Thanks again
---
Doug,
We had a really great time. Your condo at
Hanalei Bay Resort
was awesome. Me and my lady have already recommended your condo to friends back here on Oahu, and we will definitely contact Allison next time we come.
Thanks again.
~ Victor M.
---
Doug,
I truly want to thank you and Allison for everything. the condo was wonderful. We enjoyed are stay very much.
I hope we will be able to rent that same unit again in the near future.
THANKS FOR EVERYTHING,
~ Kent
---
Hi Doug
Thank you for your email. We had a wonderful vacation in
Kauai
and very much enjoyed the condo - I am missing the views from the balcony already! Hopefully we will be able to visit again soon. Thanks again to you and Allison for your help in making the arrangements. Kind regards
~ Amanda
---
Thank you; we had a fabulous time at your unit; the view is unbelievable from the patio and we enjoyed it every evening; and the stars!!! It was fantastic and we will certainly be returning. Aloha,
~ Stephenie
---
Aloha!
Boy, did we have a Wonderful time!!! Your condo (9221) is just beautiful!! I think we had the best one, with the gorgeous view each morning to wake up to. :) Yes, we are already planning to go back--so hope to schedule that some time in the not too distant future.
I don't know if we told you or not, but our daughter and her husband stayed there for their honeymoon--that's how we found out about you. :) I do have one question, which I don't know if you will be able to answer--do you know the history behind all the
chickens
on the island? It seems we saw them just about everywhere we went. Just wondered if you knew.
Thanks again--Mahalo! :)
~ Bill & Nancy
---
"Doug, I just wanted to drop you a note about the great stay we had in Kauai!! We stayed 4 days on Maui and 6 days in Kauai... Everything turned out perfectly and we really enjoyed our stay at your home! It was more beautiful than I had ever dreamed!! Thanks again for helping me plan the perfect honeymoon!! We may even be back at some point for an anniversary celebration. Hope all is well and take care... Mahalo!!"
~ Brad & Shirley
Rochester, MN
---
"Dear Doug and Mary,
We really enjoyed our stay in Kauai. Your condo is beautiful and comfortable with outstanding views. It was very convenient to my conference at the
Princeville Hotel
, just as you said. We were able to hike all over the island, returning to the comfort of his beautiful and spacious condo. Thank you for sharing it with us."
~ Lucy and Bob
Fairfax, VA
---
"Mr. Doug Porter,
We had an awesome time in Kauai, staying in #9221--thank you so much! The room was very neat and clean and I think the location of the Hanalei Bay Resort is the best place on the island. Thank you for offering your place for such a decent price.
Thank you,
~ Matt and Jenny"
---
"Dear Doug.
I wanted to let you know that Mike and I had a wonderful
honeymoon in Kauai
at your condo in Hanalei Bay. You have a great spot and the most beautiful view! Thank you for allowing us to rent your place and many good wishes for your continued happiness there!"
~ Mrs. Sharon W. / Ambler, PA
---
"Mr. & Mrs. Porter:
We cannot remember exactly how many times we've been here to Kauai. I know it started in 1985. No matter what time of year it is, it is always enjoyable... We've enjoyed your condominium immensely. The view is just wonderful and what a short trip to the beach versus the other condos. Your accommodations are clean & well taken care of.
~ The S. Family / Rancho Mirage, CA"
Pictures of Hanalei Bay Resort 9221
Covered 2nd Floor Lanai & Furniture 9221
Lockout Bedroom Suite 9221
Spacious, Private, and Beautiful
Sofa and Coffee Table Plus Walkout Lanai
Flat Panel TV Entertainment Center 9221
Bathroom Vanity with Travertine Countertop and Vessel Sink
Bathroom Vanity and Tub/Shower Combination
Travertine Tub/Shower Combination
Pictures of Hanalei Bay Resort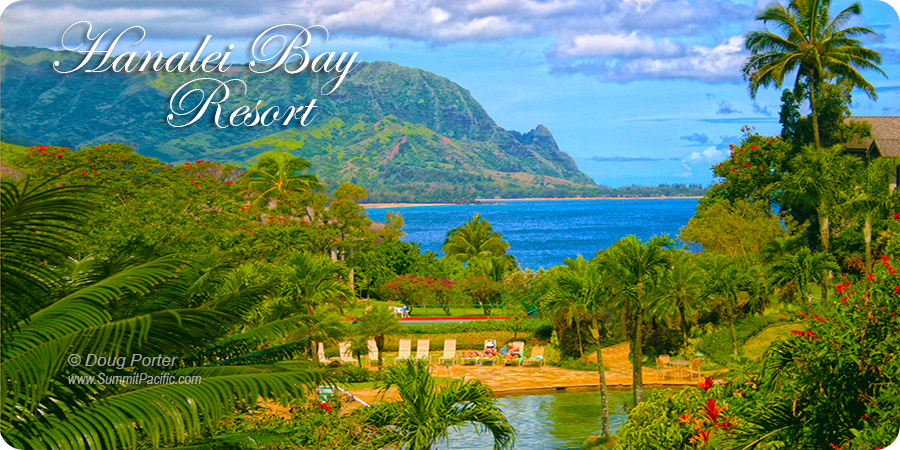 Looking Across Resort Pool Towards Bali Hai
Sunset at Hanalei Bay Resort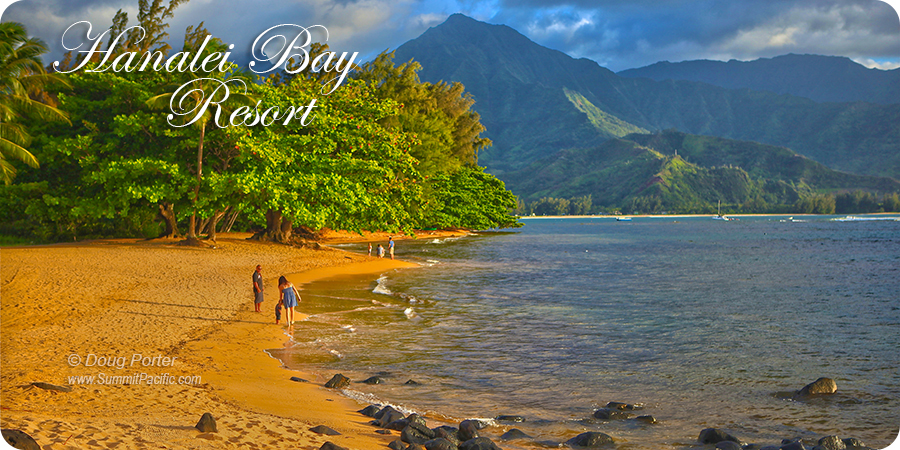 The Beach Below Hanalei Bay Resort is called Puu Poa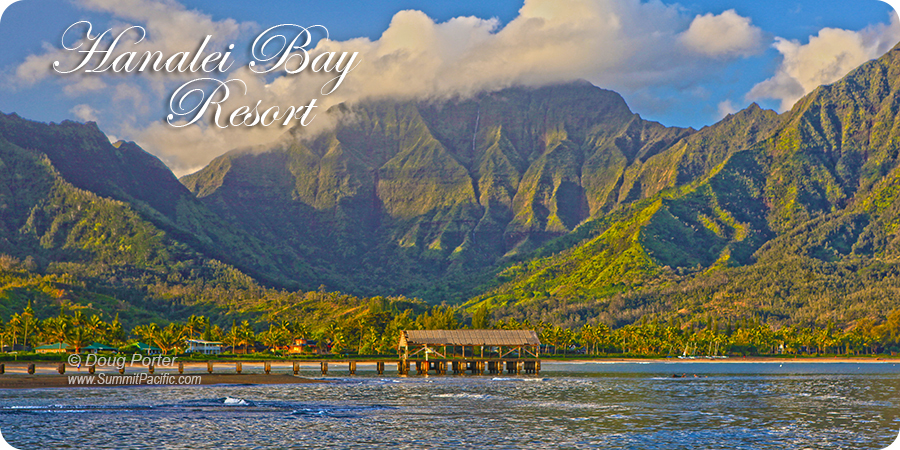 The Hanalei Pier is Nearby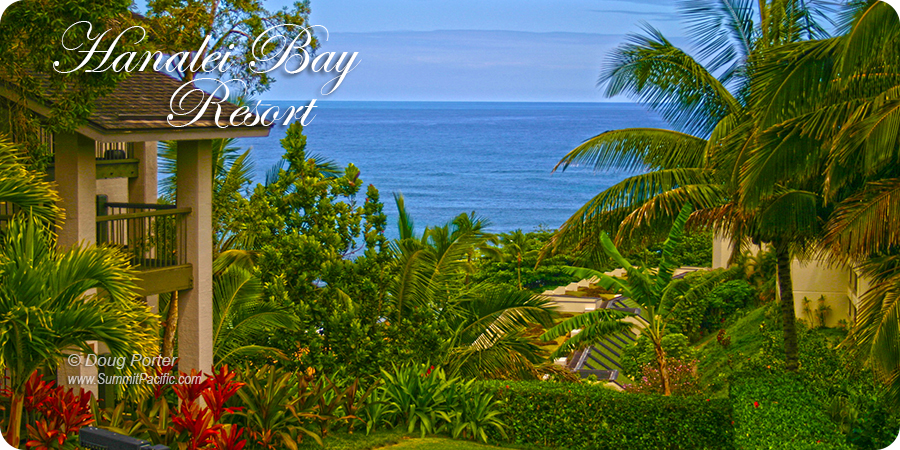 A View from Hanalei Bay Resort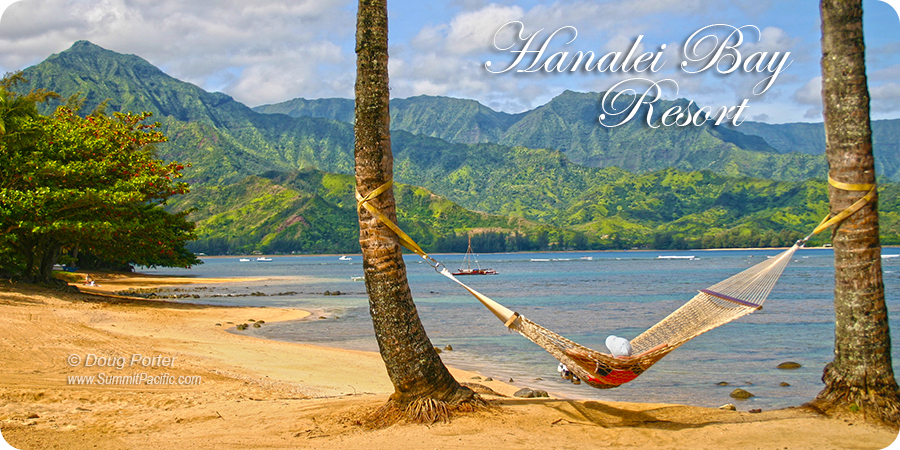 The Beach Below Hanalei Bay Resort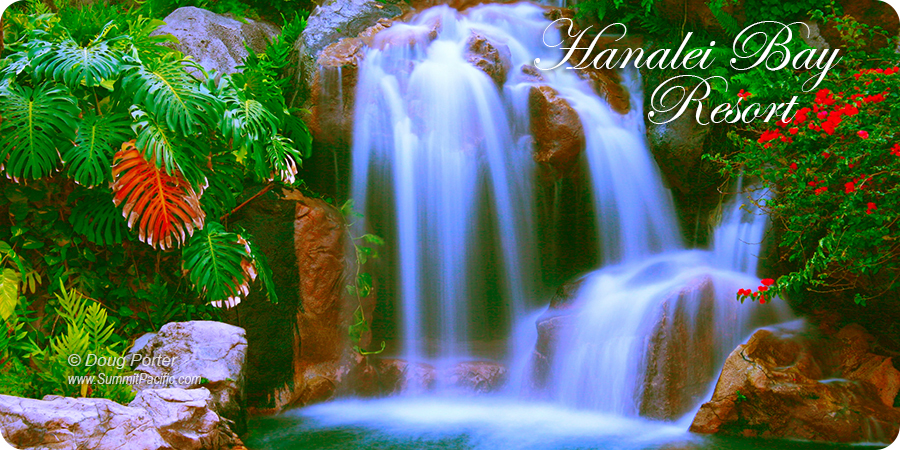 Hanalei Bay Resort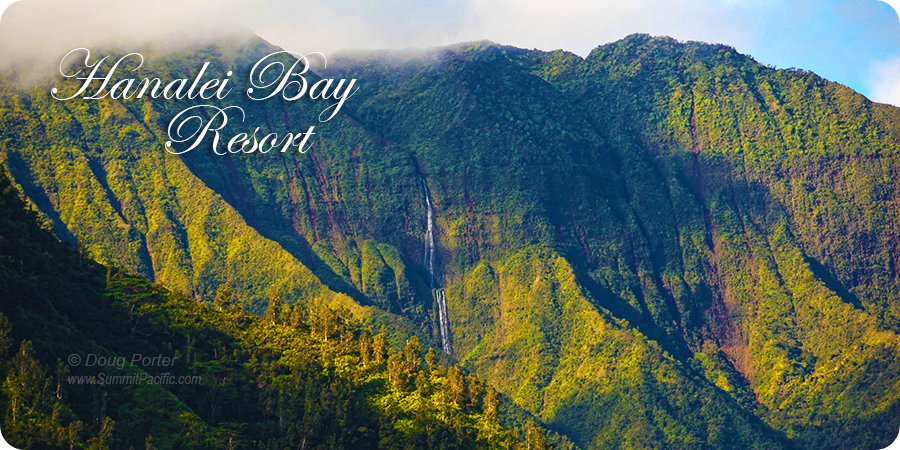 Waterfall as Seen from Hanalei Bay Resort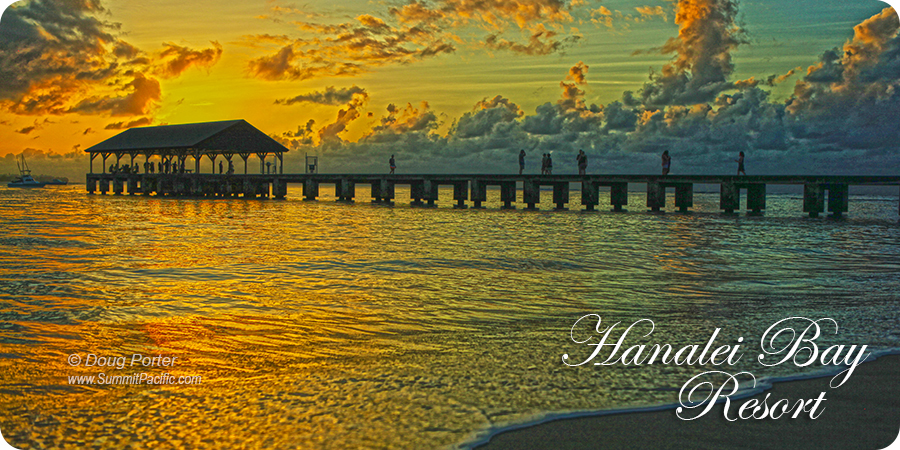 Nearby Hanalei Pier