Guest Comments:
Lisa thanks so much for allowing us to stay at your beautiful condo. The place was awesome, I only wish we spent more time there. The views were just as you see in the photos. It was our first time in Hawaii so we did some island hopping but if we ever return I would definitely plan on staying at your place again. The condo was very clean and comfortably decorated. It felt like home. I highly recommend the place.
~ MD
---
We rented Lisa's 1 bedroom condo with kitchen for 4 nights in mid-March 2012. We booked based on the location, past reviews of this condo and the views in the pictures. The pictures are the exact view you will have--amazing! The condo itself is in really great condition with newly updated appliances, really large rooms and the most comfortable bed ever. You have all the beach equipment you could ever use and having the washer/dryer in the unit was very convenient. Each day we would enjoy the views while drinking coffee on the lanai. Lisa, the owner, was so helpful providing detailed information before we arrived about the condo and the resort. The resort--in our opinion the perfect location on the North Shore. There are two pools at the Hanalei Bay Resort, the main pool and a more adult pool that is near this condo. Near the pools are grills for cooking. The tennis courts looked very nice, although we didn't partake in this activity. You are right above the St. Regis Resort and share the same beach with them. It is a bit of a hike from the condo to the beach down very steep hills (which you must of course come back up); however, we just made it part of our daily exercise instead of having the golf carts bring us down to the beach. The condo is also a bit far from the parking lot if you are hauling groceries, but it's not so bad that we ever called for a golf cart. If you have trouble walking at all, this probably isn't the resort for you as there are many hills and to even get to the pool you have to go up a pretty steep one. Overall, we would rent this unit again in a heart beat.
~ NS
---
We can't say enough good things about our stay at Lisa's condo. It was simply wonderful - from the comfortable bedroom, the beautiful lanai/gorgeous vistas where we had breakfast and dinner every day, the up-to-date kitchen which had everything we needed, plus providing beach chairs and "toys" so we didn't have to rent. We hope to return in a couple of years. We've already recommended the place to friends. Thanks, Lisa!
~ M&K A
---
We spent 10 wonderful days in Lisa Steele's unit 7102 at Hanalei Bay Resort. We enjoyed the beautiful sunsets every night and walks to the beach. The condo is just beautiful and has everything you need umbrella,beach chairs loved the washer and dryer. All the creature comforts of home with a view to die for. The grounds at the resort are pristine and we so enjoyed the pool and the hot tub. We hope to go back again next year. Lisa happened to be there and was extremely accommodating to our every need. This is a great place to stay and I highly recommend it to anyone looking for paradise.
---
In all my travels I've never seen a place as beautiful as this. I'm mesmerized by the light on the mountains! Its endlessly entertaining. Leaving it will surely be leaving paradise. Thanks so much for your perfect place here. We were more than comfortable. We never expected to have this much space and comfort. When I'm back in cold, gray, snowy Brooklyn - I'll think of your piece of paradise and smile - knowing it's there waiting for our return.
---
Even in the rain, this place is beautiful. Your condo was so comfy and we actually learned how to relax! My family and I thank you - the memories here will last a life time.
---
We stayed for 7 days, and it was wonderful. The grounds of the resort are beautiful. Matter of fact, I don't think there is a more beautiful resort anywhere on the island. This is our second trip to this resort, and I would highly recommend Mrs. Steele's condo. It was FAR better than where we stayed last time. Lots of amenities, tennis, swimming, hot tub, barbecue pits for eating in, A beautiful beach below, and someone in a golf cart to take you back and forth. It was great. We even had a monk seal take a nap on the beach 2 days while we where there. The surf in the winter months is pretty high, but our 7 year old was able to play in the water near the beach without danger, due to the fringing reefs that protect Hanalei bay. The Condo was really nice inside, with a nice couch & love seat, with a great view. This is one of the most private condos in the resort, and is very well maintained. Both the bedroom and the living room open up onto a lanai where you can sit and watch the sun set. We cooked on the bar-b-que pits not far from the condo, and they were well kept, and just waiting for us. There are boogie boards, and golf clubs(now), movies, Hawaiian music, and lots of other things right there in the condo. Awesome! The condo has all kinds of pots & pans and silverware, along with pretty much everything you need to cook... except for food of course. It'd be nice if there were some spices left in the room. We left salt and pepper, but that's about all... We staged a renewal of wedding vows on the rocks of the beach below the resort, and it was wonderful. The photos in the setting sun were breathtaking. Cell phone service(AT&T) was limited inside, due to the terrain, no doubt. 3G service required a walk outside, but my families Verizon phones worked just fine. Sometimes, though, no cell service can be a blessing :) Did I say it was beautiful? This is a great place to stay. If you are considering it, do it. You'll never regret it.
~ J.M. January, 2010
---
Great little spot - Cute unit.
Thanks,
~ Steve
Pictures of Hanalei Bay Resort 7102
7102 Covered Patio Lanai w/Bali Hai View (from Master Bedroom)
7102 Living Room with Flat Panel TV
Living Room with Walk Out Patio Lanai
Living Room
Dining Table with 4 Chairs
Desk, Dining Table from Front Door
Fully Equipped Kitchen with Full-size Appliances
Bar Stools & Kitchen with Stackable Washer & Dryer
Kitchen 7102
From Kitchen Looking toward Dining Table
7102 Bedroom with Walkout Patio Lanai
Bedroom Furniture and Wall Mounted Flat Panel TV
Bathroom
Full Soap Package
View from Covered Patio Lanai
Lanai Furniture 7102
Lanai Furniture 7102
Pictures of Hanalei Bay Resort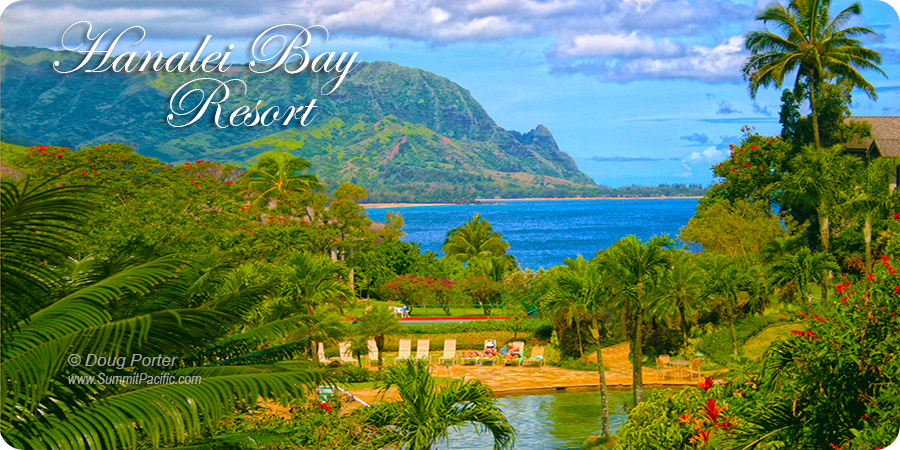 Looking Across Resort Pool Towards Bali Hai
Sunset at Hanalei Bay Resort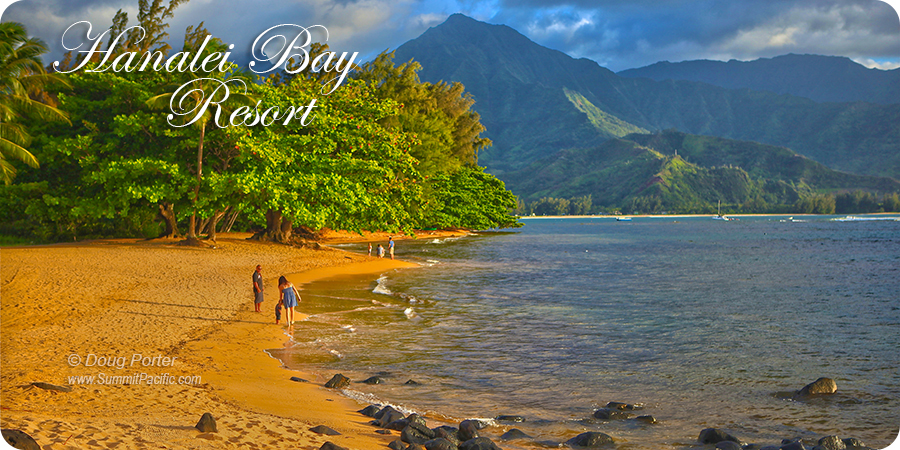 The Beach Below Hanalei Bay Resort is called Puu Poa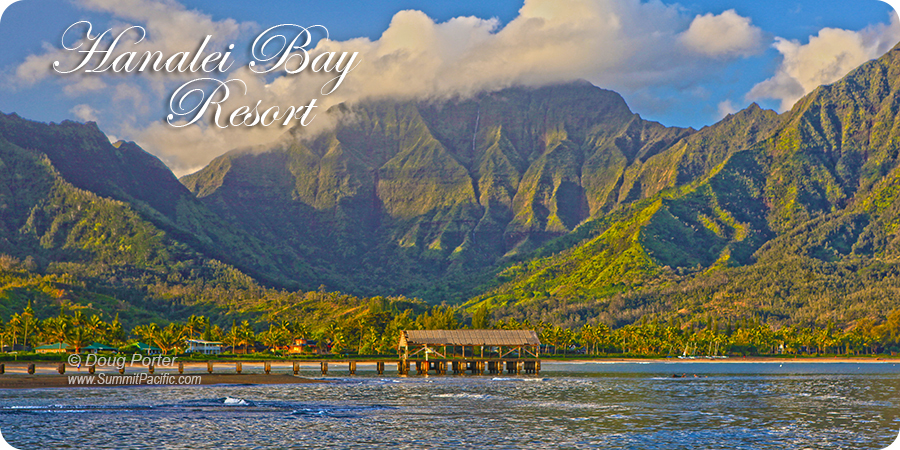 The Hanalei Pier is Nearby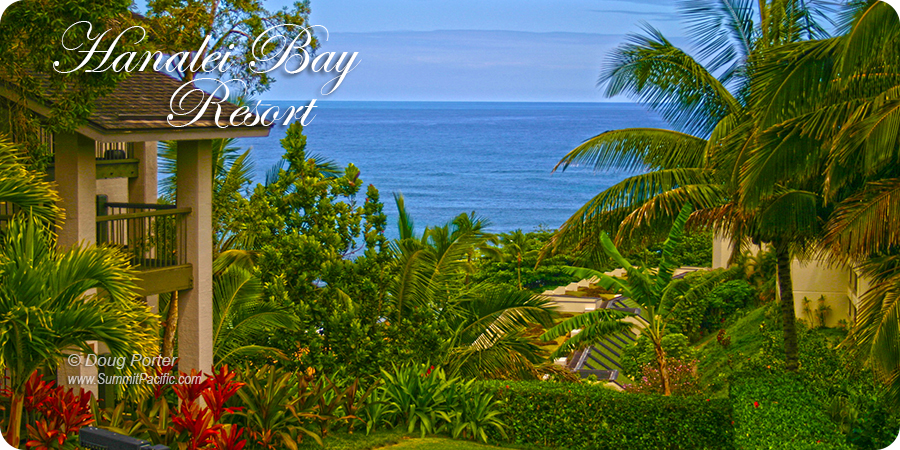 A View from Hanalei Bay Resort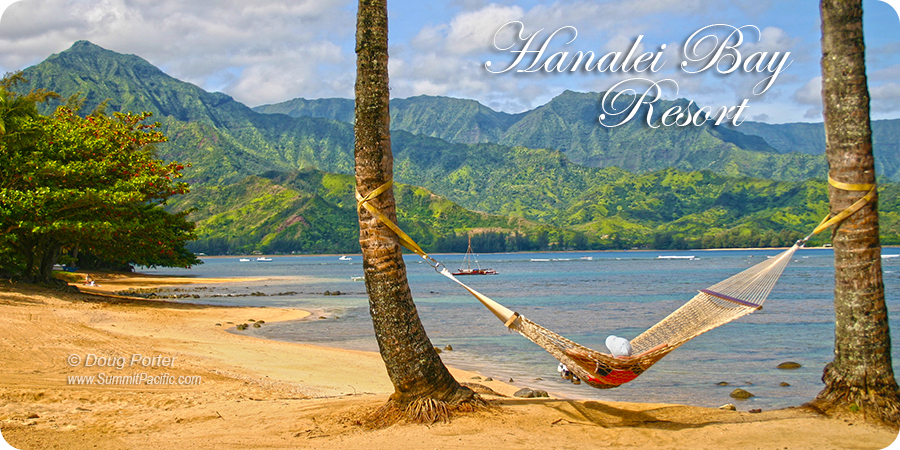 The Beach Below Hanalei Bay Resort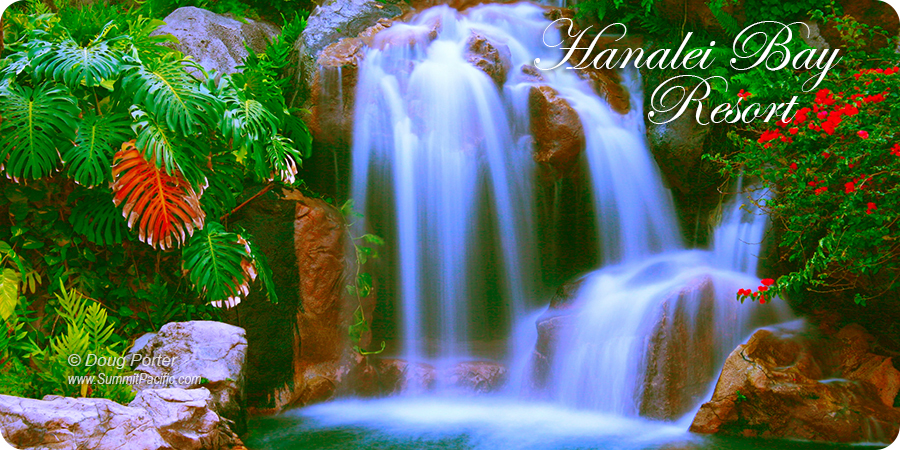 Hanalei Bay Resort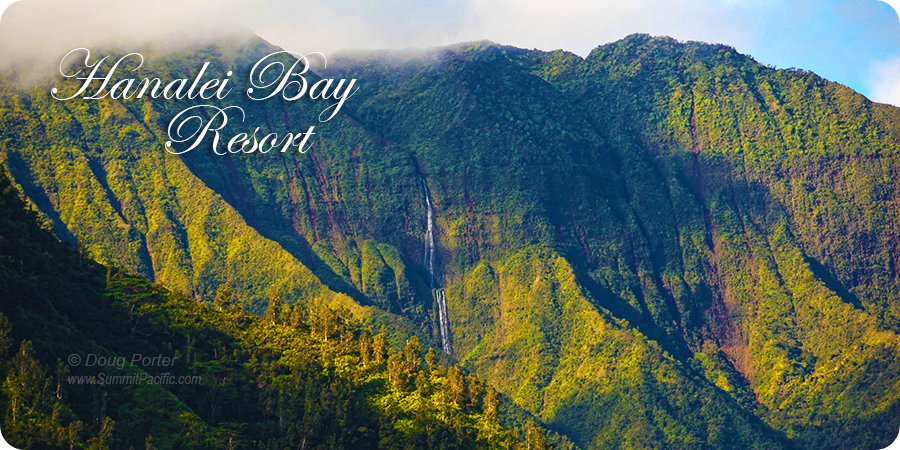 Waterfall as Seen from Hanalei Bay Resort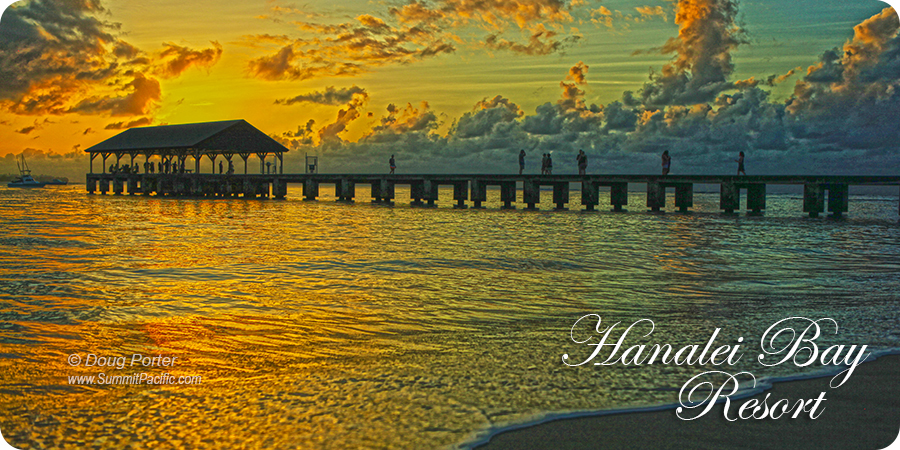 Nearby Hanalei Pier