Amenities:
Beautiful paved tropical path to beach (5 - 10 minute walk or shuttle)
Large lagoon pool with sandy children's beach
Sand Bottom Hot Tub Spa
Cascading waterfalls
Intimate pool near barbecues and pavilion
Outdoor Gas barbecues
Tennis Pro and Shop with daily clinics
8 paved tennis courts
Water sports activity desk
Activities desk / Concierge
Bell Service
Front Desk
In Room Massage Available
Complimentary shuttle service to beach
Only Swim Up Bar on Kauai
Guest Comments:
April 2021
Joan's unit is perfect and so is Hanalei Bay Resort! I spent a week here and spent the majority of the time on the large lanai - you can't beat these views! HBR is quiet and peaceful, and everyone was friendly and helpful. The unit itself is perfect for whatever adventures you have planned for the week. Ceiling fans and open screen doors kept it cool the entire time, and I only turned the AC on once (which was very nice to have when I did want it). Joan was extremely helpful and quick to respond to my questions. Looking forward to returning!
Kristi T.
---
March 2020
My husband and I came back to the Hanalei Bay Resort to celebrate our 30th wedding anniversary. We stayed here on our honeymoon and fell in love with the views, the amazing resort facilities and the magic of Hanalei and Princeville. Joan's hospitality and our stay in 4222 for these past 12 days has been amazing. The unit is super well stocked with more than we could ever need and the view from the lanai is PERFECTION. I have SO many photo's of rainbows, sunsets and even the full moon - it's unbelievable ! Thank you so much Joan - staying here has truly made this one of our best visits to Kauai to date. Mahalo and Aloha
Diane K
Canada
---
We were literally rendered motionless and speechless with the exceptional view right in front of us the minute we opened the door. This property did not simply feel like a nice condo. Rather it is an exquisite HOME: fully stocked for indoor living and outdoor adventure. In the evenings we enjoyed watching movies that were filmed in Kauai (from their DVD library) and relaxing to Hawaiian music (from their music library) and watched the sun go down in a paradise I find impossible to capture with words.
My husband and I stayed in the Master Suite which had plenty of storage and lots of hangers (thank you!) The mattress was so comfortable and we fell asleep listening to the waves. I appreciated the "pillow bar" that had a variety of different pillows to pick from. I always pack my own because I like a soft feather pillow, but I didn't need to for one of the first times ever. My mother who just turned 80 also stayed with us and she slept on the sofa bed and said it was very comfortable as well.
One of the features that came in very handy were the golf carts that could be called anytime day or night if we wanted a ride to the beach or back from the beach (yep there's a phone right there too!) , the pool, restaurant etc. They were so quick to respond (under 5 minutes) and customer service at the resort was exceptional.
The resort shares the same beach as the Princeville Kauai Hotel. It is never crowded though. On the last day there was a monk seal right on our beach hanging out sleeping and rubbing his belly. We also saw turtles right from shore and the snorkeling there is great. In the distance you could see surfers riding big waves.
There is a grocery store in a strip mall not even 5 minutes away (which has boutique stores, shave ice, ice cream, gas station); everything you could need for your stay.
If you are still comparing properties (I must have compared properties for months before making my final bookings) stop right here. There is no need to look further. This unit and it's owners are first class. It doesn't get better than this.
Mahalo Joan and Bill for sharing your home with us. We will be back!
~ Michelle D. 2019
---
Jun 22, 2018
This condo lives up to the description and photos. When one enters the condo the view is mesmerizing! Be prepared to spend lots of time on the lanai. We rented both of Joan's units and I highly recommend this option. The larger one bedroom contains everything you will need to cook in if you so choose. In the studio, there is a small refrigerator, coffee maker, and wine glasses. Both units have reference books and comfortable sitting areas. Beach chairs and ocean toys round out the picture. The condo is spotlessly clean and decorated with great taste.. The grounds at HBR are lush and beautifully maintained. The pool at HBR is wonderful, and the swim up bar is a unique way to have a drink on Kauai. We ate in the Happy Lounge one evening and listened to an amazing band. I highly recommend the experience. The rental process was seamless from beginning to end, The only downside was having to leave.
~ Lori C.
---
May 2017
This was my second stay in this unit (Hanalei Bay Resort 4222), and I could not find a better place to stay on the North Shore! The unit has everything you need to be considered a "home away from home", including beach chairs, cooler, snorkel and tennis gear, even a crib, etc. The kitchen is second to none in any condo I've ever stayed in, and contains anything you need to cook, as well as all of the plates, bowls, cups, silverware, and pretty much anything you would need in a kitchen. The dining and living room areas have very nice furniture, with a tropical theme and very comfortable. The bedroom is awesome, with a very comfortable king-size bed. Finally, the view is to die for!! Waking up to the sound of the birds and the beautiful emerald mountains and blue ocean in the distance is absolutely one of the best ways to wake up when on Kauai. The sunsets are truly spectacular as well. The very spacious lanai spans the living room and bedroom space, and you can relax in a nice lounge chair or regular comfortable chairs. Some of my best moments - having breakfast on the lanai with that spectacular view, and of course watching the gorgeous sunsets from the lanai. If you are looking for a spacious, comfortable, spotless, beautiful vacation home to stay in when visiting this beautiful part of the world, you will find it at this unit!
~ Jeffrey from CA
---
This condo exceeded our expectations in every way. The views from the lanai were even more gorgeous than pictured (which I didn't think was possible). The condo was completely updated and the decor was very nice. It was well stocked with all of the basic necessities and the closet had a very nice selection of coolers, chairs and other beach accessories that we utilized during our stay. We put the in unit washer and dryer to good use. The resort itself was one of the most beautiful places I have ever stayed. The grounds and surrounding views were amazing. Everything was well maintained and the staff was both efficient and very friendly. The pool area was wonderful and the hot tub was the perfect temperature. The water fall setting and sandy bottom made this a very enjoyable experience. The owner was extremely responsive and answered all inquiries and questions very promptly. She also was very helpful in providing advice and guidance relating to both the local area and Kauai in general. It is very evident that she loves this area and takes great pride in ensuring her condo is clean, comfortable and top of the line in every way. I would highly recommend both this condo and the resort for anyone looking for a beautiful setting in Kauai. Although we spent time exploring all of the areas of the island, the North Shore was my absolute favorite.
~ CB May 10, 2016
---
If you are looking for the perfect North Shore Kauai Experience Hanalei Bay resort is the right choice. Situated with a glorious view of Bali Hai you feel as though you stepped on to a Kauai movie set. The spectacular color variation of the sky, ocean and hills is breathtaking. The beautifully appointed condo has everything the traveler needs and much more. Kitchen is loaded with every appliance, pots, pans and dishware one could imagine. A luxurious master suite features top of the line furnishings and fixtures. The private adjoining lanai includes the great view and comfy lounge chairs. The large lanai off the living room is perfect for entertaining. Joan has created a true Hawaiian experience the moment you step inside. Careful attention is given to every detail of the authentic décor and furnishings. You will also have access to all the resort amenities, pools, tennis courts, beaches and more.
~ MG Feb 2016
---
In the last few years, we have stayed in HBR 4222 anywhere from 2 days to 2 weeks...during November, June, February, and April...we have come to know it well. We have seen it in so many different circumstances!...but one thing remains the same - this is a truly wonderful unit and resort in which to breathe in the beauty that is Kauai. It is a place to return to. The view is stunning!...and you see it from the moment you walk in the door. You have that same view in the bedroom, too! The lanai is large and stretches from the bedroom to the living room and looks directly over Hanalei Bay to Bali Hai. It is breath-taking....I have a gazillion pictures of it that I can't resist taking EVERY time we are there! It never stops being fresh and new. 4222 is beautifully and comfortably furnished. The dining table always looks tropically gorgeous - a lovely touch....the living room has complete comfort. There is enjoyable artwork. The furniture is solidly built as well as attractive. Good sound system and selection of music and movies. The bedroom has a beautiful carved chest of drawers, as well as night table, etc. And the King Bed is a "dream come true" It is incredibly comfortable. And what a delight to look out at the Bay and Bali Hai from the bed as the sun rises over the mountains! The kitchen is very well-equipped, the appliances are brand new stainless steel. The lanai has attractive teak furniture we particularly like. Through the years I have had some issues with the internet connections at HBR. If I'm not mistaken, they have a new provider and system in place by now and that situation should be resolved. That was the only drawback worth mentioning we experienced within the unit. HBR has lush tropical grounds. The paths can be steep, not ideal for anyone with serious knee issues. The resort does provide a (golf) cart service, though that will take you both to and from your unit (particularly useful to EVERYONE when checking in and out). It also will take you down to the beach and bring you back up. My family loved walking to the beach - I took the cart most times (knees). It all worked well. 4222 has it all - view, comfort, style AND a great owner. Joan is responsive, helpful and a tremendous resource for all things Kauai. Very professional. Very much committed to her guests' comfort and enjoyment. The pictures on the listing are accurate, but can not compare to the reality. HBR 4222 is a unit very easy to recommend. And we do!
~ Peggy and Bill S
Canada/Hawaii
---
After doing our research we decided on unit #4222 at the Hanalei Bay Resort and were not disappointed in any way. Upon arrival we were greeted by the very friendly staff at the front desk and shown where to park our car and given a map of the resort showing where our condo was as well as the pools, hot tub, trails to the beach, barbecue area and other amenities. The front desk staff called a Bellman to meet us in the parking lot and in the blink of an eye "Kaipo" , the senior Bellman at the resort showed up in a golf cart to take us, our luggage and groceries to our condo. During our stay if we needed a lift down to the beach or back up, we called for his golf cart services and he was always there in minutes. He was always so pleasant to talk to and very helpful. ( Make sure you tip them for the service they really do appreciate the recognition and will go out of their way to assist you in any way )
We were very pleased with our condo choice, upon arrival we found it to be spotlessly clean, very well equipped, had a good selection of music and DVDs, very roomy with beautiful tropical furnishings and had a perfect view of Hanalei Bay and Bali Hai. We would have breakfast on the lanai and enjoy watching the surfers in the bay and the family of chickens roaming the grounds, yes the Roosters start early but they are everywhere on Kauai, some say it is the national bird of the island.
The Beach at the bottom of the property is shared with the St Regis Hotel, it is clean, safe for swimming and had some pretty amazing snorkeling, we saw turtles there every time we went out. You can go to the hotel's beach grille for lunch and beverages but be prepared for a $21.00 hamburger, it was a good burger but not $21 good. Most days we made a lunch and packed it in one of the condo's coolers along with our beverages and had a picnic on the beach. Kaipo or one of the other bellman would drive us down with our chairs and beach gear and at the end of the day pick us up, there is a phone box at the bottom of the trail that you use to call the front desk that will dispatch a driver.
The Barbecue area near the small pool is well equipped with three newer Weber barbecues plus there is a outdoor kitchen and tables as well, we just barbecued and went back to our condo for dinner on the lanai to watch the sunset over Bali Hai. ( Unit 4222 is very close to the barbecue area ) The main pool area is very large and has a good size hot tub as well, there is a dive operator at the pool that offers introductory scuba lessons and has a good supply of gear for sale and rent. The resort restaurant that was lost to fire a few years ago is under reconstruction, it did not impact our stay in any way, work seemed to be done only during the day while we were away from the resort, we did not hear anyone complaining about noise or anything from the site. Shopping is minutes away at the Princeville Shopping Center, there is a good variety of shops as well as a Foodland store that has everything you need for groceries and spirits. The Saturday farmers market in Hanalei is great and a must do... buy some of the small "apple bananas" they are so good.
Dinner out in Hanalei is very good there are lots of good restaurants to choose from, the Hanalei Pizza Company is great. We went to the Westin in Princeville for the Thursday Prime Rib night, very flavorful, 16 ounce cut of tender beef with mashed potatoes,asparagus and a beautiful demi glace for $34.00 they have a featured wine at 50% of, we had a spectacular Napa Valley syrah that was $100 on the wine list for $50.
We would highly recommend a Kauai vacation and a stay at the Hanalei Bay Resort, The unit #4222 that we stayed in was beautiful, but please book a different unit because we will be going back and don't want it to become to popular.
~ John & Karen, White Rock, BC
---
Hello Joan,
My family had a WONDERFUL time on the north shore and your place was AMAZING! Loved having our morning coffee on the lanai and enjoying the spectacular view of Bali Hai. We look forward to returning again next year.
PS. Hanalei Bay was our favorite beach on the Island...what a great place!
Kind Regards,
~ Scott
Nov 20-24, 2012
---
August 2012
We had a really great time. We've been talking about your condo and how it was the perfect hybrid between staying in a hotel and renting a house: the best of both worlds (with the only one exception being the inability to use the St. Regis pool facilities which we loved when we stayed there last summer). However, the fully-stocked condo (especially the beach gear) makes up for a lot of that one drawback. One of our favorite experiences of our entire trip was lounging on the terrace at sunset.
Thanks again for sharing your beautiful home.
~ SF from Los Angeles
---
The condo it self was beautiful and so comfortable. (condo #4222) The view from the lanai was breath taking with views of the ocean and mountains. We would watch the sunrise and the sunset - so special. Everything we could possibly need to make our visit perfect was provided including beach chairs, umbrellas, binoculars etc. The Condo was very quiet during our stay. The staff at the Hanalei Bay Resort was top notch , the grounds very well kept. Also having a beach to walk to from the condo was an added bonus. The location, north Kauai - is just a great combination of beauty, quiet, beaches, beaches, beaches. Tunnels-very good snorkeling , but since we are beginners, Ke'e was easier for us. We hiked part of the Kalalau Trail too, wonderful views. Also spent a day hiking and swimming on the east side and the south side, but we would definitely stay in the North side, at the Hanalei Resort if we have the opportunity to visit Kauai again. It just felt like a vacation - a retreat.
~ Trip Advisor review
May 2011
---
Aloha Joan,
We arrived at about 11 P.M. on Wed night after traveling for about 10 hours. We were greeted with the warm ambiance that you have created in your Hanalei Bay home. After a wonderful nights rest, the next morning I opened the blinds to the view that was even better than depicted in the photos. I couldn't believe how stunningly beautiful. Needless to say, we are so happy to be here.
Your home is fabulous and has everything we could possibly need. Thank you for sharing with us.
Best wishes,
~ Carmen
March 31, 2011
---
This trip was for our 30th wedding anniversary. We thoroughly researched the reviews on Trip Advisor and selected HBR, unit 4222. This unit is privately owned and has been beautifully furnished and decorated. It is completely equipped with all kitchen amenities and includes most of what you need to enjoy and explore the island. The views from the balcony are amazing and we never got tired of gazing outside. Every time you look, it is different (lighting, clouds, shadows, rainbows etc.). The owner was very friendly and professional and very responsive to our questions. She even saw to it that a bottle of Champagne was waiting for us to help with celebrating our 30th (Thanks Joan). Joan worked with us on schedule in ways that you will not get a management company to do.
As for the beautiful Hanalei Bay Resort. Everyone we encountered from the lobby staff, to the bellmen were professional and courteous. The pool and hot tub area are just what is needed to relax after a day of exploring the beautiful island of Kauai. Almost every evening we used the Weber gas grills located in the common area to cook dinner (had to get one of these when I got home). The parking is a little unusual in that it requires about a 5 minute walk to get from the car to the condo. If walking is a problem, bellmen are always available to provide rides in golf carts. This is only a consideration if mobility is an issue. I don't think you will be disappointed if you choose to stay at HBR 4222.
---
Besides saying that we will never regret choosing Kauai as our Hawaiian island of choice for our (hopefully not) once-in-a-lifetime vacation... my husband and I both agree that this condo unit 4222 under Joan Bettencourt's ownership was a wise gamble.
From the moment we stepped into the beautiful open-air lobby we just felt like we were dreaming and this whole vacation had to be too good to be true! It wasn't. The condo was beyond our expectations. It not only had updated furniture, but it was SO clean. Not just surface clean, but the comforters were clean...which is always a huge indicator for me of a quality vacation rental. The bed was very comfortable, our sleep was so solid.
Something that stood out as well was the fact she made sure there were AC units in both the bedroom and living room. We are AC dependent, living in a tropical area ourselves, so when most rental companies told us in Kauai the ocean breezes are so strong you don't need it, we went back and forth in deciding. We went in May and let me tell you, it does make a difference. We didn't know how good we had it until we left. We had a vacation rental directly on the ocean in
Poipu
and were miserable as far as the heat goes with no AC. So if you are a little more sensitive to heat it may be something to consider.
---
My husband And I have stayed at the Hanalei bay resort but have not experienced such a perfect condo with the most amazing view. Thank you to Joan who was great to work with made us feel at home. The condo has everything you could want. It was great to have the Ice chests,beach chairs ,boogie boards right there in the closet for us to take to the beach. Joan-you did a great job with the decor the king bed was "to die for",so comfortable to turn over and look out the doors at the view made you speechless. This will be our new destination when we come to Kauai. I even made a mistake on my check-out date and Joan fixed in 5 minutes. Thank you for making our vacation a great one. Cant wait to come back!
~ San Jose, CA, January 2010
---
We were celebrating our 30th wedding anniversary in Unit 4222. Joan has done a good job at creating a relaxing atmosphere in her tastefully decorated condo. The views are gorgeous, the grounds are beautiful and a very friendly staff make for a great place to stay at.
~ Nov 2009
---
My husband and I chose to come to Kauai for our honeymoon in October 2009. We wanted to stay in a condo mainly because we wanted to be able to eat at 'home' a couple of nights during our stay. We researched a couple of different web sites and decided to stay in room 4222 at the Hanalei Bay Resort. It was amazing! First and for most, the view from the condo is amazing. Secondly, Joan has all of the 'beach' supplies that you could need... beach towels, a cooler, beach chairs, snorkel gear... and that really saved us some cash. We had a wonderful time. We both hope that we will be able to return to room 4222 and Kauai sooner rather than later.
~ L.L Oct 2009
---
I had the pleasure of staying at Hanalei Bay Resort 4222 in September 2009. Everything you read on every website about Joan and this condo is accurate. From my first conversation with her I knew it would be a wonderful place. The view is absolutely stunning. The grounds of the resort were perfect. The condo itself is top notch. I have read a few unfavorable things about other condos at this resort and I will admit as I looked around the property it was quite easy to tell which were privately owned. Keep it simple, Rent from Joan, enjoy the wonderful pool, have a Mai Tai in the really lovely bar, follow Joan's suggestions for fun and food and don't forget your camera.
~ M.T. Sept 2009
---
I apologize for the delay in getting back to you, but both Drew and I want you to know that we had an AMAZING time in Kauai! It was the best honeymoon that we could have asked for. The weather was amazing, the food was to die for, and your condo was BEAUTIFUL!
It was so nice to wake up in the morning and have coffee on the lanai, pack up the cooler, and head to the beach! We also used the back pack, the snorkel gear, the beach towels, the beach chairs, and the binoculars. It was so nice to have all of that at our figure tips and not have to spend the time or the money renting everything.
We want to thank you for letting us stay in your beautiful condo. We hope to be back sooner rather than later.
~ L.B Oct 2009
---
Your condo was absolutely wonderful. We didn't want to leave
Kauai
to go to
Maui
after being at your place. We were so impressed with the beauty of your home as well as your having all of the needed things for your renters. When we got to the Marriott in Maui, we were telling everyone about Hanalei Bay. We made sure to watch the sunset every night from the point right near the condo. The sunrises were beautiful, too. I don't want to go anywhere else and in fact, we plan to only stay in Kauai next time.
~ D. Riley, July 2009
---
June 2009
Everything in Kauai was great! The condo was awesome and had everything that we needed during out stay. Thank you for all the great information about things to do in Kauai and places to go - they were very helpful.
The condo was beautiful and the view was just amazing. I'm sure we will be coming back in a year or 2 and will certainly keep you in mind when we are looking for accommodations! If anybody asks me for recommendations, your place will be the first (and only) on my list.
Thanks,
~ D. H.
---
June 2009
We had such an incredible time on Kauai (actually we both like it better than Maui) and we thoroughly enjoyed staying at your incredible condo! We would love to return at some point!
Thanks again for making everything better than we had hoped for!
Take care,
~ J. S.
---
My husband and I spent thanksgiving week at Hanalei Bay Resort. It is a beautifully decorated condo - what you see truly is what you get. The view from the unit is amazing. On our first morning it had rained a little and a rainbow popped up right outside. It was so beautiful. In the bathroom drawer there was a first aid kit, mouthwash, deodorant, bug repellant! Joan has TVs and DVD players in both the living room and the bedroom. The resort was quiet and peaceful. The pool area is beautiful and never crowded.
We had a wonderful relaxing time in Kauai (our third time). The North Shore is definitely the prettiest part of the island - so, so green and the mountains are right there. I would highly recommend staying at unit 4222 - you will not be disappointed. Aloha!
~ M.N. WA. Nov 08
---
"Unit 4222 is the best HBR has to offer!"
~E.B Colorado October 2008
---
Hi Joan,
Thank you, Thank You, Thank You!!!!
We had the greatest stay in your beautiful condo!!! We (David, Kate, Mollie, and Rosie) enjoyed every minute!!! The view was so spectacular... sitting on your deck watching the sunset and sipping a passion fruit drink was one of our very favorite absolute peak Hawaiian experiences. We loved your condo... you have done such an exquisite and tasteful job of creating a Hawaiian paradise throughout the condo.
We are definitely looking forward to connecting with you in the future so we can come and stay again.
~ K.D Oregon August 2008
---
We just returned from our trip, and were not in the least bit disappointed - the condo was everything we'd hoped for and more! First of all, the resort is very nice and well-located in the
Princeville resort
area on the north shore with sweeping views of gorgeous Hanalei Bay and Bali Hai. It's not far from beautiful beaches, and is close to shopping and dining in Princeville and Hanalei. The resort staff was very friendly, the grounds are very clean - so lush and pretty, and there's a beautiful lagoon-style pool. Joan's unit is really beautiful. It's a short walk to and from the parking area, but the resort has carts to shuttle you around if the walk is a problem. The view from Joan's condo and lanai is amazing - you just can't believe your eyes when you wake up each morning and see the bay and mountains in front of you. The furnishings are very comfortable and stylish, and she has everything stocked that you could possibly need. . Joan is also a delight to work with and provided lots of great information on the island. Overall we had an excellent experience and can't wait to return.
~ C.T. July 2008
---
Dear Joan,
We arrived home late last night. We thoroughly enjoyed our visit to Kauai and your beautiful condo. Of course, we didn't get a chance to do everything we wanted to do, so we must come back again sometime. The beaches and trails were just so beautiful that by the time we got back we never felt like swimming in the pool. I cried when we had to leave yesterday. Everything at your condo made our trip perfect. Thank you so much for everything and for thinking of every little detail. We made great use of your beach chairs, coolers, towels, etc. and all those things made the trip so much more enjoyable. Some of our favorite things were the beaches in
Ke`e
,
Tunnels
and
Anini
. We also loved Bar Acuda and spent a few of our evenings there.
Thank you again for everything.
~ Cathy and Robert, July 2008
---
The setting is magical. You are perched up on a bluff overlooking Hanalei Bay and look out on crashing surf and Bali Hai in the distance. The condos themselves are perfectly sited and the grounds are immaculate. We had the good fortune of staying in one of the properties owned by Joan Bettencourt, 4221. In addition to being nicely decorated, there were lots of extras available to us that were thoughtful (e.g. tennis rackets, boogie boards, DVDs, CDs, etc.). The pool and spa are beautiful. This is certainly a special place for us and we hope to return.
~ R. W. Wisconsin Feb 2008
---
THANK YOU!!!!!! We had the most wonderful time and your condo was a HUGE part of it. It far, far exceeded my expectations: beautifully decorated (and everything in great shape - your guests obviously have a lot of respect for you), perfectly located at the HBR and you have everything there you could ever need.
~AT, New York Aug 2007
---
We had a really great time. We are already looking to go back to Kauai.
~ LT, Maryland Aug 2007
---
We were happy with pretty much everything at HBR and absolutely loved the stunning views and lovely amenities provided to us in our condo at 4221. The furnishings in the room are quality and very tasteful. it was nice to have a fridge and microwave, coffee pot, boogie board, beach chairs, beach towels, guide books... The list of nice things is long! The bed was extremely comfortable with good quality linens. Air conditioning was a great plus and not something you get in many
condos in Hawaii
.
~LI, California July 2007
---
We stayed July 9, 2007 - July 14, 2007 and booked through Joan directly to stay in condo 4222. We started off our honeymoon here and it was perfect. The view from the lanai was gorgeous. We loved the laid back vibe that this resort had. It is close enough to walk over to The Princeville to have a nice dinner and drinks, however it was nice to know you weren't paying an arm and a leg. My advice would be to book through a private owner. When we checked in and were helped with our bags to our room, even the security guy commented on how nice it was and that we were smart to book directly through Joan.
---
It was nice to be in a condo on the north shore. We would pack lunch and take it to one of the many wonderful beaches. Joan's condo was great because the snorkel gear and the cooler were all there for is to use.
---
We stayed at 4222 in early May, and worked directly with the owner, Joan Bettencourt. The condo is large and decorated very nicely with all the amenities, including snorkel gear, beach chairs, umbrella, cooler, etc. There was no skimping on the furniture and bed. We loved the huge tiled lanai with the great view of the bay and
Bali Hai
. The resort itself has a very tropical feel to it, with trees, plants, and flowers throughout. The pool and hot tub looked nice, but we are not pool people, so never used it. The beach was nice and just a short walk away. What little interaction we had with the resort staff was very good, but we were not expecting a full service resort anyway. Joan was great with suggestions on what to do and where to go. We would absolutely rent through Joan again the next time we go.
~TA review GE Nevada May 2007
---
Your place was beautiful and I will recommend it to all of my friends. It is beautiful and we had a wonderful time. Your tastes are flawless J The little extra's make it like being at home! What a view!!!!
~ D.H. Chicago, IL USA Jan 2007
---
We just returned from Kauai and wanted to let others know about Joan and Bill Bettencourt's absolutely beautiful condo units 4222/4221 at
Hanalei Bay Resort
. We had the incredible pleasure of staying in their paradise home. We rented their 2 bedroom unit and can honestly say the view, the decor and comfort took our breath away! From the slate-covered lanai with the million-dollar view of the ocean and mountains (complete with waterfalls) to the exquisitely comfortable king-sized beds, these units have everything you need to make your stay one you won't forget.
~ B.M. Wisconsin Feb 2007
---
We have recently returned from our first visit to Kauai, where we had the pleasure of staying at the beautiful Hanalei Bay Resort. We were fortunate enough to rent unit # 4222, a spacious and beautifully decorated one bedroom unit (a second bedroom is also available to rent--unit #4221). The owner Joan was responsive and helpful, the unit was wonderfully equipped and the view from the lanai that fronts both living room and bedroom is, as other reviewers have noted, beyond compare.
~ P. R. Toronto Canada Feb 2007
---
The condo is well furnished, well located and has a great view of the Hanalei Bay and beyond- the pictures don't do it justice, just a wonderful view to wake up to. The condo is clean and has all the comforts of home. Joan is prompt in her email and phone correspondence and is very professional. We will return to HBR and to 4222.
~ JS Camas, WA Feb 2007
Pictures of Hanalei Bay Resort 4222
View of Bali Hai from Balcony Lanai 4222
Covered Balcony Lanai 4222
Living Room with Entertainment Center
Living Room 4222
Kitchen
Dining Table
Dining Table toward Living Room
4222 King Bed
Bathroom Vanity with Granite Countertop & Basin Sink
Front of Condo
TV Armoire
Recent Living Room Shot with New Area Rug
Recent Living Room Shot with New Area Rug
Additional Pictures
Hanalei Bay Resort Sitting Area with Firepit
Hanalei Bay Resort Pool
Swim-up Ukulele Bar at Hanalei Bay Resort
Bali Hai from Hanalei Bay Resort
Ice Machine On Property
Coin Operated Laundry On Property
Outdoor Barbecue On Property
Exercise Equipment in Guest Workout Room
Exercise Equipment in Guest Workout Room
Guest Business Office
Guest Business Office
Guest Business Office
Pictures of Hanalei Bay Resort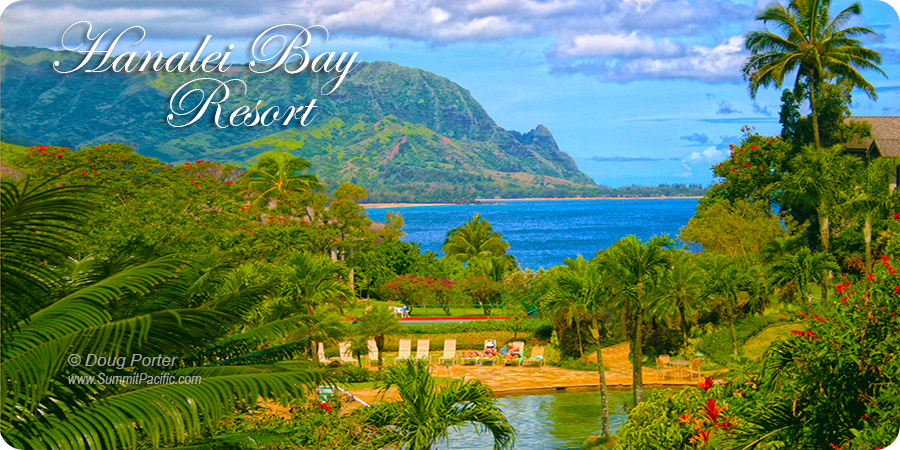 Looking Across Resort Pool Towards Bali Hai
Sunset at Hanalei Bay Resort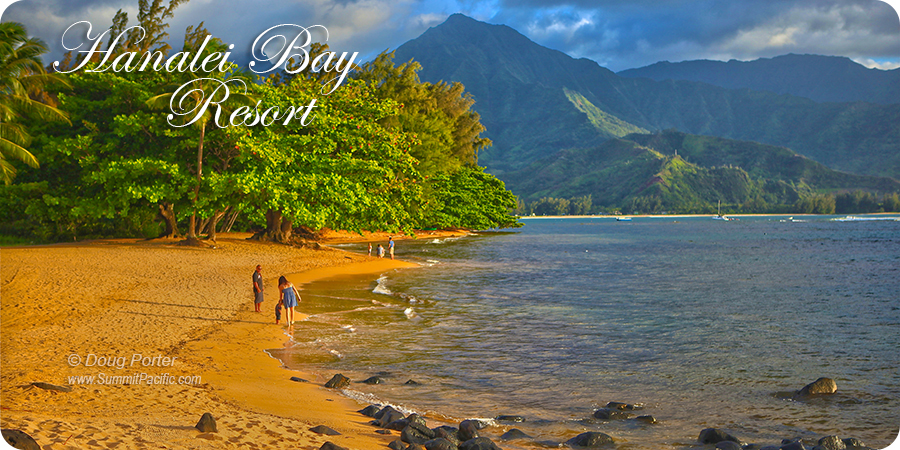 The Beach Below Hanalei Bay Resort is called Puu Poa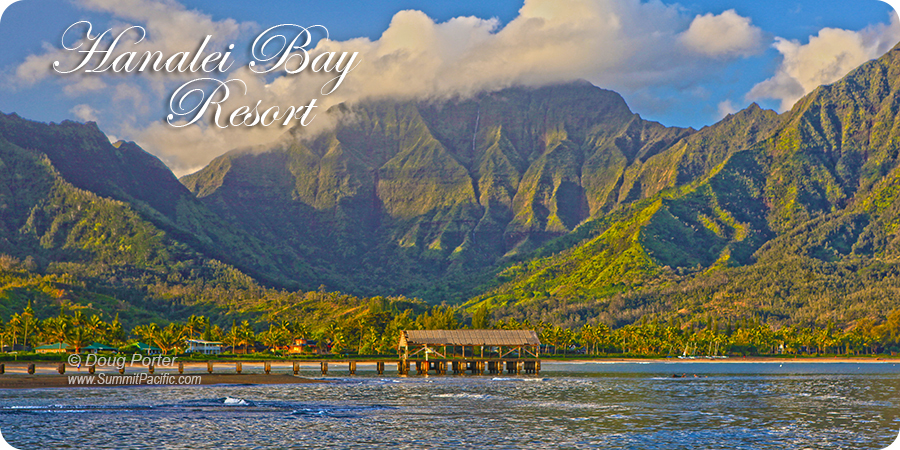 The Hanalei Pier is Nearby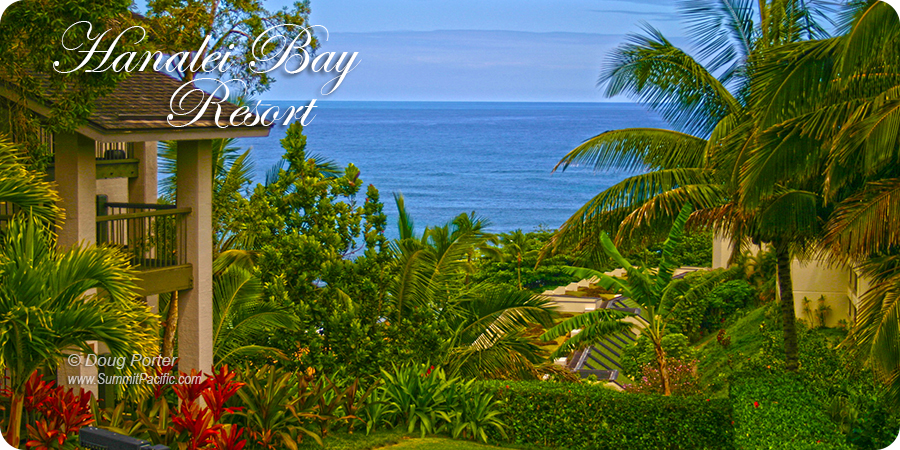 A View from Hanalei Bay Resort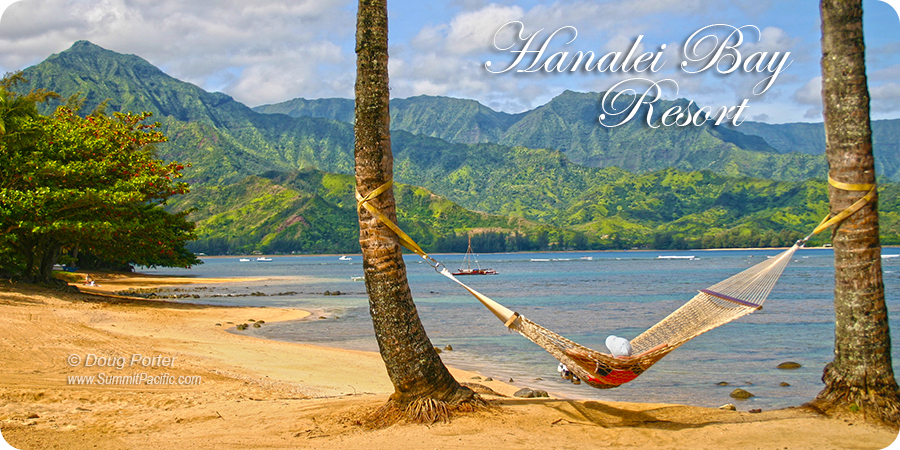 The Beach Below Hanalei Bay Resort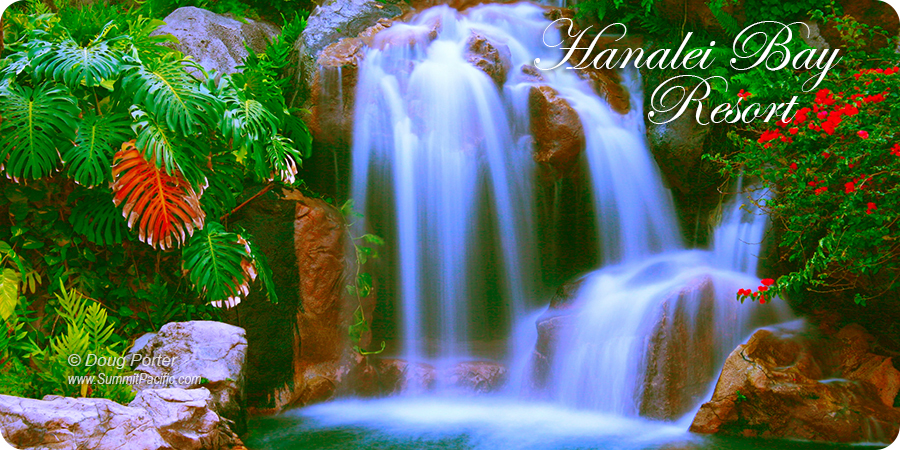 Hanalei Bay Resort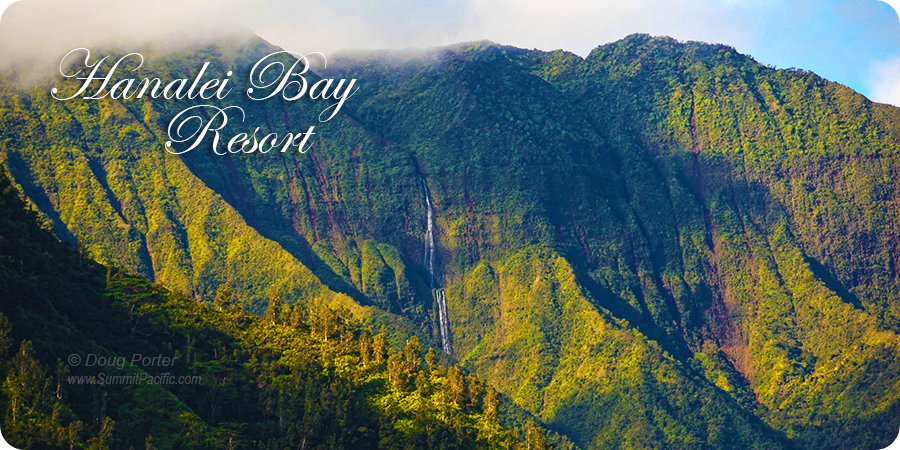 Waterfall as Seen from Hanalei Bay Resort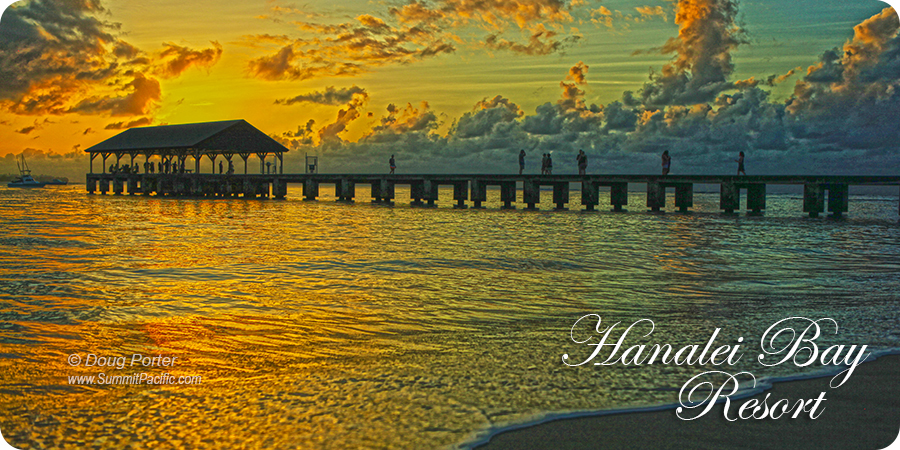 Nearby Hanalei Pier