Hanalei Bay Resort Amenities
Beautiful paved tropical path to beach
Large lagoon pool, sandy bottom spa both with cascading waterfalls
Intimate pool near barbecues and pavilion
Outdoor Gas barbecues
Tennis Pro and Shop with daily clinics
8 paved tennis courts
Water sports activity desk (pool side)
Activities desk / Concierge
Front Desk
Free Parking
Massage and Yoga (fee)
Complimentary shuttle service to beach and Princeville St Regis Hotel.
Guest Comments:
Melbourne, Australia. #1306
Experience paradise
Left on May 19, 2018 for a stay in May 2018
We loved our stay in room 1306 at HBR. The room was so tastefully furnished and had gorgeous high ceilings. The view from the balcony is just perfect - one of the best in the resort! Don't worry about noise from the restaurant as live music ends at 9pm. The resort is gorgeous also with lots of events and activities including a pool bar and massages by the pool. There's even a bus to bring you back up the beach path if you aren't feeling up to the uphill walk! The sunset golf cart tour at the nearby golf course was fantastic as well. Don't hesitate to book this room!
---
Incredible Stay! #1306
Left on Aug 2, 2018 for a stay in Jun 2018
My husband and I spent a week in Kauai and stayed in Room 1306 at the Hanalei Bay Resort. Ginny was great to work with, easy to contact via email and phone. We had all details worked out immediately and with constant communication. This resort is stunning, the view from the terrace is unbelievable. We had coffee every morning on the terrace and we walked a few short steps down to the community room near the check-in desk where we used the microwave to heat breakfast sandwiches. The amenities were awesome, we rented a surf board for a day, enjoyed the swim up bar and hot tub every evening. The walk to the Princeville St. Regis beach is not too far but the best beach we found was Hideaway Beach nearby down a steep hidden trail. This resort was perfect for our visit- we left every morning to adventure, hike, surf, kayak and returned in time to find a nearby restaurant for dinner. The room was sparkling clean and had beach chairs, towels, beach umbrella, snorkels and a cooler for our use that we took to the beach with us. I cannot express our gratitude to Ginny for her hospitality- this resort was amazing! FAR better than the St. Regis down the hill, the Hanalei Bay Resort had much better views, food and amenities!
---
North Island Resort Paradise. #1306
Left on Nov 7, 2018 for a stay in Oct 2018
We stayed here for 6 nights and loved everything about it. Beautiful clean apartment in resort complex that has everything you need (tennis court, walk to beach, two pools including a swim up bar, connected sports bar/restaurant, short walk to adjacent hotel with beautiful Kauai grill restaurant and only 10 minute drive to my favourite town in Hawaii .. Hanalei Bay)!! The view from the balcony is jaw dropping and the photos do not lie! Loved it and would definitely recommend this apartment for honeymooners and families
---
Amazing place, amazing location. #1306
Left on May 20, 2019 for a stay in May 2019
Modern suite, comfortable bed, incredible view. This suite is perfect for your vacation. If you still want to cook, you can use the resort's BBQ, or there are plenty of restaurants near by. From the balcony you have incredible views, and also can listen to live music every night from the Happy Talk restaurant. Plenty of beaches nearby, or Hanalei Bay Resort has nice pools and hot tubs. Wonderful stay. Would recommend to anyone.
---
Incredible views and great resort. #1306
Left on Nov 24, 2018 for a stay in Nov 2018
My wife and I recently stayed at Ginny's rental in Princeville at Hanalei Bay Resort. The view from our balcony was sensational, and this part of the island is so, so beautiful. Ginny was a very attentive host and responded quickly to all of our inquiries. The condo was in great shape, comfortable, and had everything we need. I would 100% book this location again and recommend this condo to anyone considering visiting the Garden Isle!
---
Sept 2017
Amazing time at Hanalei Bay Resort #1306
We had an absolutely wonderful time and loved Hanalei Bay Resort at Ginny's condo #1306! Sitting on the balcony in the morning and evening was unreal! The view looks like a movie backdrop it is so seriously beautiful!! The balcony furniture is super comfortable too! The bed was comfortable and we had everything we needed. The condo was clean and well organized. Loved the shower too! Parking was easy to find right at the condo which is a real plus since many other condos are located away from the parking lots and you have to carry everything from the car. Plenty of towels, shampoo and conditioner to start our stay with, hair dryer, and nearby laundry which was helpful! The golf carts to and from the beach were super convenient and we never waited more than 5 minutes for pick up!! loved everything about our stay!! Ginny is great to communicate with! If (when) we visit again, we will want to repeat this stay at Ginny's condo!!!
---
Sept 2017
Breathtaking
We had an amazing stay in room 1306. From the moment we walked in we were astonished by the spectacular views and beauty of the open space. The room was nicely decorated and conveniently located near the parking area and all the resort amenities. It is important to note that the room was also very quiet and overlooks the entire resort to the ocean. The room was also equipped with everything you could ever need for either a short or long stay. The grounds of the Hanalei Bay Resort are truly fantastic. What made the room so special was the breathtaking views from both the room and terrace. If you are looking for a wonderful and quiet place to stay while in Kauai, I would highly, highly recommend staying in this room. We had a truly enjoyable experience. Aloha!
~ rinonnuevo
Santa Barbara, CA
---
Mar 2016
Great View Hanalei Bay and perfect accommodations for 2
Ginny, the owner, made sure our trip and the property was in great shape when we arrived. From the near perfect sunrise view of the bay and BaliHi, to the starter coffee, to the beach chairs and amenities. What a good host to communicate with us via email for all our needs. The "Happy Talk" bar had just re-opened (next door) and the pool was directly in front of our room. We slept with the doors open and sound of the oceans each night. I'd do it again in a second. The bar food and drinks are expensive to stop in every night, but balanced with bringing your own breakfast items and a bit of beer/ wine the refrigerator and toaster came in handy, Extra ice is available for the next building. Live music was being feature nightly and can be heard from the condo deck and pool area. We visited the St. Regis for a very-expensive breakfast (just a short walk down the hill to the beach), but did not do the sunset at the bar. The fire pit grass area on a ridge at HBR and our own beer and wine was almost as good (and allowed us to meet other people at the resort). As a HBR guest, I was able to take advantage of a good size discount at the beautiful Makai golf course for golf and club rental at $205 on my last day. Great scenery on the course that reminded me of Pebble Beach. Course was in perfect shape and loaded with challenging sand traps. Staff is exceptionally friendly and always willing to help you in any way.
~ Michael D
---
maryd #1306
Peaceful, Beautiful, Private
Left on Feb 15, 2016 for a stay in Jan 2016
Having only been to Maui on a past vacation to Hawaii, I didn't know what to expect from this location, or Kauai in general. The island is so lush and green everywhere you look. The area (Princeville, and Hanalei Bay) is quiet and not overcrowded as I had experienced in Maui. This combination of tropical scenery and relaxing environment is exactly what I had pictured/wanted in a Hawaiian vacation, and this spot delivers! The condo itself added to this wonderful experience by providing a breathtaking view, and a serene lanai to enjoy it on. It is tastefully decorated and provides everything you need to enjoy your stay. We used and appreciated many of the kitchen supplies (plates, cups, mugs, utensils, French press, microwave) and the beach chairs and cooler. We loved being just a short walk down to the beautiful beach (shared with the St. Regis) and short drive into town for shopping and restaurants. The on-site accommodations were great; we used the pool, hot-tub, and gym. The restaurant was still be worked on (was supposed to a few weeks after we left), and will be really nice to have an on-site dining option. Overall, I really recommend staying on this island, in this area, and specifically at this condo. To say my expectations were exceeded is an understatement!
---
Stormy2016 #1306
Mooresville, North Carolina
Beautiful! Better than advertised!
Left on Jan 7, 2016 for a stay in Jan 2016
We had such a wonderful time. This is the most beautiful place on the north shore. The walk to the beach was great exercise and after visiting several beaches, we always came back to Hanalei Bay. The apartment was so convenient, the view from the lanai was lovely and we could go right out the door and around the building to the hot tub, a great treat after a day of hiking. The restaurant and the bar are nearing completion and they promise to be spectacular.
---
#1306
Canada
Great condo that has it all
Left on Apr 17, 2015 for a stay in Apr 2015
We stayed 5 nights at this condo in Hanalei Bay Resort. It was a wonderful location and great staff and grounds at the resort. We made use of the on site BBQs and pool especially since we were traveling with a group for a wedding so the set up was perfect. This unit is by the parking lot which was ideal so we could come and go with ease and not have to walk through the resort or call a shuttle as some of our traveling companions did further into the resort property. Overall a wonderful unit, very clean and with so many details thought about for your stay like beach equipment and kitchen supplies that we really didn't need for anything! saverguy
---
#1306
Amazing View, Lovely
Left on Oct 6, 2014 for a stay in Sep 2014
My husband and I rented from Ginny's condo for 5 days in September, an ideal time to visit. The condo was well supplied and the bed and bedding ultra comfy and high end. It's worth walking up a few extra steps to the top floor for the amazing view and vaulted ceilings. Great A/C and ceiling fan which can be controlled by remote when they are needed. The unit is one of the most conveniently located. Close to parking and laundry room, close to reception and close to the beautiful main swimming pool. We would have coffee on the lanai daily and often saw spot red-crested cardinals. Lovely stay, all the way around. Ginny is very easy to communicate with and very responsive.
---
Quiet relaxation
For a stay in August 2013
A great place to stay in Princeville. Lovely staff and great location make for a relaxing holiday feel straight up. This apartment has all you require to help your trip with a kitchenette and fridge and large bathroom. The view is stunning from the balcony and from the whole room. Easy driving down to nearby
Hanalei Bay
. Highly recommended.
~ Richard
Sydney
---
Great place to spend your honeymoon!
For a stay in July 2013
Great condo at an even better location! It's on the 3rd floor so you do have stairs, but it also gives it a great view. The view from the lanai is amazing and looks out on the resort pool and down to Hanalei Bay! The condo was clean and well kept up. It also contained all of the utensils and dishes we needed. We really enjoyed it and would recommend it to anyone who can handle the stairs.
~ Jonathan F
Broken Arrow, OK
---
This condo was excellent! The view from the patio, and even straight from the bed, is world class. The beautiful gardens and landscaping at
Hanalei Bay Resort
were tropical perfection. Tons of beautiful flowers and birds right outside your window. The pool is gorgeous, but I preferred going down to the beach. There is great snorkeling down at the beach, and snagging a delicious cocktail at the St. Regis is so fun. Seriously, their cocktails are amazing, pricey, but amazing.
Staying here was so very comfortable and easy. The kitchenette had all the necessary items and appliances. The bed was so comfortable! The condo owners clearly know how to hit the beach, as the closets were stocked with 2 beach chairs, cooler, beach umbrella sand toys for kids. So thoughtful.
It was my first trip to Princeville. I loved how close we were to all kinds of adventurous activities, beautiful beaches and conveniences. I walked to Queens Bath. Hideaways beach is also walkable. We did the Princeville Ranch zip lining and had a blast. We were a short drive from the epic beaches on the other side of Hanalei, and the Kalalau trail. Eating in Hanalei was awesome. I wish I would have been able to eat more meals each day so that I could have checked out more places. Even with all the great options of things to do, there was one day on our trip when it poured down rain. I took advantage of the lanai, and lounged all day reading and enjoying the view.
So in summary, it was a beautiful, comfortable, convenient, perfectly located condo. I can't wait to come back!
~ Courtney
Oakland, CA
---
An awesome Condo in Princeville - A room with a view!
For a stay in March 2013
My boyfriend and I arrived in
Kauai
on March 1st. It was both of our first trip to Hawaii and we did not know what to expect. We were greeted by very friendly staff and an easy check in. The condo was spacious with a lovely vaulted ceiling and a great bed!! The bathroom was very spacious for two. The big surprise came the next morning when we awoke to a gorgeous view outside of our lanai! We could see the pool and just beyond - Hanalei Bay. Gorgeous!!! And a great spot for morning coffee. We loved the location of the condo as it is in the middle of the North Shore attractions. We would defiantly recommend the condo to others. A great pool and hot tub, and a short walk to the beach :)
~ Sara V
State College, PN
---
One of the loveliest vacations we've taken out of many.
For a stay in December 2012
Enjoyed our stay at the Richards' condo so very much. The beautiful scenery - the towering mountains, Hanalei Bay, and the lovely grounds and exotic swimming pools...all viewed from the balcony...hard to beat! The condo was comfortable, totally clean, and well-appointed. The entire experience at Hanalei Bay Resort was memorable; it was difficult to leave. Have already recommended the Richards' Apt. #1306 to several friends and business associates.
~ Ann Richardson
Arroyo Grande, CA
---
March 9, 2911
"Peace in Paradise"
Ginny I can not even begin to express the peace I felt relaxing in your beautiful condo. The ocean view filtered through the lush garden and magnificent palm trees was amazing. I just wanted to lay in bed and gaze out to the peaceful view. But was glad I walked out to the beautiful pool and swam every day in the refreshing salt water. My stay was more wonderful than I could ever anticipated. I will return many times to recapture the beauty and peaceful atmosphere and stay in your lovely condo. Thank you for all the fine touches.
~ Sincerely, Lynn C
---
"Does It Get any Better?"
Sitting on the lanai of the exquisite condo owned and elegantly furnished by Dick and Ginny Richards, we reveled in the peaceful island ambience - a backdrop of deep blue skies behind the steep, green mountains of ancient Kauai painting a background for a vista framed by the lush grounds of the Hanalei Bay Resort with its palm trees and fragrant flowers, saltwater pool and tennis courts, doves and cardinals and the inland's signature chickens. Does is get any better, we asked ourselves. Not likely. For one of those rare experiences that linger in the mind ever after, this is the destination of choice. Unit #1306. Highly and warmly recommended.
~ John and Pat
---
September 2009
Dear Ginny & Dick,
Thank you so much for allowing us to be guests in your fabulous condo. We loved everything, from the roosters' call at sunrise to every gorgeous sunset! We slept very soundly in your luxurious king bed, your island decor is perfect and your bathroom tile inspired us to remodel our bathroom in a similar style. And the lovely lanai - WOW! We would've sat there forever staring in awe at the spectacular view of the lush mountains & heavenly Hanalei Bay, breathing in the warm trade winds, watching the swaying palms, listening to the live music from bar (what a bonus!) & seeing billions of stars, even the Milky Way at night. The walk down to the beach was great, the pool, the gardens & HBR friendly staff made our stay more than pleasurable... Hanalei Gourmet..Delicious! We ate there twice, including Fish Taco night! We have fallen head over heels for the paradise that is Kauai's North Shore and after a day of hiking, strolling and exploring and boating, it was a warm welcome home in which to return. I could "gush" forever.. MAHALO, a million times over!
~ Sincerely, Lynn & Bill
---
Aloha Ginny,
We just returned last night from Hawaii. When we left Iowa there was several feet of snow and when we returned it had all melted, so it was a good time to be in Hawaii. As always, we loved our time at the Hanalei Bay Resort and very much enjoyed your condo. It is in a great spot and furnished so nicely. We loved having a frig so we could have breakfast on the lanai and enjoy the wonderful view and also could pack our own lunch each day... making it both more economical and healthy! We think the Hanalei Bay is the most beautiful resort on the island and hope to return again in a few years.
~ Jack & Jean
Thank you so much!
Pictures of Hanalei Bay Resort 1306
Balcony Lanai 1306
Balcony view across the gardens
Bedroom at twilight
Studio
Changing Room
Shower and tub
Building
Swimming Pool
Upper tennis courts with view of bay
Lower courts on the way to the beach
View
Fountain at Entrance to Princeville
Entrance porte-cochère to Hanalei Bay Resort
Pictures of Hanalei Bay Resort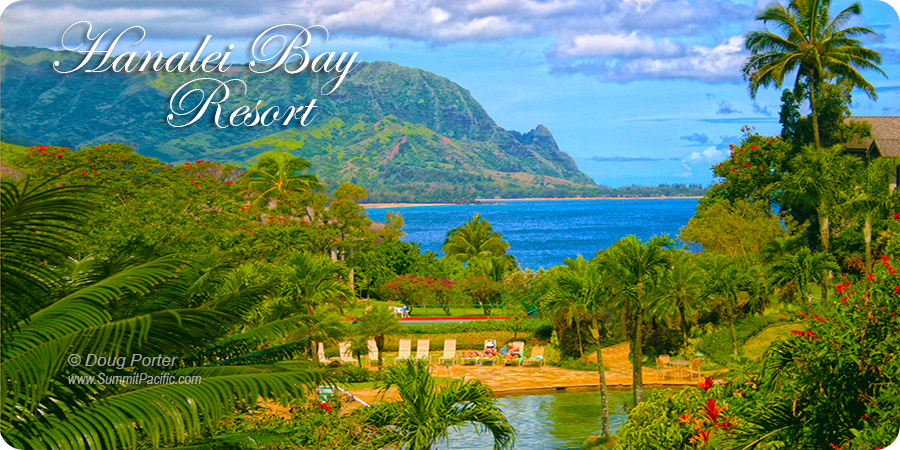 Looking Across Resort Pool Towards Bali Hai
Sunset at Hanalei Bay Resort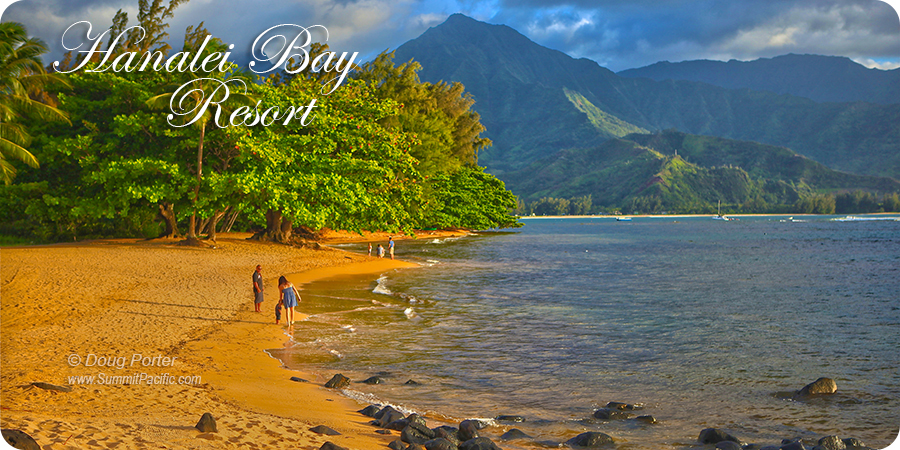 The Beach Below Hanalei Bay Resort is called Puu Poa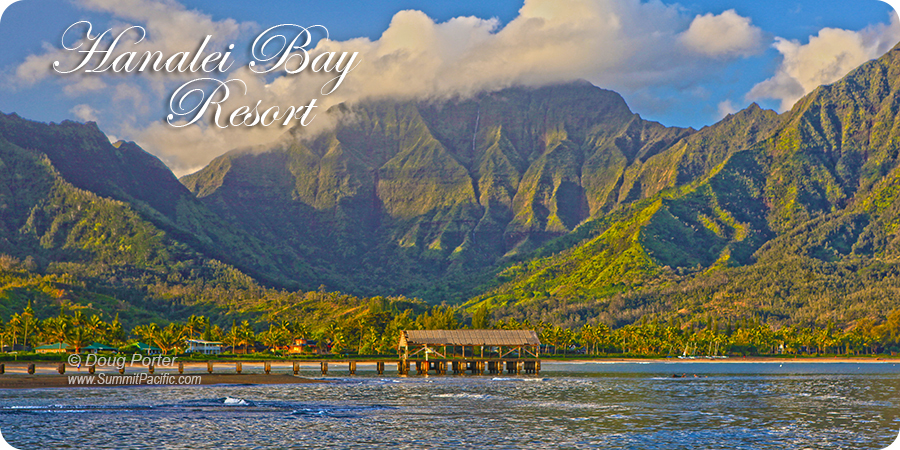 The Hanalei Pier is Nearby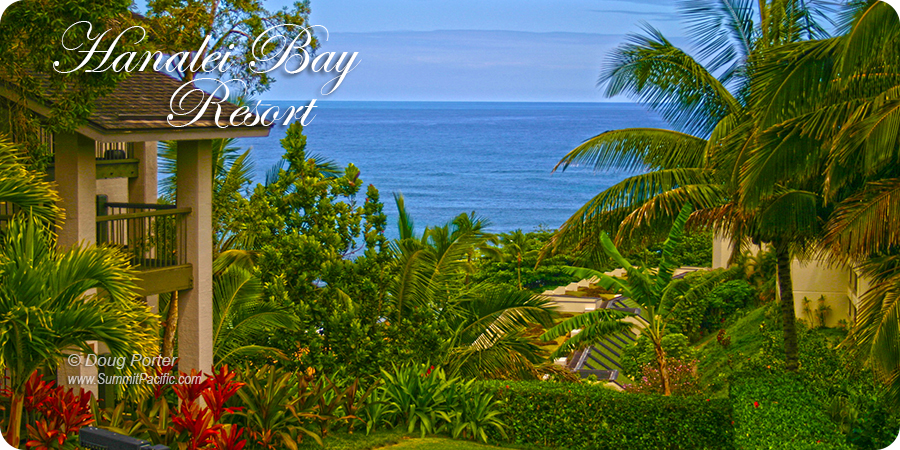 A View from Hanalei Bay Resort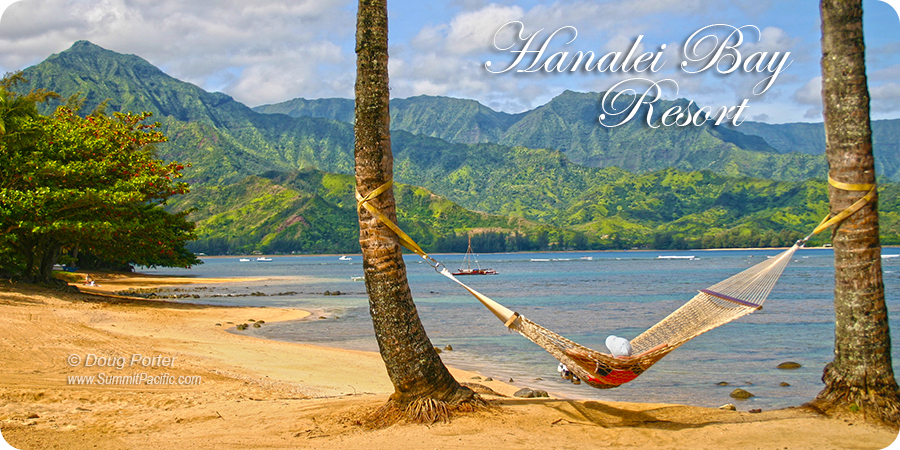 The Beach Below Hanalei Bay Resort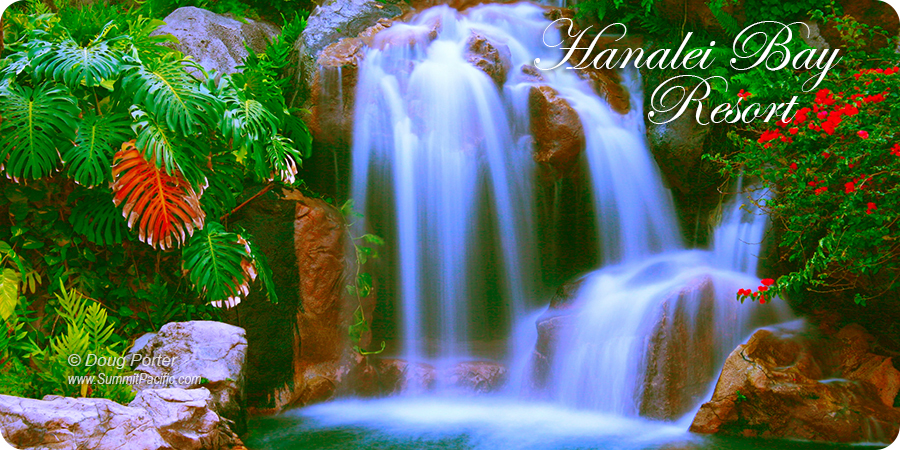 Hanalei Bay Resort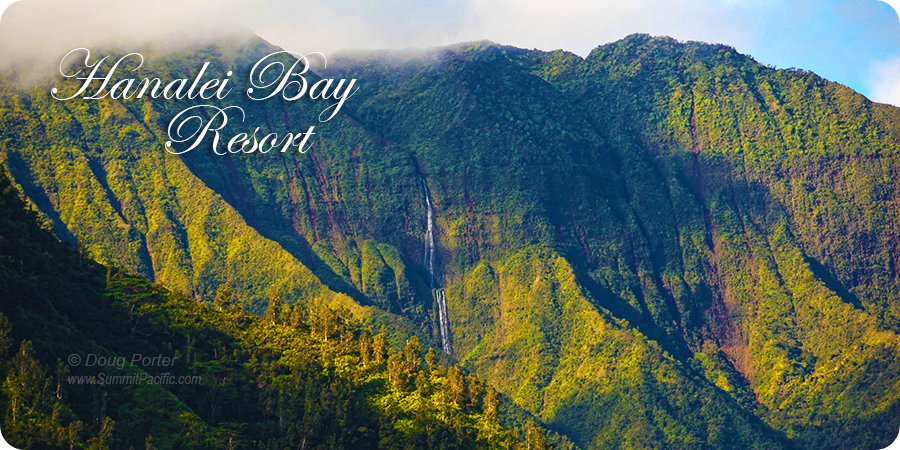 Waterfall as Seen from Hanalei Bay Resort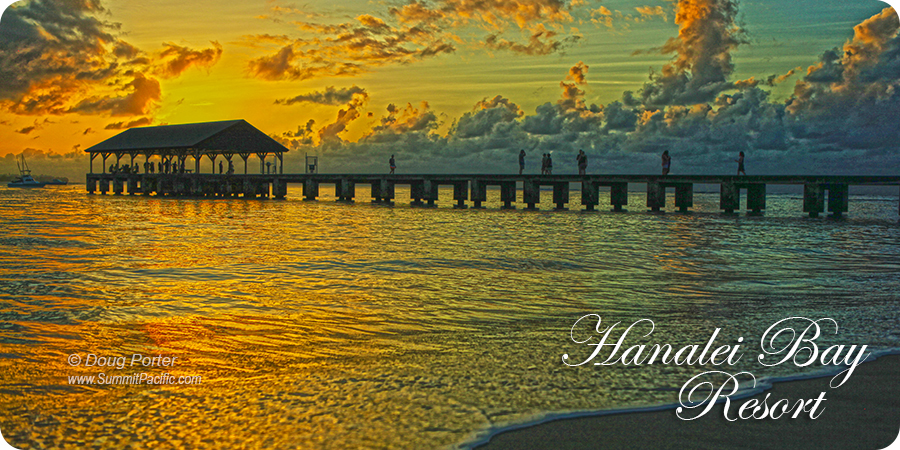 Nearby Hanalei Pier