Guest Comments
"Hi Candace, just wanted to write to say thank you so much for setting us up with the condo at Waipouli. It couldn't have been a more convenient location and the whole week we were in Kauai, we felt like we were living in luxury! The kitchen was amazing, and we were impressed by all of the amenities included (there was even a soft sided cooler and beach chairs!). We were able to save so much money (and time) by preparing our own breakfasts and packing up a lunch to share on the beach. We were mesmerized by Kauai's breathtaking beauty, and the friendly locals. We even got to see a double rainbow while we were hanging out on the beach! Thank you so much for being so easy to work with (and organized!). This was a trip of a lifetime... one we will remember forever. We were so sad to leave, and cannot wait to plan another trip to paradise (hopefully soon!)."
~ Mahalo,
J & R
---
I just wanted to say your condo in Kauai is beautiful! Chris and I had such an amazing time and the condo was everything we could have asked for and more. Perfect layout, perfect decor, perfect kitchen, perfect location...perfect! The pool - how incredible... We will definitely be staying there again on our next trip to
Kauai
. Candace was great by the way, very helpful and kind.
~ Warm regards, C & C
---
We had a wonderful time at your condo in Kauai! I cannot say enough what a great resort it is! We cannot wait to return! Thanks again - we had a wonderful time.
~ Sincerely, PC
---
I wanted to send you a note of thanks for renting us the condo in Kauai. The condo met and exceeded our expectations from the pools, restaurant and the unit was extremely beautiful. We are grateful to you for the rental and will recommend this to anyone that wants to visit the Island. Again thank you for the beautiful condo that we rented.
~ P. Canada
---
We just wanted to let you know that we were exceptionally pleased with your unit at Waipouli Beach Resort-it was the perfect accommodation for two couples-ourselves and our friends. Your condo certainly lived up to our expectations and the resort was lovely. We were familiar with the location-and it was perfect for us-central to all the attractions on our favorite island of Kauai. We were delighted with our stay and look forward to contacting you in the future when we plan another visit to Kauai. We will also highly recommend your unit at Waipouli to our friends and acquaintances. Again, Mahalo.
~ Regards, S.
Pictures of Waipouli Beach Resort A405
View Toward Ocean
Living Room
Living Room
Living Room Looking Toward Kitchen
Kitchen
Kitchen
Bedroom with View
Master Bathroom
Mountain View Looking West
Swimming Pool
Pictures of Waipouli Beach Resort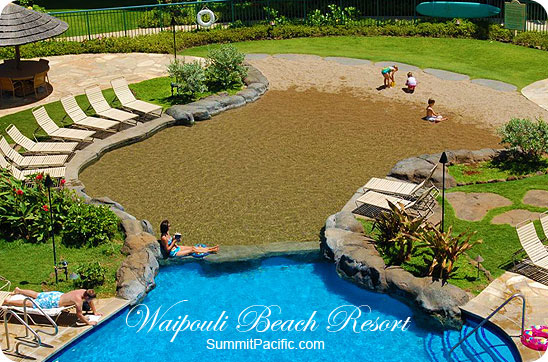 Kid Friendly Baby Beach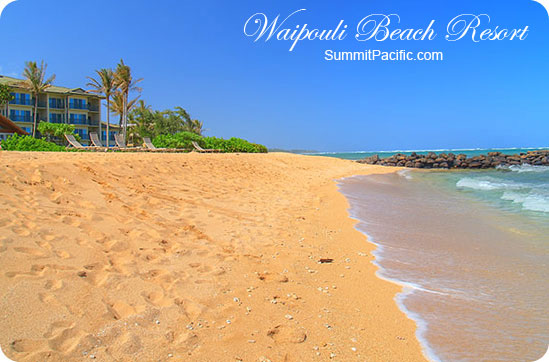 Beach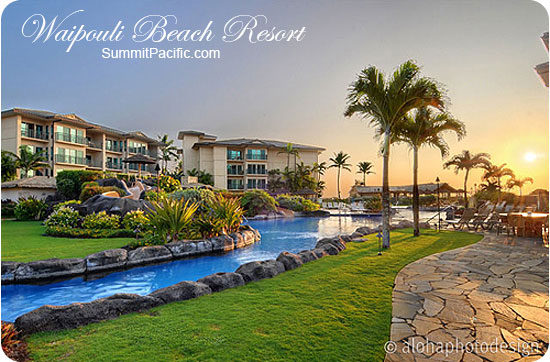 Fantasy Pool / Lazy River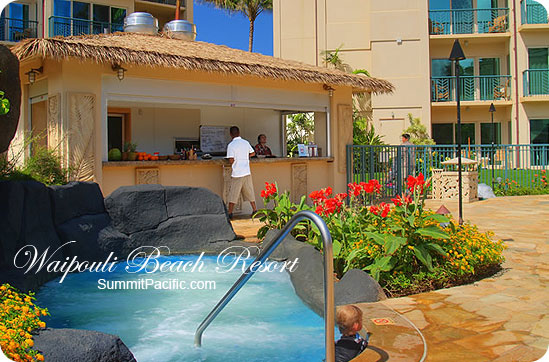 Hottub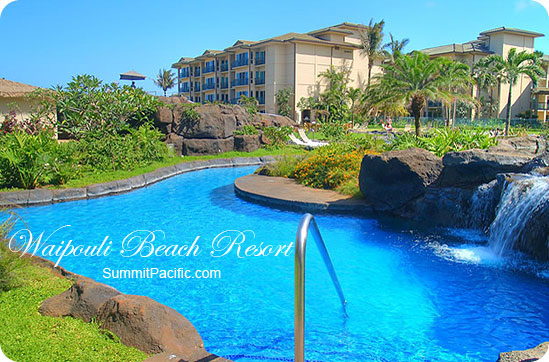 Swimming Pool
Waterslide