Guest Comments
Reviewed: Mar 29, 2019
Beautiful condo at a fantastic resort. My husband and I stayed at this resort in 2017 and loved it so much we came back with our kids (4 and 5) and my mom. The condo is in a perfect location a bit of a walk to the upper pool but there were always golf carts available for a ride. We actually enjoyed the walk. It was quiet and the views unbeatable. The condo was clean and well stocked. We have stayed in VRBO type rentals all over the US, this is one of our favorites. It looks recently remodeled and updated. We will be back again.
~ Leslie
---
Reviewed: Mar 11, 2019
We loved the unit. We previously stayed at one of your units in Pali Ke Kua (which was great as well), but appreciated the extra amenities offered a HBR now that we have young children. We look forward to returning to Kauai again next year!
~ Kenta
---
Reviewed: Feb 23, 2019
Absolutely beautiful unit. We loved it! This is one of the nicest places we ever rented in our many visits to Hawaii. We didn't have any idea what we were getting and were pleasantly surprised. We traveled with another family from Seattle who ended up with a bottom floor unit down the hill. They actually gasped when they walked into our unit. It was absolutely fantastic. We'd come back again in a heartbeat!
~ Jeremiah
---
Reviewed: Sep 30, 2018
The views from the condo were spectacular, we loved the beautiful green volcanic landscape and views out to Hanalei Bay. The location of Hanalei Bay Resort suited us perfectly, it was nice to be somewhere quiet but only a short drive to shops and restaurants. The pool and grounds of the resort were perfectly maintained and the gardens so beautiful and tropical. The condo provided plenty of space and privacy for 3 couples, and we enjoyed the large living dining room. The facilities in the condo were excellent, especially the brand new looking laundry machines and oven and cook top. Thank you for all your assistance in our booking!
~ Vanessa
---
Reviewed: Sep 30, 2018
Aloha! Our stay was wonderful! Kauai is our favorite island and the stunning view from the lanai was one of our best memories. The sunrises and sunsets over Bali Hai were spectacular. The condo had everything we needed and the new furnishings were very nice. Thanks for a wonderful stay!
~ Judy
---
Pictures of Hanalei Bay Resort 8233
Panoramic Unobstructed View from Covered Balcony Lanai
Pictures of Hanalei Bay Resort 8234
Pictures of Hanalei Bay Resort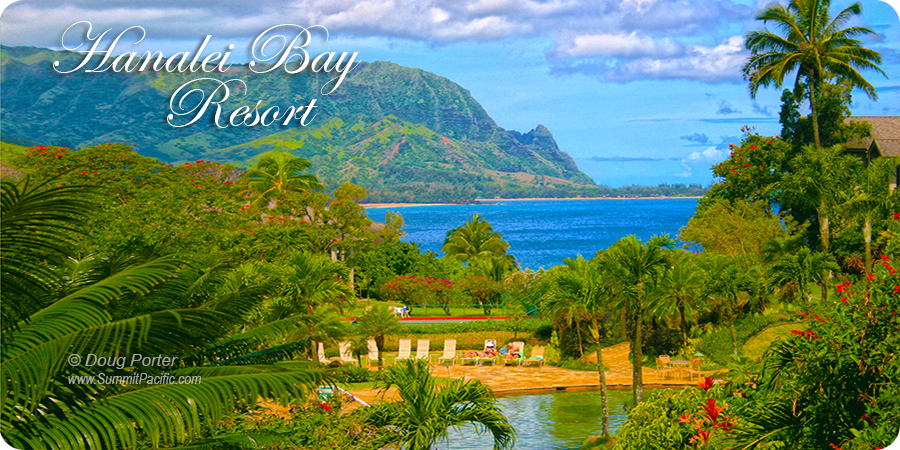 Looking Across Resort Pool Towards Bali Hai
Sunset at Hanalei Bay Resort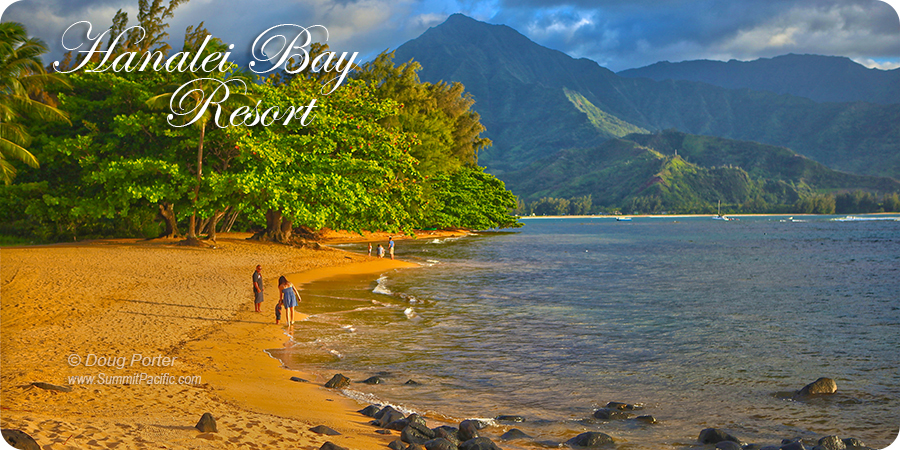 The Beach Below Hanalei Bay Resort is called Puu Poa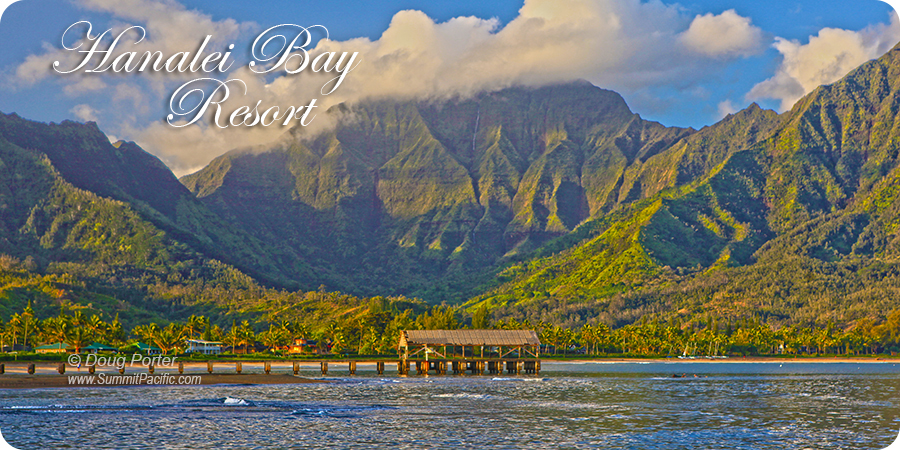 The Hanalei Pier is Nearby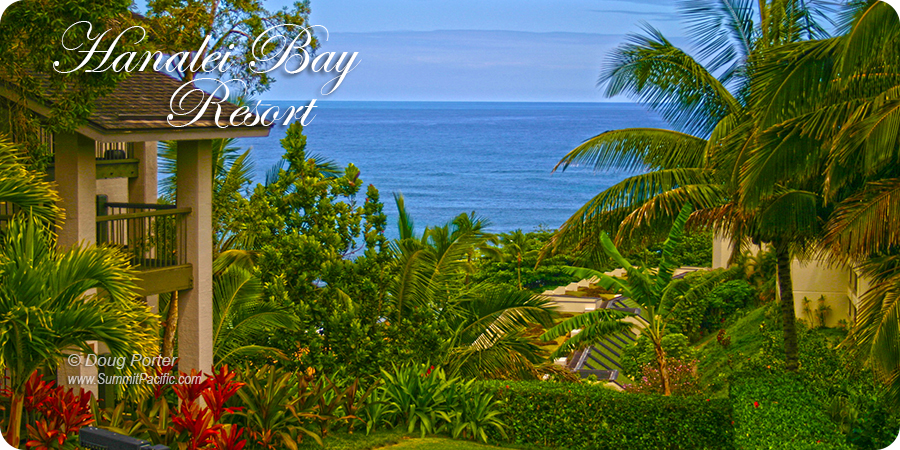 A View from Hanalei Bay Resort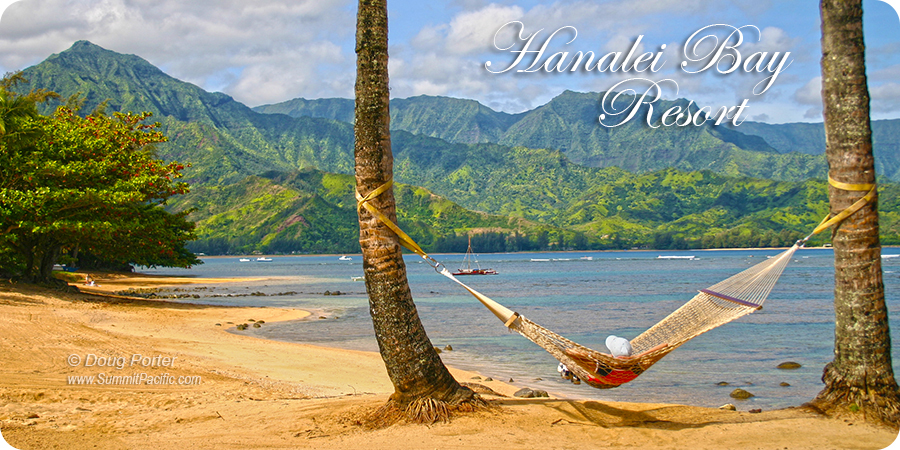 The Beach Below Hanalei Bay Resort
Hanalei Bay Resort
Waterfall as Seen from Hanalei Bay Resort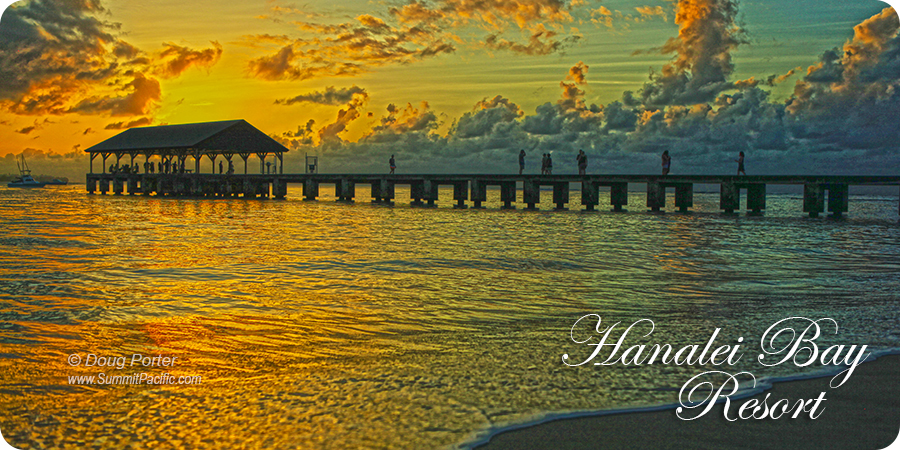 Nearby Hanalei Pier