Additional Amenities
cable TV with VCR player, Internet access, coffee maker, clock radio, on-premises washer and dryer and more.
Guest Comments
"We loved staying here--what a beautiful paradise! This condo is beautiful--all of your decorating and prepping definitely paid off--GORGEOUS! Hope to come back here soon. So many pieces of God's artwork here!"
~Tiffany, California
---
"At the time (we booked your condo) we did not realize how lucky we really were. The week at your fantastic accommodations exceeded our expectations. We made a family gathering of our visit. The weather could not have been better. The week went entirely too fast! We definitely have placed this on our list of places to return to enjoy once again. Mahalo!"
~Bob & Betty, Colorado
---
"This was our first visit to Hawaii and I don't think we could have picked a better island to visit or place to stay. What an incredible view you have to enjoy every day! There are so many amazing things to do and see (we recommend the
Na Pali coast
tour by catamaran). We also recommend taking a couple of days to do nothing but enjoy this wonderful, beautiful suite!! Thank you for making it available."
~Jerry && Karen, California
---
"What a perfect place to celebrate a birthday! We spent the day on a boat touring the Na Pali Coast. We have snorkeled with sea turtles and fish of many sizes and shapes, hiked, swam, shopped and will forever be in awe of the views. Your Hawaii home is welcoming and beautiful. We are so grateful to you for the gift of staying here. Mahalo--many times!"
~Theresa, Mary, Kay and Rose, Arizona
---
"Aloha! This was my first time in Hawaii and I'm sure I'll come back again. I'll tell all of my friends to come here to spend their holidays, 'cause this is the most beautiful place I've ever seen!"
~Esther, Hungary
---
"Mahalo for a perfect venue for our honeymoon. We truly were destined to stay here. We loved the pools, the view and the warm home feeling we had here. Hopefully on our next visit we will be "three"! Thank you for wonderful memories."
~Laura and Tim, California
---
"It is our last night here and we are very sad to be leaving! This week flew by with all the activities you have to offer. We are here on our honeymoon and couldn't be happier with this condo. The view is breathtaking and the location is very serene. Thank you for sharing this piece of heaven with us! We were able to share our first week as a married couple on this beautiful island with these beautiful surroundings at this wonderful resort-- mahalo!"
~Cody & Moises
---
"We had such a relaxing time here! We've come back to
Hanalei Bay Resort
3 times in the last 5 years, usually staying through the hotel. We loved staying in your home here--it is much more beautiful and personal than the hotel rooms. Our daughter, Adrienne, loved the bamboo instrument! Thank you. North Shore of Kauai will always be our favorite part of Hawaii--my favorite place in the world."
~Veronika, Dylan, Monica and Adrienne
---
"We've had a wonderful week. Your condo is fantastic! It was perfect for our family. The views are incredible. We really enjoyed the pool area and took advantage of the beach, tennis and massage. Thanks for sharing your paradise!"
~Mike, Jennifer, Max and Amelia, California
---
"Thank you for sharing your beautiful "home away from home" with us. We've had such a good time revisiting Kauai and just LOVED the views from your lanai! As hard as it is to leave, we know we'll come back another time. We never tire of all your place has to offer!"
~Ted, Michelle, Aaron and Alexis, Colorado
---
"We wanted to have a great vacation to relax and enjoy beaches, sun and nature. This place is a paradise, thank you so much for sharing it with us---WE LOVE IT! Hope to come back here sometime soon. Take care and always enjoy your travel and vacation--it's one of the pleasures of life!!"
~Claudia (from Italy) and Antoine (from France)
Pictures of Hanalei Bay Resort 6221
Spectacular Bali Hai View from Covered Balcony Lanai
6221 King Bed
6221 Bedroom
Flat Panel TV and Sitting Area
Bali Hai View from 6221
6221 Bathroom
Microwave, Coffee Maker & Mini fridge
Pictures of Hanalei Bay Resort
Orchid Plant at Hanalei Bay Resort
Telephoto of Bali Hai Sunset from Condo 6222 Lanai
Mountain Views from Hanalei Bay Resort
Resort Pool and Baby Beach
Sunset from Resort
Resort Tennis Courts
Lagoon Style Spa at Resort
Hanalei Bay Resort Main Swimming Pool
Pictures of Hanalei Bay Resort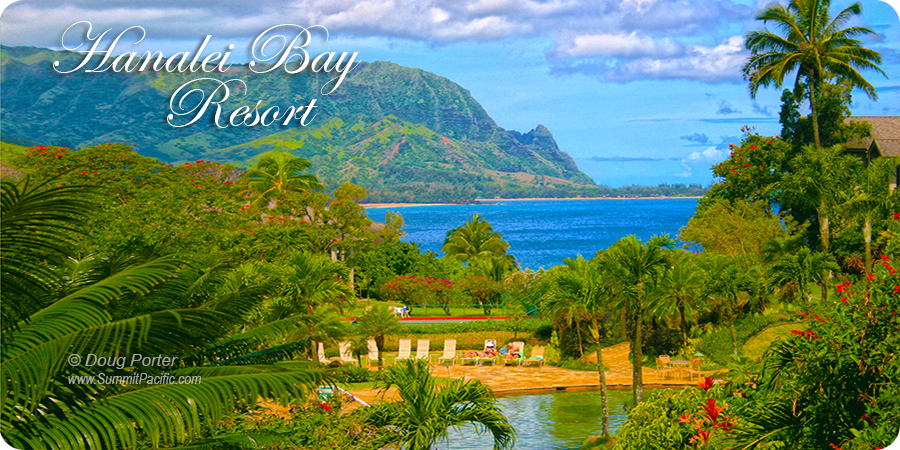 Looking Across Resort Pool Towards Bali Hai
Sunset at Hanalei Bay Resort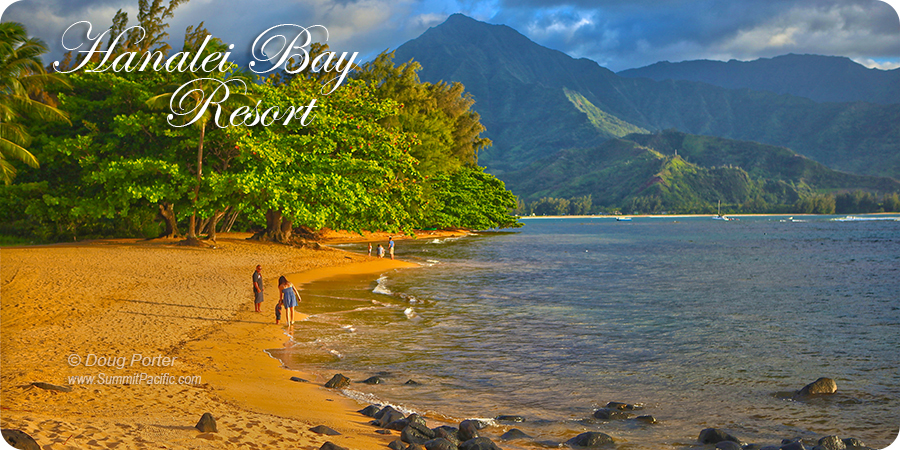 The Beach Below Hanalei Bay Resort is called Puu Poa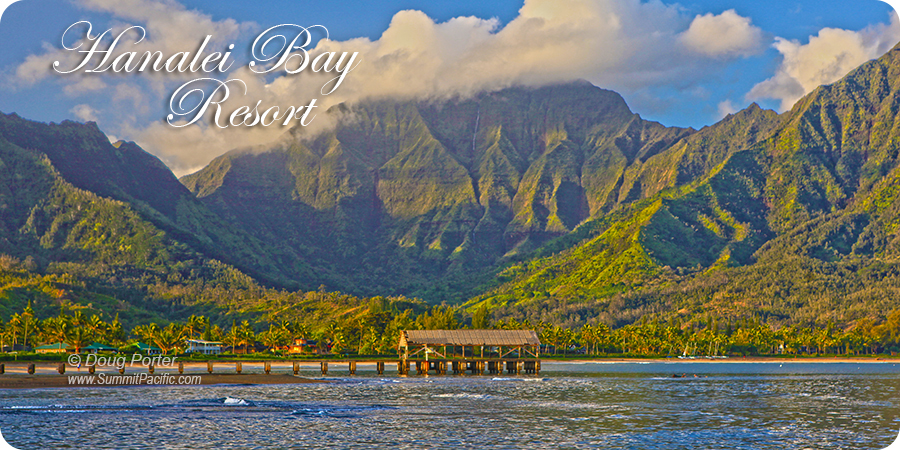 The Hanalei Pier is Nearby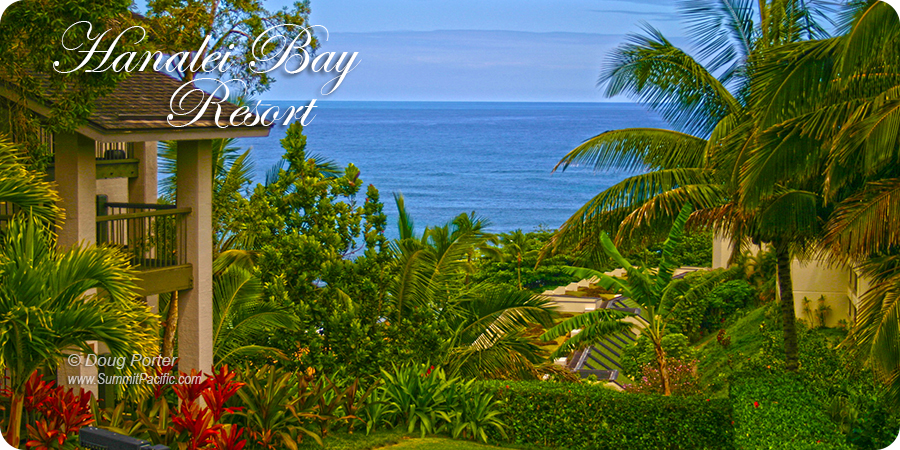 A View from Hanalei Bay Resort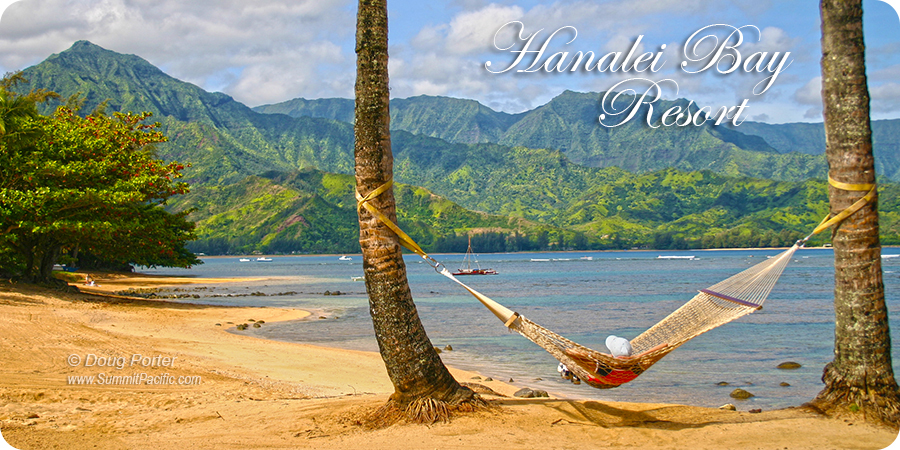 The Beach Below Hanalei Bay Resort
Hanalei Bay Resort
Waterfall as Seen from Hanalei Bay Resort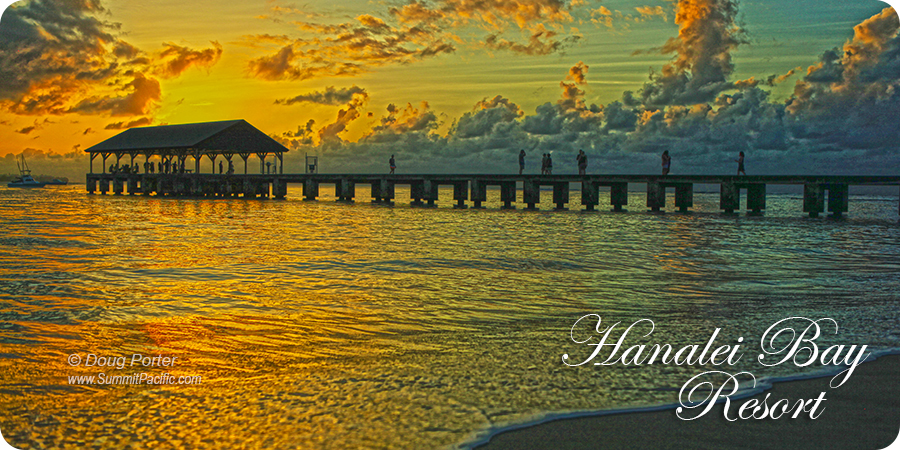 Nearby Hanalei Pier